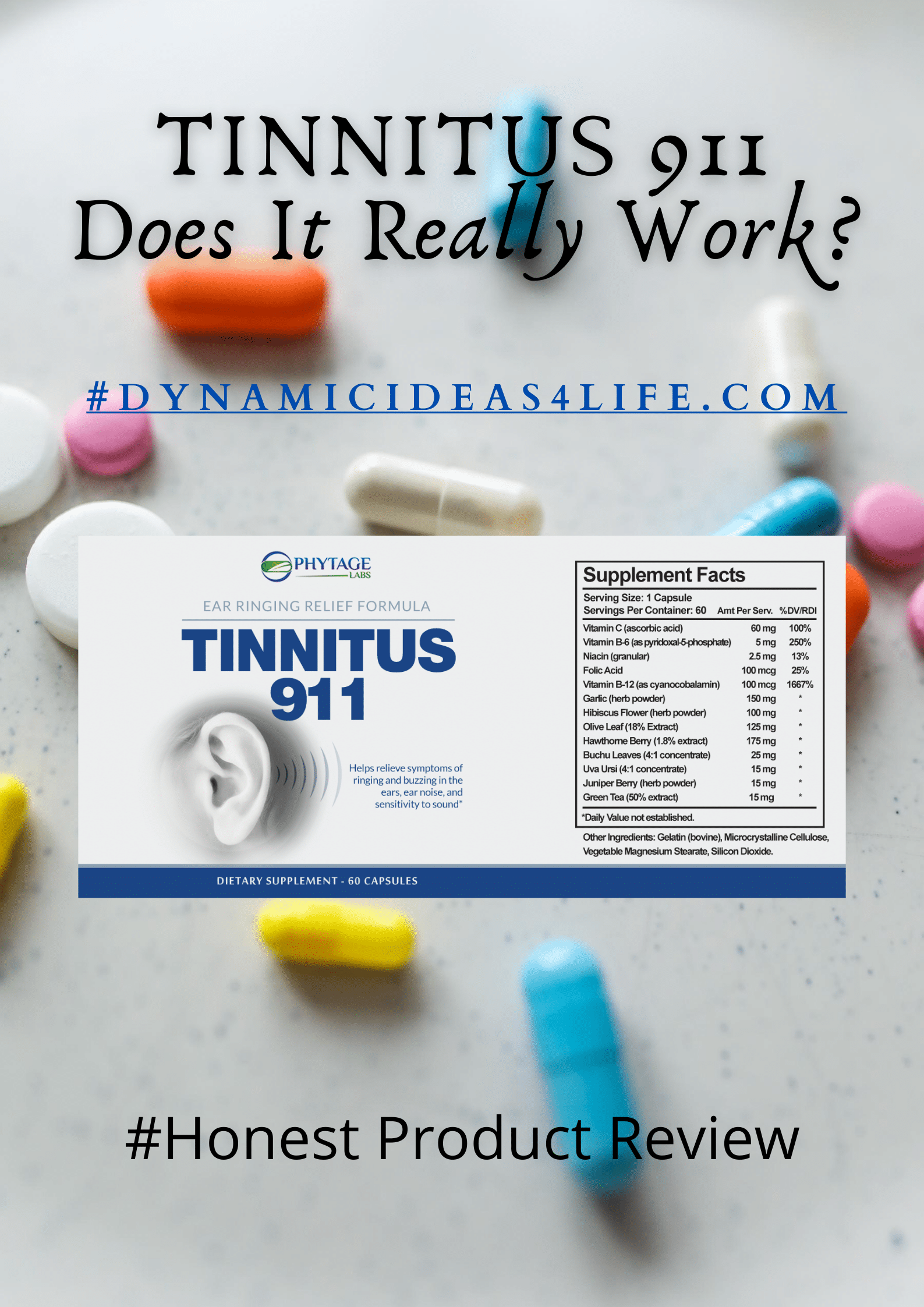 ---
Hello, Alex here again.  For today's post, Tinnitus 911 Does it Really Work?  This is a new product I've recently come across that is sold as a supposed herbal remedy for Chronic Tinnitus.
Its target audience is aimed at ages 55+ but also it can be used by anybody that suffers from Tinnitus.
As a supplement Tinnitus makes some very interesting claims.  The sales page on the website is actually a pretty good read, and I fully recommend that you take a look.  It would probably make quite a good Hollywood movie if you adapted it.
But Tinnitus 911 Does it Really Work?  and what does this information say about this product?
Tinnitus 911 Review
Name:  Tinnitus 911
Website:  https://www.fighttinnitusnow.com
Price: $69.95
Manufacturer:  Phytage Labs
Creator: Charles Gaines
Warranty:  90 Days
Overall Rank: 73 out of 100
Related Post:  How to Get Rid of Tinnitus at Home
---
FTC Disclosure:

Read My Full Affiliate Disclosure here
---
Tinnitus 911 Does it Really Work?
Table of Contents:
---
Tinnitus 911 – Product Overview

As I've said above in the main title this is an honest review, and this is what I intend to write.  So to begin with the sales video and written sales page I am very impressed with.  Whoever wrote this story clearly has a talent in creative writing.  It is a good read (click on the link for the website above) but whether it is fully true leaves a lot more questions than answers.
For starters, this product not only claims to fully cure Tinnitus but as well it is said to improve memory loss, reverse dementia and Alzheimers plus boost IQ, as well as cognitive function.  This may have some truth because of the ingredients inside but how Charlie Gaines created this product with the help of a Dr Edmund Healy?  This is a little bit odd to me how after this clandestine meeting, in a LAUNDROMAT this product was developed many years later.
This is obviously unprovable and the whole story could actually be as fake as the character of Charlie Gaines;


But however, there could definitely be some truth to things in this sales pitch.  For instance, it highlights a study conducted by scientists at the University of Konstanz in Germany which says that Tinnitus is nothing to do with your ears but is actually caused by the degeneration of the brain.  Ok, well it is more common after the age of 55+
The other thing that you can repair damage caused to the brain with the power of certain plants.  This is something I've come across again, and again.  I definitely think this is true.
Which gives me some reasons to believe that at least for some this product might work.   Despite the suspected fictional elements in the sales pitch, this is very common for many different supplements.  The only way to find out if something like this does not work is to try it and if it doesn't request a refund whilst there is still a warranty.
---
Tinnitus 911 The Good & the Bad
The Good:
PRO #1 – Contains all-natural Herbal Ingredients
PRO #2 – May remedy or cure for Chronic Tinnitus
PRO #3 – Could help Improve Cognitive Function
PRO #4 – 90 Days Warranty if you are unhappy with this product.
The Bad:
CON #1 – Price may be a little expensive for some.
CON #2 – Apparently only made in small batches, and in high demand.
CON #3 – Only available to buy online in certain countries
CON #4 – Not vegan friendly (contains bovine gelatin)
---
Who is Tinnitus 911 For?
Ear ringing formula.  Helps relieve symptoms of ringing and buzzing in the ear, ear noise and sensitivity to sound.  For anybody that suffers from Tinnitus although this product is aimed at ages of 55+.

---
Tinnitus 911 What's Inside?
As shown in the label below the Tinnitus 911 Supplement contains 13 main ingredients.  This to me is the believable part as each of these ingredients more or less are packed with antioxidants.  This is a good sign as certain antioxidants are known to repair damaged structural and functional cellular components that could be the cause of Tinnitus.

So about these ingredients;  First up is Vitamin C (ascorbic acid) 60mg.  This alone may help with Tinnitus by improving blood flow, muscle, and cartilage with powerful anti oxidant properties of its own.  Vitamin B6 (5g) which is important for cognitive development, immune system function, protein metabolism plus a whole lot more.
Niacin or Vitamin B3 – A known treatment for Tendinitis, a condition linked with the inner ear.  Also helps with proper brain function.  Folic Acid which helps with the production of new cells.  Vitamin B12 – found in studies to help with tinnitus.  Many participants with Tinnitus were shown to have a Vitamin B12 deficiency.
Garlic which is believed to increase blood flow to the cochlea.  An organ believed to be responsible for causing tinnitus.  Hibiscus Flower and Olive Leaf.  Both powerful antioxidants and anti-inflammatory.   Hawthorne Berry – again a powerful antioxidant.  Buchu Leaves and Uvsi Ursi (4.1 Concentrate) Anti Oxidant properties.
Finally Juniper Berry – commonly used in essential oils and is very much believed to be a treatment for Tinnitus.  As well as many other things including digestion issues, skin deformations, joint pain, etc.  Green Tea Extract is also included for again it's powerful antioxidant properties.
*Note – Other ingredients – Gelatin (Bovine), Microcrystalline Cellulose, Vegetable Magnesium Stearate, Silicon Dioxide.
---
Is Tinnitus 911 Safe?
See suggested use label for more information
---
How to Contact Tinnitus 911 Support
Tinnitus 911 can be contacted by email at support@fighttinnitusnow.com
---
How Much Does Tinnitus 911 Cost?
For one bottle of Tinnitus 911, it will set you back $69.95 for 1 bottle of 60 caps.
Although you can make a saving of $20 on each bottle if you buy a pack of 4 bottles (60 caps).
---
My Final Thoughts:  Tinnitus 911 Does it Really Work?
Personally, my opinion on this supplement isn't totally straightforward.  That it says in the sales pitch that the majority of tinnitus supplements do not work and that this one does – I am not sure whether to believe or not.  It is a very bold claim, as is that this supplement can help prevent Alzheimer's and dementia.
Not to mention that this supplement can increase brainpower and boost IQ?
However, if you have Tinnitus and want to take action about finding treatment – here is the thing.  I am not saying this product does work but I am also not saying that it doesn't work.  I think it is at least worth a try.  If you have $200 spare – buy 4 bottles, and take 2 capsules for let's say 75-80 days, and make a decision if this has or has not worked.
If it has not worked simple – Ask for Your Money Back.  You have 90 days warranty so be sure to bear this in mind.
The results may just surprise you.
Plus there is this…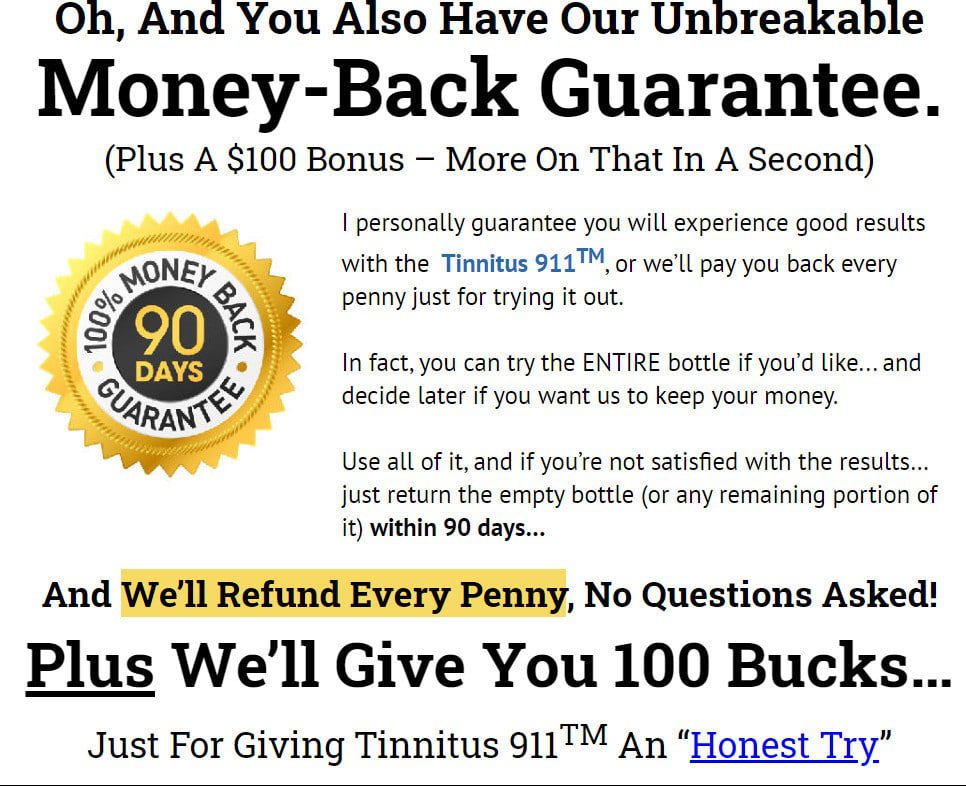 Tinnitus 911 promise to pay a whole $100 on top of your refund for a review of your experience over 90 days of taking this supplement.  Just be sure to contact them before this period has finished.
---
Tinnitus 911 Does it Really Work at a Glance…
Name: Tinnitus 911
Website:  https://www.fighttinnitusnow.com
Owners: Phytage Labs
Price: $69.95 – discounts on multiple purchases. 
Overall Scam Rank: 10 out of 100
VERDICT: LEGIT
*Note:  I have put scam rank as 10/100 as some information on the sales page is likely, not true.
---
Your Feedback
Before I go I just wanted to ask you if you have found this information helpful in any way then please if you could like our Facebook page, share this content on social media, and subscribe to our email list to be notified of future posts plus also receive exclusive content.
Finally,  any questions or feedback please if you could leave in the comments section below, or if you prefer you can also contact me directly at alexc@dynamicideas4life.com
Many thanks
and Best regards;
Alex Chivers

Similar Related Posts: 

1.) How to Get Rid of Tinnitus at Home
2.) Sonus Complete Does it Work? Full Product Review 2020
---
Anxiety and Depression best ways to lower blood sugar BiOptimizers blood pressure supplements blood sugar support supplements Digestive Enzymes Supplement digital products Dr Sam Robbins Exercise Gut Health Healthy Living heart health HFL how to lower blood sugar levels How To Lower Cholesterol insulin resistance joint health supplement Keto keto dieting Keto Diet Weight Loss leaky gut supplements leptin resistance list Magnesium deficiency Matt Gallant mental health multivitamins Nootropics nutrient supplements Probiotics Probiotic Supplements proteolytic enzymes reverse type 2 diabetes stress and anxiety stress relief Tinnitus vitabalance vitapost Wade Lightheart weight loss articles weight loss diet plans weight loss product reviews weight loss supplements weight loss supplements that work weight loss tea
About Author