Welcome to our dedicated Exercise and Fitness category page, where we are here to help you achieve your health and wellness goals. Whether you're a fitness enthusiast, a beginner on the path to a healthier lifestyle, or someone looking for expert guidance, you've come to the right place.
At DynamicIdeas4Life.com, we believe that exercise is not just a means to get in shape; it's a transformative journey that positively impacts all aspects of our lives. Our mission is to provide you with the resources, information, and inspiration you need to make exercise a rewarding and sustainable part of your daily routine.
Within this category, you'll find a wide range of articles, guides, tips, and techniques to support your fitness journey. We cover a diverse array of exercise disciplines, from strength training and cardiovascular workouts to yoga, Pilates, and more.
So whether you're looking to build muscle, lose weight, improve flexibility, boost endurance, or simply enhance your overall well-being, we have you covered. Explore our carefully curated collection of workouts, training plans, nutrition advice, and wellness tips designed to empower you with the knowledge and motivation necessary to reach your fitness aspirations.
Please keep reading below to find our list of previously published work related to Exercise and Fitness.
Our Blog Posts About Exercise and Fitness
---
---
What Are The Best Supplements For Exercise and Fitness
---
Getting fit and back into shape (or into shape for the first time) is a great idea for improving health and wellness. The most important thing for somebody following a fitness protocol is to keep this motivation going but besides this, the right kind of diet is crucial for providing the fuel source that the human body needs.
Supplements are definitely an extension of this. For the best results, many find that alongside a healthy balanced diet, supplements are what help amplify these effects. However, with so many to choose from this can often create its own set of problems. So knowing which ones to invest in is a very good thing to know about.
Although, when it comes to Exercise and Fitness typically there is more than one type of supplement you will want to consider. Protein powders, enzymes, BCAAs, and energy boosters are just some to consider.
Some of our current top picks for exercise and fitness supplements are as follows;
Thorne Research Amino Complex BCAAs
*This is our current list we may change this in the future*
About Dynamic Ideas 4 Life
---

Dynamic Ideas 4 Life is a Healthy Living and Wellness website first established in February 2020. Here we mostly cover articles and product reviews for several different sub niches including all the following;
Teeth, Gums, and Oral Healthcare
Sleep Support
Exercise and Fitness
CBD, Kratom, and Kava
>>Check Out Our Main Category Page Here<<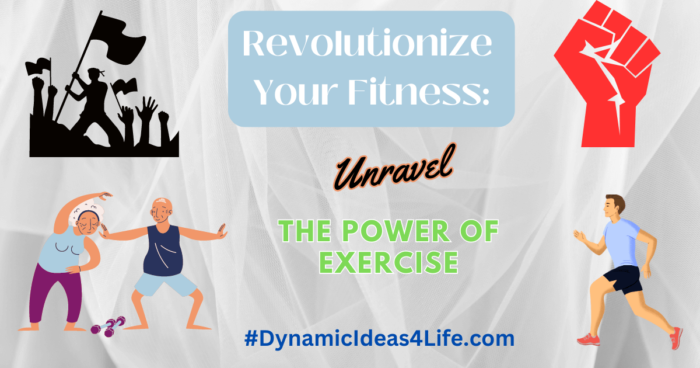 Are you wondering about How To Revolutionize Your Fitness? If you are looking to unravel the power …
Read More
Anxiety and Depression best ways to lower blood sugar BiOptimizers blood pressure supplements blood sugar support supplements Digestive Enzymes Supplement digital products Dr Sam Robbins Exercise Gut Health Healthy Living heart health HFL how to lower blood sugar levels How To Lower Cholesterol insulin resistance joint health supplement Keto keto dieting Keto Diet Weight Loss leaky gut supplements leptin resistance list Magnesium deficiency Matt Gallant mental health multivitamins Nootropics nutrient supplements Probiotics Probiotic Supplements proteolytic enzymes reverse type 2 diabetes stress and anxiety stress relief Tinnitus vitabalance vitapost Wade Lightheart weight loss articles weight loss diet plans weight loss product reviews weight loss supplements weight loss supplements that work weight loss tea