Currently, are you looking at bodybuilding?  Hitting the gym, lifting weights and making noticeable changes to your physique, muscle mass and body image.   Maybe this is something you have done for a while – but either way, 
Are you in the market for the Best Protein Powder Shakes for Bodybuilding in 2022?
Sure anyone that is into weight training and high-intensity exercise should be very accustomed to a protein shake or two.  It might very well be that you are reading this right now and you might be wondering about what else is out there.
Though perhaps not! 
Maybe you are already content with your current source of protein.  
And I really can't knock that – in fact, I would love to know – what are your best protein powder shakes for bodybuilding?  Perhaps maybe this could be a review of mine for the future…  
But anyways, back to my point – 
I have found what I think are two different products that really look like they could be something special.  They are both products from brands I've dealt with numerous times in the past.    
I know this is only based on my own personal opinion but hoping you will agree that these definitely could be candidates for The Best Protein Powder Shakes For Bodybuilding in 2022…
or maybe not! – I know that we all have different views and opinions but I definitely do think these products are at least worth sharing some info about.

So, without further ado…
---
What Are The Best Protein Powder Shakes For Bodybuilding in 2022?
See If you Agree… ?
---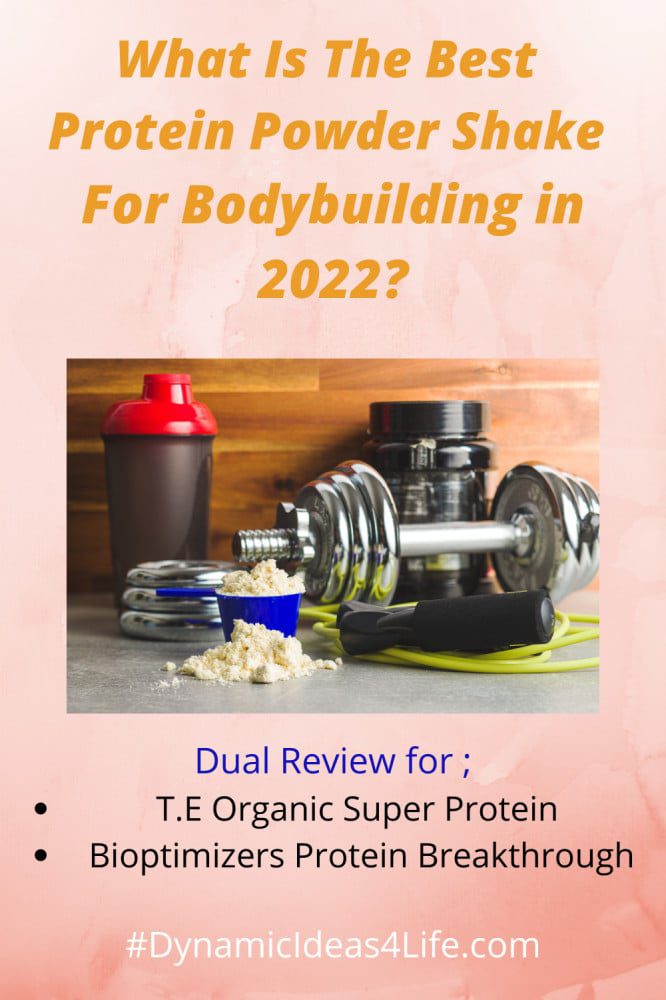 ---
FTC Disclosure
---
Please note that this article contains affiliate links.  I use affiliate links as a means of monetizing my content in the event that a purchase is made through my links.  This is actually a great way to support my work if you find this helpful or interesting.  The price you pay will not be affected unless my links include a discount from the usual price. Also, if a product is not recommended I will be sure to make this clear.
If you have any questions please contact me at chivs86@dynamicideas4life.com
---
Health Disclaimer
---

---
So, What To Look For In A Protein Powder Shake?
---

Now, What do you look for in a protein powder shake?  
If you regularly purchase any protein supplements what really makes the difference for you?  
I would say the flavour, price, taste, ingredients and of course how well the product actually works. 
These are my main points.  
Although, above all, most definitely, you really want something that delivers on its promises.  Something that actually does the job that it says it is supposed to do but then saying that the actual taste of the shakes – I would say is very important too.
Like, If it doesn't taste good why are you going to want to keep on drinking it?  I know some people will just down their shakes even if they hate the taste.  Just to get their protein shake fix – but why continuously punish yourself?
Why not just look for a product that tastes good and that is a good source of protein as well?
Those are the main points for me but then the cost surely is another big factor.  I mean no one wants to pay over the odds if they can find a cheaper alternative which is just as good – but this is the trouble I would say.
As so often is the case that cheap products do not really stack up against the competition.  Too often we will find that our efforts to save a few pounds (or dollars) will end up costing us more.   
It really is sod's law but it's not that these products do not exist.  It is just a case of finding them and this is exactly why reviews like this one will matter (I hope).
So with this in mind please keep reading…
---
What Protein Powder Shakes Do I Recommend?
---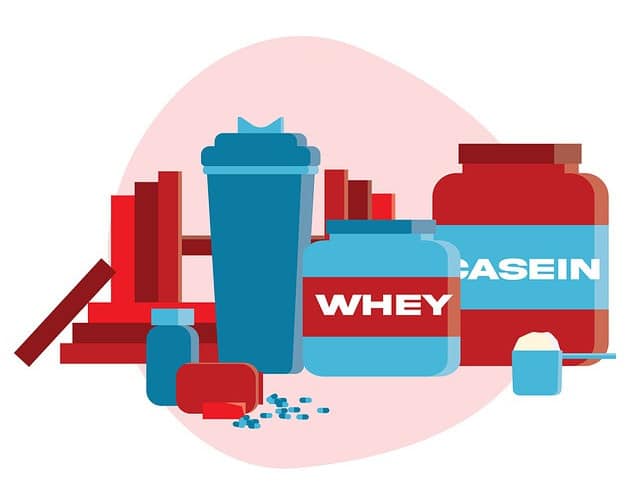 I will get straight to the point here I guess.  So my main idea behind this post is to explore two protein powder shakes that I really like the look of – Bioptimizers Protein Breakthrough + Touchstone Essentials Organic Super Protein. 
I DO NOT work for either of these companies but I regularly visit both their websites and have promoted their other products in the past with many happy customers.
Really I thought about looking at some different protein powders for my nephew.  He is only 17 but currently, he is very active at the gym and has been into his fitness and bodybuilding for a couple of years now.
I am not really sure where he is at with his decision-making on this matter but straightaway I thought of these two products.  
I'm still not really decided on which one I think is the best for him (or anyone else) but I thought instead of writing separate reviews I would try and kill these two birds with one stone.  So here goes – this will be my dual review for my 2 recommended products and of course any questions I will be very happy to try and answer towards the end. 
Now, I will get started here with my first product…
---
What Is Bioptimizers Protein Breakthrough?
---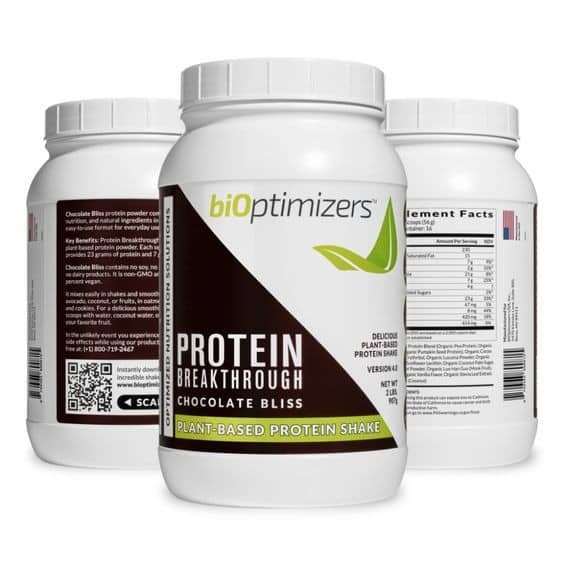 Protein Breakthrough is a plant-based formula that contains 97.37% organic ingredients.
It comes in two different flavours – Chocolate Bliss and Berry Blast.   Inside there is quite a list of ingredients but chiefly these consist of; 
Pea Protein,
Pumpkin Seed Protein
and Hemp Protein.
[The Full List of Ingredients Can Be Found Here<<]
Now, suitability-wise this has many key features.  It is;
Vegetarian and 100% Vegan-Friendly
Gluten, Dairy and Soy Free
GMO-Free and FDA Approved
Low Carb, Low Sugar and High-Protein 
Bioptimizers call this "the Most Delicious and Effective Plant Based Meal Replacement Ever".  I guess that beauty is in the eyes of the beholder but what I can say is that Bioptimizers is a very reputable brand.  
I've reviewed many of their products now and I've seen countless positive reviews from people.
I am kind of like a spokesperson for this brand really.  Their work is really quite impressive although one thing that is maybe not so popular with people is their prices.  Which, I get.  As much as I do think you get what you pay for I know this is an issue.   
Although, good quality products usually tend to be more expensive to manufacture so it kind of does make sense really.
Perhaps though one thing that may help swing the deal is the 365-day money-back guarantee that covers the purchase of your first bottle.  If you try this product and you do not get the results they promise you can contact them at any time within a year from the purchase date for a refund.
Terms and conditions apply but anyhow.
You can check this link to find out more if you like.
https://bioptimizers.co.uk/product/protein-breakthrough-chocolate
I personally think this is a fantastic product from a fantastic brand but let's circle back for a minute.
So the 2nd product I recommend…
---
What Is Organic Super Protein By Touchstone Essentials?
---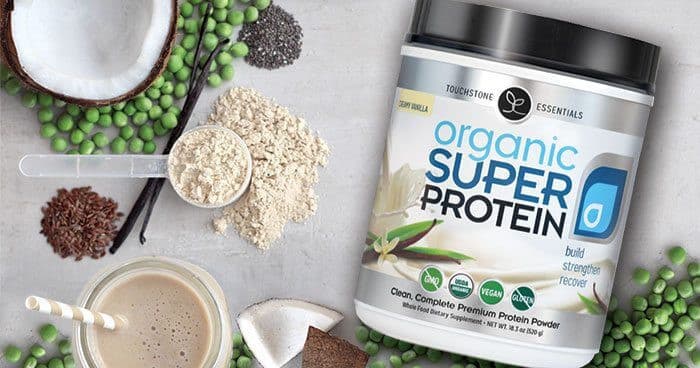 Organic Super Protein is similar to Protein Breakthrough in a number of ways. I would really be comfortable with making a recommendation for either product but still, this is another vegan-friendly protein powder shake that also contains Pea Protein and Hemp Protein. 
Except, one difference is that rather than using Pumpkin Seed Protein Organic Super Protein instead contains Rice Protein. 
Plus as well as this Organic Super Protein contains a protein digestion enzymatic blend.   It looks the better of the two I think but I dunno I still think there is a case for Bioptimizers.  They are the bigger brand I'd say but Touchstone Essentials rather are in its own way quite special.
There are other two products Pure Body Extra Zeolite Spray and Calm CBD I've found which are really good.   Kind of the reason why I stumbled across this product here.  I know that there are hits and misses for these supplement brands but going off the reputation of other products definitely does instil some confidence I think.
I will share a link below if you are interested and let you decide for yourself.
But seriously…
---
How Do They Both Compare?
---
Based on various reviews I have found online here is how each supplement compares to the other.  Make of this what you will…
Effectiveness ?
There really is no doubt in my mind that both of these are great products.  I am a huge fan of the Bioptimizers line but just being truthful here.  Protein Breakthrough I can only find like 4 reviews for.  They all mostly say this is a great product but this still is only 4 reviews.  Organic Super Protein has over a hundred and they all seem to indicate that this is effective.  
My Pick:  Organic Super Protein
Taste ?
Firstly, Organic Super Protein the bulk of its reviews say this tastes great and goes down very well with Super Greens (another Touchstone Essentials product).  
Although there is a small handful of reviews that also say this is too sweet and it is a bit chalky.
Protein Breakthrough I can not find any more than 4 reviews (as I mentioned above) but basically, one customer says it is a bit gritty whilst another says it is tasty and smooth and doesn't have the nasty texture or flavour of other protein powders.
Also, another says that when mixed with nut milk Protein Breakthrough (Chocolate Flavour) tastes like magic.
Plus you also have the Berry Blast flavour to try.
My pick:  Protein Breakthrough Chocolate Flavour (just because I like Chocolate – Organic Super Protein is only available in vanilla flavour)
Price ?
Bioptimizers Protein Breakthrough is expensive compared to other powders on the market.  Many customers have complained about its price but many others say you get what you pay for and it is worth the money.
Organic Super Protein is also priced at $59.00 for one bottle so same problem really.
Although one thing that might swing things in Organic Super Protein's favour is you can save 24% off the price with a monthly auto-ship subscription.  You can also make further savings by buying multiple bottles for each product.
My Pick:  I would have to say Organic Super Protein.  The more savings to be made the better I think.
The Ingredients ?
Organic Super Protein contains a much more extensive list of ingredients compared to Protein Breakthrough.  For this reason, one might consider this the more complete product but comparatively, both stand out because their ingredients are gluten, dairy and soy free as well as vegan friendly.  
Although one downside to both is that they may be a risk to anyone allergic to coconut.
Also just in case, you are curious check out the full ingredients for each product below;
Protein Breakthrough (Chocolate)
Ingredients: Plant Protein Blend (Organic Pea Protein, Organic Hemp Protein, Organic Pumpkin Seed Protein), Organic Cocoa Powder, Organic Erythritol, Organic Lucuma Powder, Organic Mesquite Powder, Sunflower Lecithin, Organic Coconut Palm Sugar, Organic Maca Root Powder, Organic Luo Han Guo (Monk Fruit), Himalayan Salt, Organic Vanilla Flavour, Organic Stevia Leaf Extract.
Contains: Tree Nut (Coconut)
Protein Breakthrough (Berry Blast)
Ingredients: Plant Protein Blend (Organic Pea Protein, Organic Hemp Protein, Organic Pumpkin Seed Protein), Organic Strawberry Powder, Organic Erythritol, Organic Lucuma Powder, Organic Mesquite Powder, Sunflower Lecithin, Organic Coconut Palm Sugar, Organic Maca Root Powder, Organic Luo Han Guo (Monk Fruit), Himalayan Salt, Organic Vanilla Flavour, Organic Stevia Leaf Extract.
Contains: Tree Nut (Coconut)
Organic Super Protein
My Pick:  I much prefer the look of Organic Super Protein from looking at the label.  Mostly for the digestive blend that is added.  Essentially this makes Organic Super Protein a 2-in-1 formula because it's all good having Protein but to really build muscle you also need to be breaking this down into amino acids. I think basically you can opt for a stack with Bioptimizers that also includes their protein digestion supplement MassZymes but how much more do you really want to pay? For me Organic Super Protein seems the more affordable.
I shall continue with a bit more information on this soon but before I do here is a free gift from me to you.
Download Free EBook?
10 of the Tastiest Protein Smoothies EVER!
To Help Transform Your Health and Energy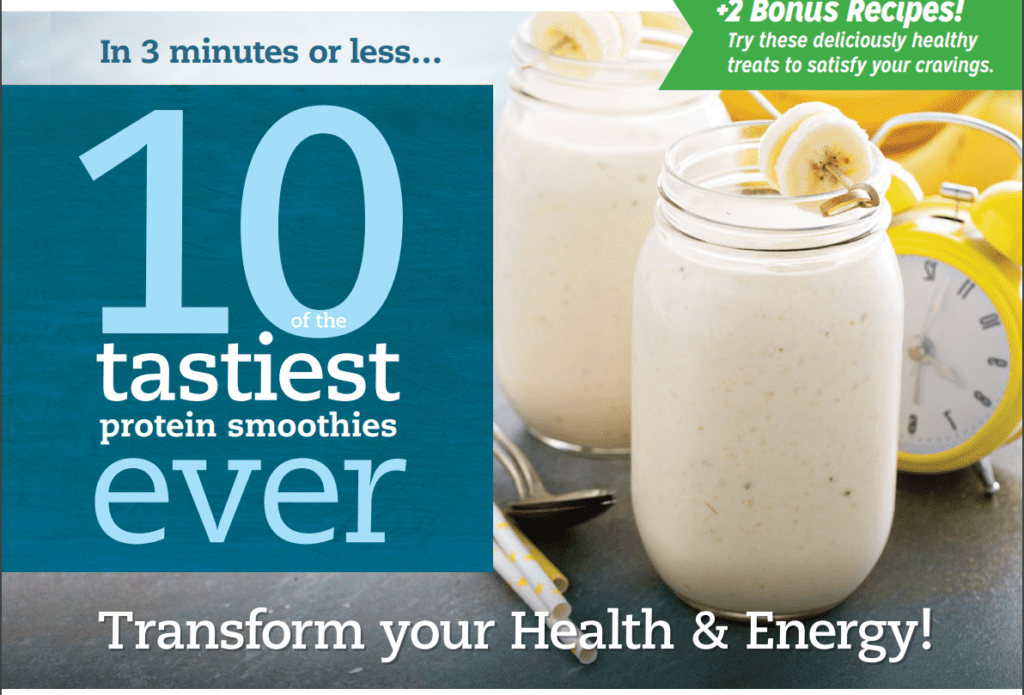 Now, let's contuinue…
Returns and Refunds
Each company offers a 30-day return money-back guarantee for opened and unopened bottles.  This does not include shipping and handling fees.

However, Bioptimizers, do offer the opportunity for customers of just one bottle (as their first purchase) the opportunity to claim back their initial costs for 365 days. It's basically the chance of a free trial for any of their products.
My Pick:  If you are just ordering one bottle for the first time Protein Breakthrough is the clear winner but just bear in mind their 365-day guarantee only covers one bottle and empty bottles must be returned. Also this does not include shipping and return costs.
Overview
As much as I do advocate for the Bioptimizers brand I think Organic Super Protein offers a lot more value.  I would say it is worth trying both to see what you prefer as the best protein powder shakes supplement.  Each to our own but based on the ingredients I think Touchstone Essentials probably offers the better product.
Check out this link here to receive a free Organic Super Protein Recipe Book + 10% off your first order.
---
The Best Protein Powder Shakes – What Else Is Out There?
---
Of course, these two above are not the only Protein Powder Shake Supplements you will find for sale online.  Far from it and different people will have different opinions as to whether there are better products available or not.  
I personally can't tell you what to like and dislike but I do feel like the 2 products I shared above look like the best protein powder shakes to me. 
However, let's take a look at a few other products as well to see how they measure up.
We will start with…
---
Compliment Protein Powder
---
I come across this whilst writing my recent blog post about Bulking and Cutting for Vegan Bodybuilders.  
Again this is another vegan-friendly protein powder shake that I have found to have quite a popular following.
Check out the video below if you'd like to learn more;
Plus also check out the Compliment Protein Powder Shake website below;
---
Impact Whey Protein By MyProtein
---
Here is a product I reviewed on this website well over a year ago now.  Not really sure how this compares to the others as the best protein powder shake supplement for 2022 but if you are looking to shop around maybe check out my past review.
This may or may not be updated by the time you read this but [Click This Link Here] to find out more;
---
Amazon's Choice Protein Powders
---
Finally here are just a few more that I see for sale on Amazon.  I've not tried any of these but based on sales/reviews these may be worth checking out.
---
Final Word
---
For anyone looking to bulk up investment in the best protein powder shakes supplement is a good place to start.
Knowing which one to choose though is kind of a problem within itself.  Trial and error I think is key here.
No reviews can really replace one's own personal experience.  Yet for those looking to learn a bit more about different products that are available I hope this review is able to help.
If you have read this far many thanks for your time.
Best regards and #Stay Dynamic 
#Because Your Worth It
from
Alexander B. Chivers
DynamicIdeas4Life.com
Contact us at chivs86@dynamicideas4life.com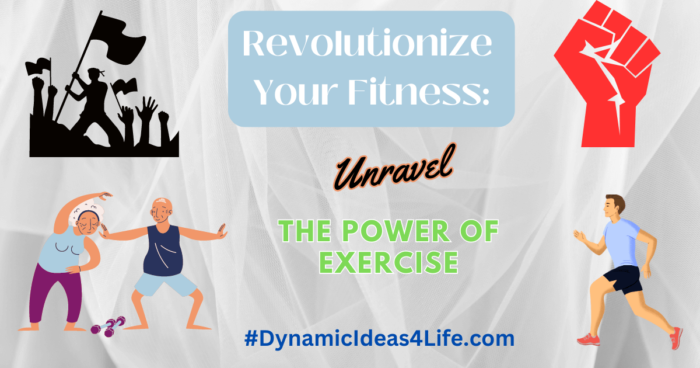 Are you wondering about How To Revolutionize Your Fitness? If you are looking to unravel the power …
Read More
Anxiety and Depression best ways to lower blood sugar BiOptimizers blood pressure supplements blood sugar support supplements Digestive Enzymes Supplement digital products Dr Sam Robbins Exercise Gut Health Healthy Living heart health HFL how to lower blood sugar levels How To Lower Cholesterol insulin resistance joint health supplement Keto keto dieting Keto Diet Weight Loss leaky gut supplements leptin resistance list Magnesium deficiency Matt Gallant mental health multivitamins Nootropics nutrient supplements Probiotics Probiotic Supplements proteolytic enzymes reverse type 2 diabetes stress and anxiety stress relief Tinnitus vitabalance vitapost Wade Lightheart weight loss articles weight loss diet plans weight loss product reviews weight loss supplements weight loss supplements that work weight loss tea
About Author