Are you looking for the Best Premium CBD Oil to buy?  Something that really lives up to the hype.  Well then CBD is firmly believed to work as a treatment for many health conditions.  The Cannabis plant as a whole is the subject of a lot of claims but CALM PREMIUM CBD OIL by Touchstone Essentials let's look at this…
So, there are many companies now that have gotten into the legal cannabis industry.   As of last year (2021) the global CBD market, as a whole was valued at around 5.18 Billion USD (R).  A figure that is expected to grow by around 16.8% every year until 2030 ~ so of course actually finding a great Co2 extracted product is harder now than ever.
I have previously looked at a couple of other CBD products on this site.   These brands being… Blessed CBD and CBD Essence.
I am going to revise both of these posts once I am done with this one but actually Pure Body Extra by Touchstone Essentials is one of my favourite products.  It's quite a different product to this one but judging by my experience with this product I am definitely keen to look further into what products this company also has for sale.
So there are a few products that look good by Touchstone Essentials – I really like the look of their Organic Super Protein and Super Green Juice but CALM PREMIUM CBD OIL is perhaps the one I'm more excited to look at.  
I would say, this is mostly because of the Touchstone Essentials brand but also just CBD in general to me is very special.
Definitely, one reason why I am very happy to write this but what do you think? Please let me know once you've finished reading…
---
My CALM PREMIUM CBD OIL Review (2022) – How Does This Compare?
---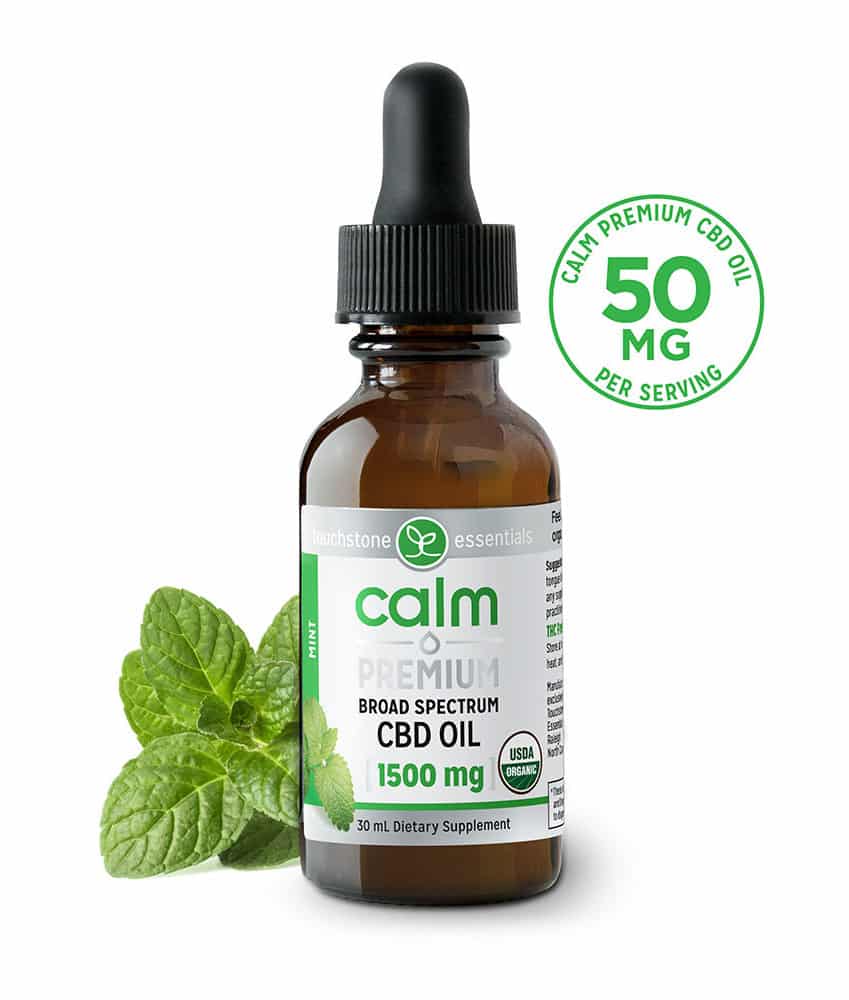 Product Name:  CALM PREMIUM CBD OIL 
Company Name:  Touchstone Essentials
Creator:  Eddie Stone
Where To Buy?  TheGoodInside.com

The Good:  From a trustworthy brand with great products
The Bad:  Some might consider the price to be quite expensive.  Only available in Mint Flavour.

Do Recommend?:  Yes, totally I've dealt with TSE in the past and they are a great company to do business with.
Rating:  4 out of 5 stars
Short Summary
Mint flavoured CBD Oil – available as 750mg and 1500mg
Please keep reading to learn more.
FTC Disclosure:

Please be aware that within this post some links might be affiliate links.  What this means is that if you do decide to purchase any products from TSE with these links I may receive a commission.  This will not affect the price you pay.  You will not pay more or less than usual.  Any questions please feel free to contact me at chivs86@dynamicideas4life.com
 Disclaimer:

Before reading any more of this review just to make you aware.  The views and opinions shared in this post are for informational purposes.  I am not a qualified medical professional or doctor and this is not intended to replace professional medical advice.  If you experience any health issues that you feel may warrant the use of CBD then definitely consider speaking to a doctor before making any purchases.
Now…
---
What Is Calm Premium CBD Oil?
---
So CBD oil is quite a new-age type of supplement.   It is believed to help with a whole range of health conditions including joint and muscle pain, insomnia, anxiety and even epilepsy.  For those looking to try CBD, there are 2 main types to know about;
'Broad-Spectrum' and
'Full Spectrum'.
This is usually judged by whether the CBD contains THC or not but besides this their other factors too including Co2 Extraction and other types of Cannabis compounds including CBDA + CBGA. Watch the video below to learn more…
Now, the strength of the CBD is like many other things.  It is down to the quality of the product.   Calm Premium CBD Oil is actually available as both broad-spectrum and full spectrum (with THC).  You basically have the choice here whether you want it with THC or not but both products are GMO-free, USDA organic and designed for advanced absorption.
Also, the good news is Calm Premium CBD Oil and Calm Advanced+ CBD Oil are both Co2 Extracted.
---
How Does Calm Premium CBD Oil Work?
---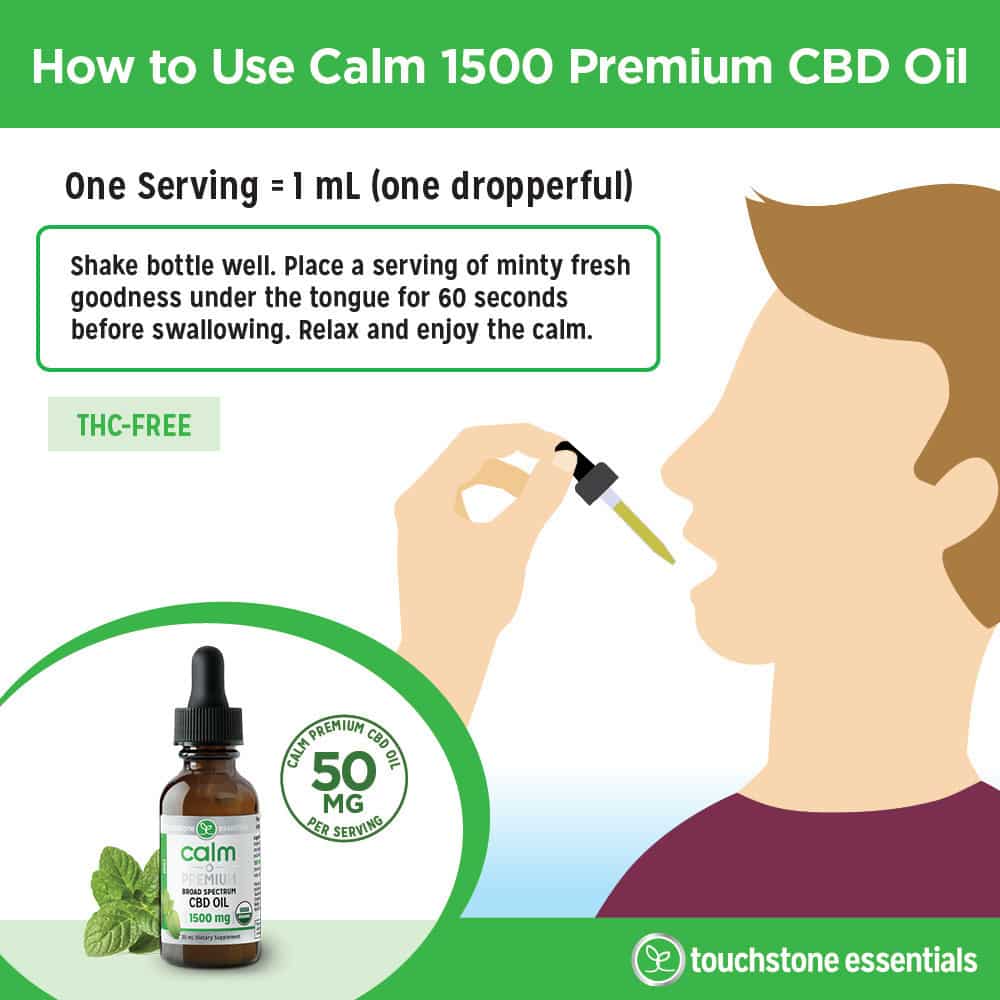 For anyone new to CBD there is a few things to understand about how it actually works.  Many people when the topic of cannabis comes up will think of the stereotypical stoner smoking a spliff or a bong – Getting red eyes, and laughing their heads off at nothing.  This is not how CBD works because CBD doesn't contain the psychoactive compounds of the Henna plant.
Rather CBD is extracted from the male Hemp plant and this works by placing a small drop underneath the tongue.   To apply you simply just squeeze a drop of the oil out through the tincture into your mouth and that is it.
You can also add to food or drink for it to enter your body through your digestive system.  Although, one thing about Calm Premium CBD Oil is that it is designed for advanced absorption.  
It is created with advanced nano-emulsification technology which means your body can easily take it in.
The effects you should notice not too long after taking.  You will not feel high (even with the full spectrum type) but you should find that any aches, pains, anxiety and sleep troubles (as well as other things) should be positively affected.
Even epilepsy is the big one when it comes to CBD.  I don't want to make false promises to anyone with this condition but reportedly users of CBD claim that this can help with keeping frequent seizures under control.  (R)  
---
Is Calm Premium CBD Oil Legit?
---
Now, this is a very important question I think because when it comes to the CBD market there are so many products to choose from.  There are some really good ones other than Calm Premium CBD but also there are some pretty crap ones out there too. 
Cannabis is a plant that needs a lot of care and this is before you even attempt to extract the CBD.  
If you ever try to grow cannabis you should know this.
So many things can go wrong and with some products they definitely do.  Exactly why you must be careful when buying CBD supplements.  Knowing who you are dealing with is very important.  
Things like customer reviews really can make or break a product.  You can see on thegoodinside.com that there are many happy customers that have tried Calm CBD but overall the actual company Touchstone Essentials is definitely legit. 
I've dealt with them for well over a year now in relation to their Pure Body Extra supplement and I've never come across any unhappy customers.   I mean, of course, this is a whole different product but still, I can definitely trust them.
So far I think I have found one negative review for Calm Premium CBD Oil saying that it doesn't work but I don't think it's too off-putting. It's like with any health product you should expect at least a few people aren't going to be happy with spending their money.  Just because it works for one doesn't mean it will work for all.  The reviews are mostly positive but yes results are not guaranteed for everyone.
---
How Much Does Calm Premium CBD Cost?
---
This can definitely be considered a con for some people.  Calm Premium CBD Oil does not come cheap.  The product for its quality I would say is definitely worth the money but here is the trouble.
So the lowest you can pay for one small bottle is $69 with a monthly subscription – which means every month Touchstone Essentials will take $69.00 out of your bank and send you another bottle.   You can pay otherwise a one-time fee of $87.00 otherwise but this is only for 750ml of the broad-spectrum type.   I would say you are definitely better paying more in my opinion.
It's $119.00 for 1500ml (both types) with the auto subscription.  Plus you can save even more (20% off) with multi-buy.
$324.00 is for 3 bottles and it's $515.00 for 5 bottles but you must commit to a subscription.
Otherwise, it's $405 for 3 bottles of 1500ml and $645 for 5 bottles (one-time fee).

Not really cheap but it's a brand I trust at least so the quality that you are paying for here I think you will definitely get.
---
Is Calm Premium CBD Oil Worth It?
---
Well, this really depends – what price would you be willing to put on your own physical and mental wellbeing?  Would you be willing to pay $100+ to relieve your pain or anxiety?  How about getting a better night's sleep or for better management of your epilepsy?  These are the questions you should really ask and also if CBD will actually work better for you rather than something else.
I would say if it is CBD that you want to try for your health problems then Touchstone Essentials can be trusted to provide a good quality product.  From reading on their website, a lot of care actually does go into growing these crops.  Each plant is organic, free of pesticides and industrial chemicals.  Plus several lab reports are published on the website which is there to be studied regarding the quality of these crops and the extraction process that is used.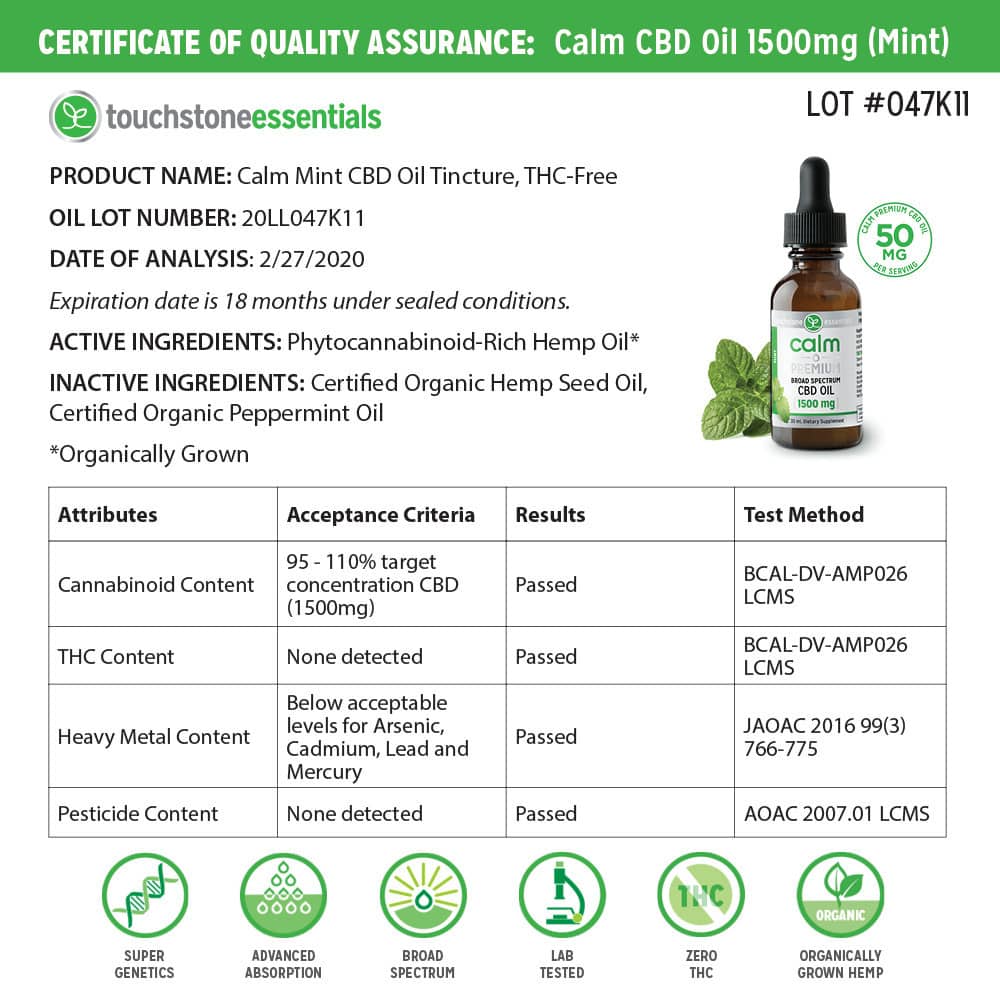 ---
Does Calm CBD Oil Have a Refund Policy?
---
Yes, although from the date of shipment of goods you have only 30 days.  Not something I really agree with, I mean I think at least 60 days should be given to a customer to really see if the product works for them.
30 days is a bit short but then in other ways, this doesn't really seem that bad considering the reputation of the brand.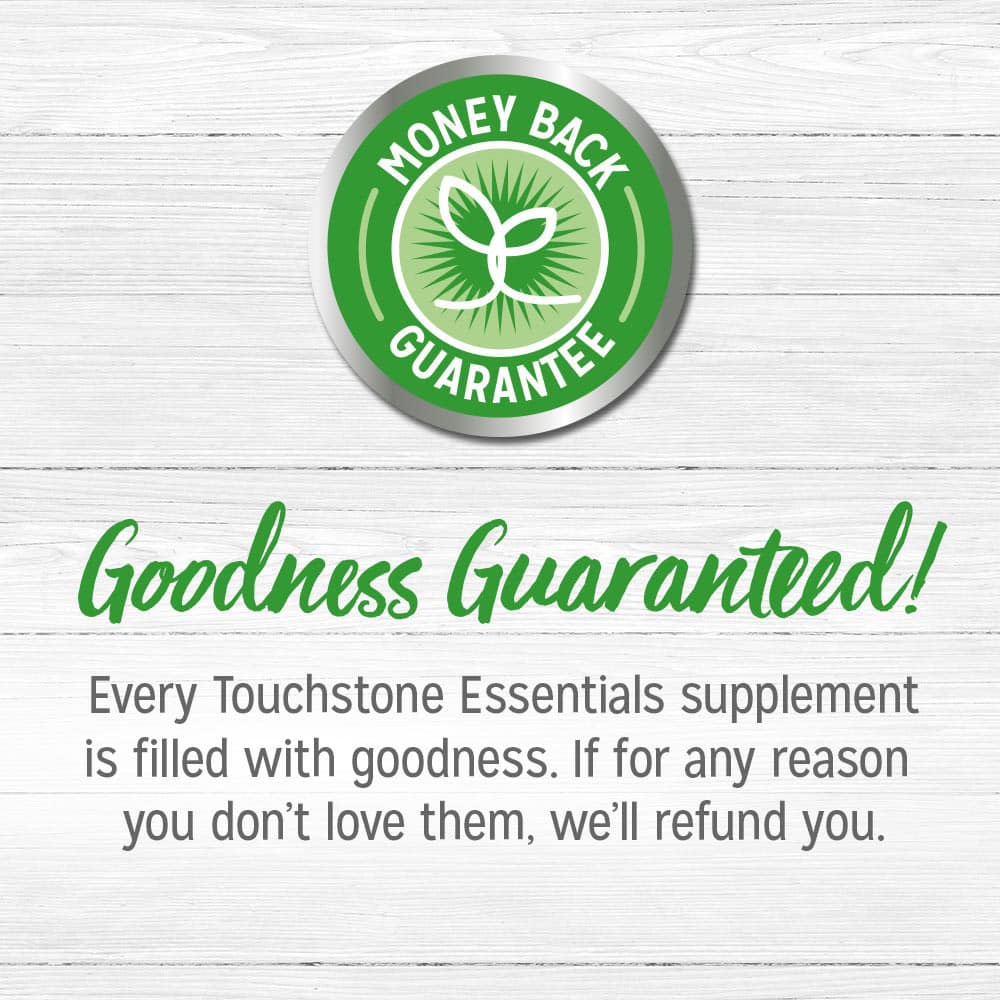 So what Touchstone Essentials states on their website are that they are confident in the quality and efficacy of their products, and customers who order directly from Touchstone have a 30-day money-back guarantee on all items that are purchased. 
Products purchased from Touchstone Essentials may be returned within 30 days of the product shipping date for a 100% refund of the purchase price (net of any discount, gift card or promotion on the order) minus shipping charges. 
Also, refunds will not include shipping, handling or other applicable fees.
---
What Do You Get With Calm Premium CBD Oil?
---
Quite simply if you purchase Calm Premium CBD Oil as either 750ml or 1500ml, broad-spectrum or full-spectrum what Touchstone Essentials promises is a non-GMO, USDA organic, THC compliant and cannabinoid-rich hemp oil that uses advanced nano-emulsification technology to make it highly absorbable, and incredibly effective.
It is also made with Omega 3, 6, and 9 Fatty Acids – which are great for your joints, and blood flow/circulation. Something that may be able to help with conditions such as tinnitus, ED, and hair loss.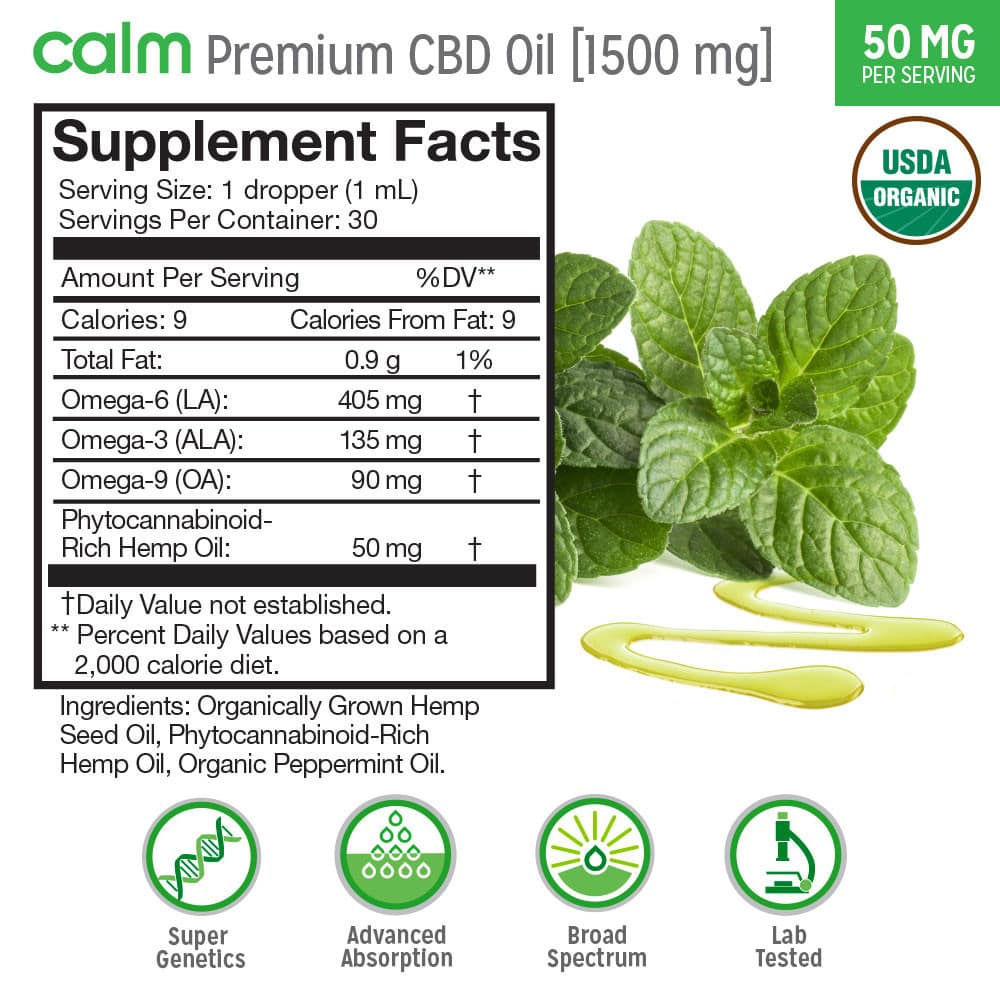 ---
Who Is Calm Premium CBD Oil For?
---
Above I mentioned some of the conditions Calm CBD Oil could be a possible treatment for but actually looking at what it says on their website I can see there are more.
So I mentioned pain relief, anxiety and stress, sleep troubles and epilepsy but according to Eddie Stone digestive issues, Inflammation, strengthing the immune system, heart health, detoxing and exercise-related injuries are all things that this CBD oil might be able to help with.
This is really for anyone that suffers from any of these health problems but also this is for anyone that wants to make sure that the CBD oil they get is of the best quality.  Really, you might be able to find other CBD Oil products elsewhere for a lower price and if you are lucky you might find a good product but then you might not.
Calm Premium CBD Oil is a safe bet if you want to guarantee quality and really if you are someone that is willing to pay what Touchstone Essentials is asking for you should not be disappointed.
---
Taking CBD Oil Instead of Painkillers
---
One quite valid reason to take CBD Oil that I've mentioned already is for pain relief. Joint pain, muscle pain and exercise-related injuries. This is really no joke this pain can be excruciating and a lot of people only just about cope because of painkillers. The likes of codeine, co-codamol, Vicodin, OxyContin and Methadone.
Also, NSAIDs such as Ibuprofen, Aspirin and Paracetamol might be considered too. Although, here is the trouble these drugs are not always safe. Some of these are highly addictive and can actually open up a whole new can of worms for the people taking them.
CBD Oil like Calm and other products is a possible safe alternative and in fact, some users report that this works even better. Mostly because CBD influences your pain receptors and what's more the right product is much safer to take and is not addictive.
---
Customer Reviews
---
So upon looking through the customer reviews (I will screenshot a couple below) what is clear is that the large majority – 92% of customers for Calm Advanced CBD Oil + 96% of customers for Calm Premium CBD Oil gave 5 stars out of 5.
The biggest complaint by customers is the Minty flavour so maybe this is one area that could be improved but largely most customers appear to be happy with this product.
See screenshots below;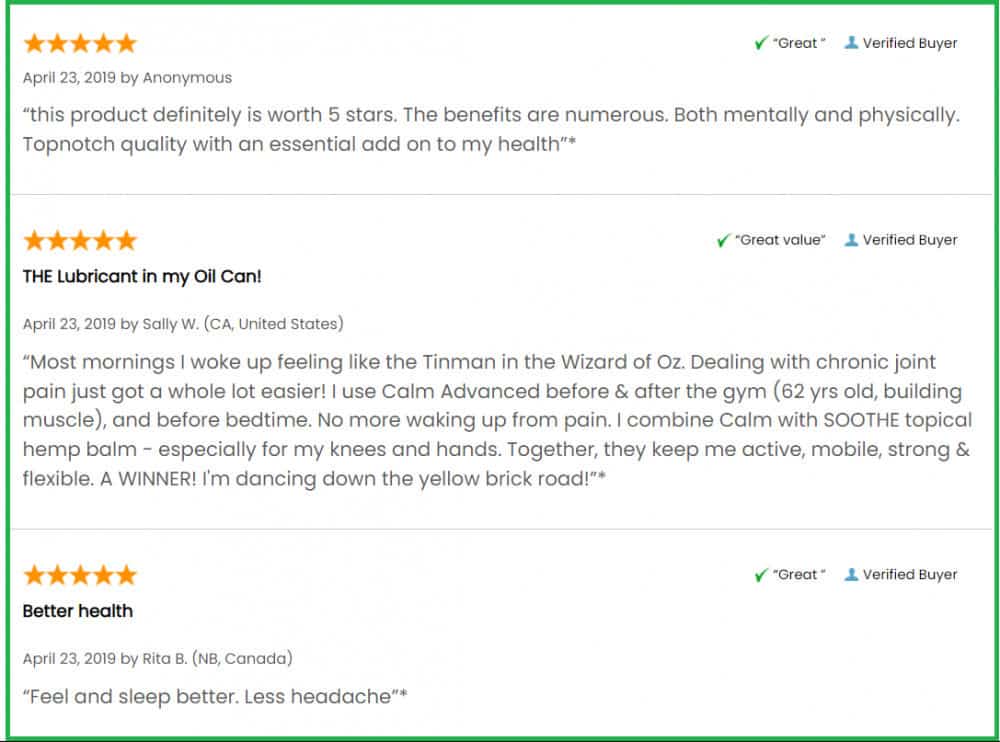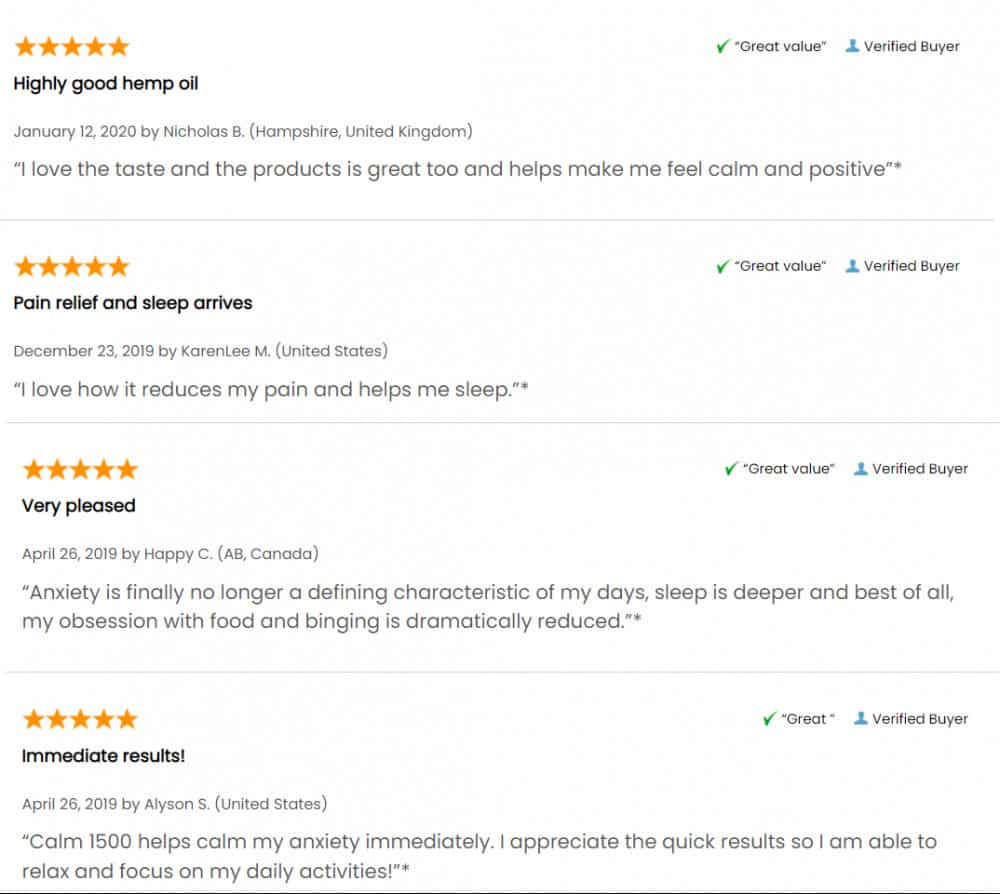 Read More Reviews For Touchstone Essentials & Calm CBD By Clicking HERE<<<
---
Calm Premium CBD Oil Overview
---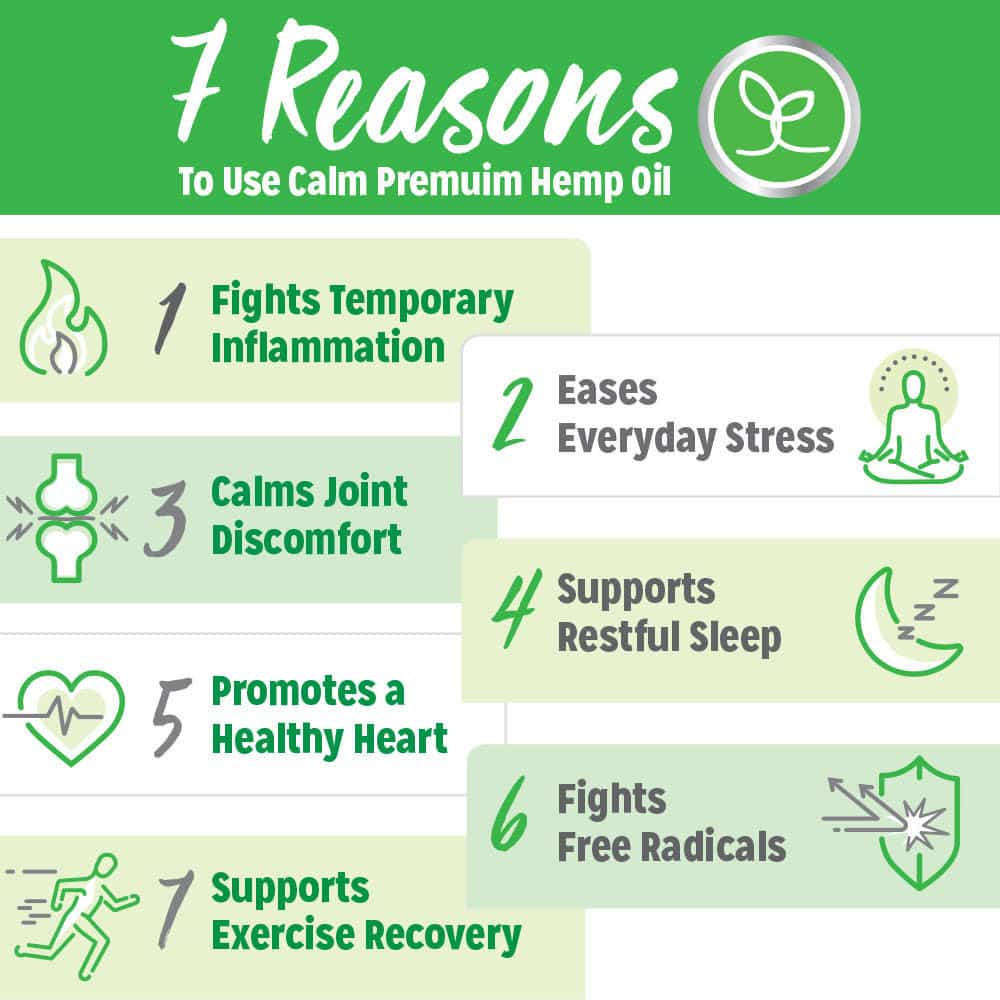 Now, if you have read through this review it is probably quite clear that I definitely support this product.  I actually am quite an advocate for the use of legal cannabis so it's really a win-win situation for me because I already have dealt with Touchstone Essentials in the past and maybe the main thing I look for is full-spectrum CBD that is Co2 extracted.
So tick, tick, tick this product although quite expensive (I think) is definitely attractive to me I think.  For others, I would guess the same.  If you are going to take CBD you want a good product and I think this is it.
Obviously, I get that THC might be a problem for some people.  I personally think the amount in the Calm Advanced+ CBD oil (less than 0.003%) isn't really anything.  To feel any kind of psychoactive effects you would need a lot more but I respect that there is the option to purchase a THC-free version. 
I mean apart from the price I really have no issues with this product and I really think it can be helpful for people.  Just take a look at the website and read through everything hopefully you will not be disappointed.
Look for where it says…  Superior Genetic Strains, Premium Extraction Methods, and Advanced Absorption.
I am really impressed.  The lab reports I think really swing it for me but hey I've not really tried a lot of different CBD products.  CBD Essence, I thought looked like a good company – if you don't like the mint flavor maybe take a look at their website but if the mint flavor is not an issue Calm Premium CBD Oil is good as any I would say.
---
Where Does Calm Premium CBD ship to?
---
As for as I can tell at present Calm Premium CBD Oil and Calm Advanced+ CBD Oil ship to all the following countries;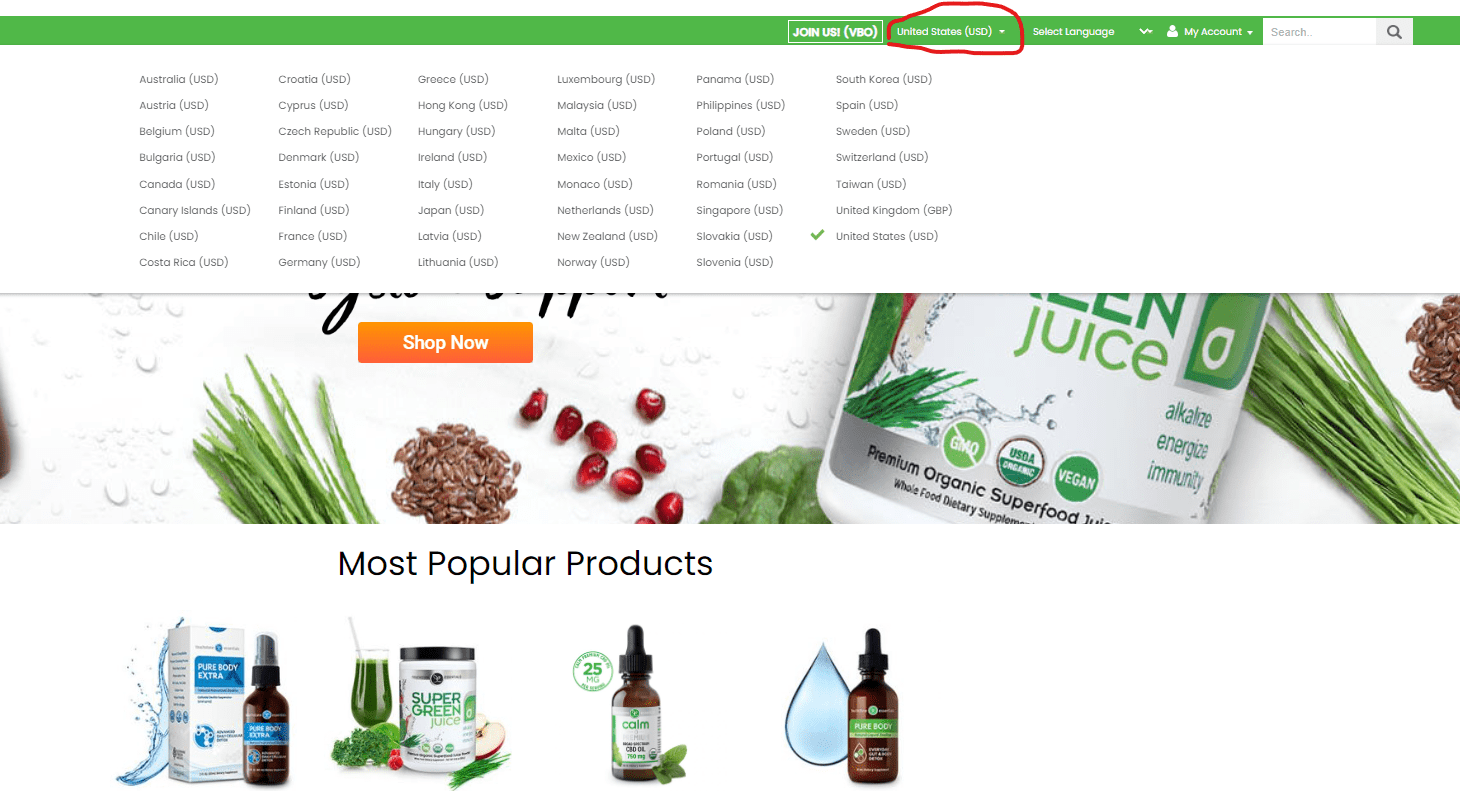 ---
*Note – I think Canada there might be some issue if you read the Calm CBD FAQ section but according to Touchstone Essentials (who I reached out to my email) they ship to 40 different countries. Just bear in mind that shipping overseas from the USA will cost you more…
---
Other CBD Products You Might Want To Consider Alternatives To Calm CBD Oil
---
So just doing a bit of research here for some good alternatives to Calm Premium CBD Oil.  The first two I reviewed in the past so thought I would include those but the next three are some other brands that I think look decent. 
I will do a short write-up about each just in case anyone is interested;
---
1#.)  CBD Essence Est. 2014
---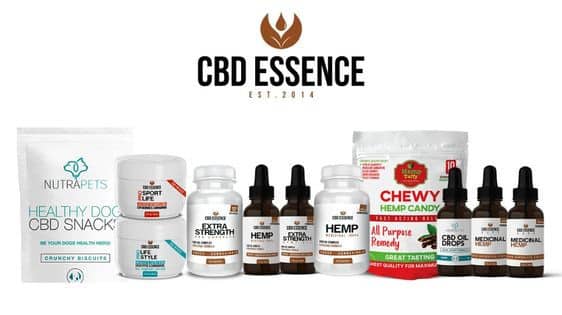 Probably for me this is my top CBD brand.  They have a great range of products and unlike Calm Premium CBD Oil you actually have a choice of different flavours other than Mint.  Although, I think what I like most about this brand though is its business model. 
According to the business owner Don Ballou, the hemp grown for CBD Essence is only grown on a very small scale to help ensure that the quality of this product is the very best available. It is a bit of a pain with waiting times – you might have to wait for months to receive this but the quality is definitely worth it if you have the patience.
Also, I like the look of Calm CBD Oil but as this is a proper CBD business that has been around since the early days I think it's definitely a very reputable brand.  The reviews on Trustpilot really say it all but I think but as mentioned the downside is you have to join a waiting list for these products because they are made on small scale to ensure better quality.
Also, CBD Essence is not available in many countries – just in North America (I think) the USA, Canada and Mexico.
---
2#.)  Blessed CBD (Available In the UK)
---

One problem with CBD Essence and Touchstone Essentials is that they don't ship to the UK.  This is actually crap because CBD Essence is made in the Netherlands so you would think the UK is nearer to the USA.  Although I would guess as the CBD Essence distribution centers are in the US this is why but fortunately Blessed CBD is a UK company.
Read my original review here
---
3#.)  CBDistillery Est. 2016 – 2 Million Customers Worldwide
---
Founded in 2016 CBDistillery is a global brand that has served more than 2 million customers worldwide.  There is a range of different products under the CBDistillery brand.  There are also a lot of decent reviews that can be found online although one possible problem that people might have with CBDistillery is that its hemp is not Co2 extracted but rather Ethanol extracted.
Read More about CBDistillery HERE<<<
---
4#.)  CBDmD
---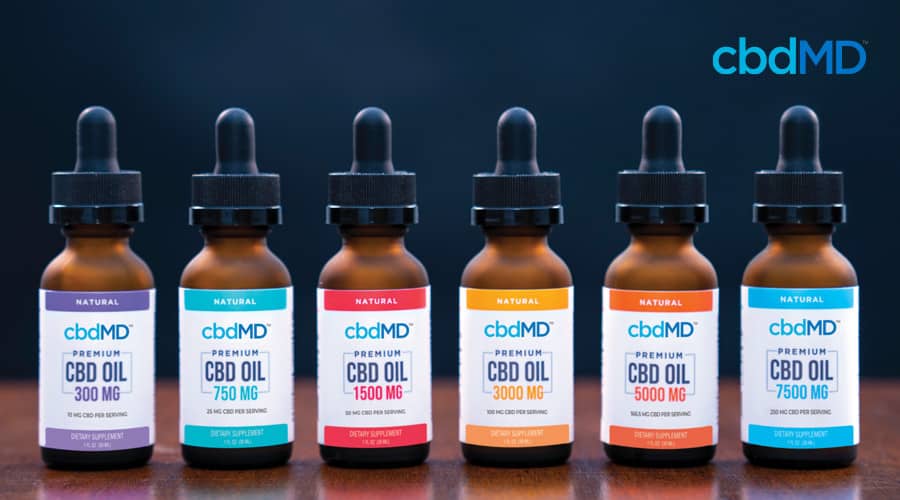 Another very well-known CBD brand based in North Carolina USA is CBDMD.  You can definitely find some good reviews for this company but compared to the rest they are probably the ones with the most issues. 
For instance, most (if not all) of CBDMD's products are Broad Spectrum so for anyone wanting a small percentage of THC in their CBD this should probably be avoided.
However, one high point unlike the other brands mentioned is that CBDMD actually offers a 60 Day Guarantee rather than 30 Days.
Read More HERE<<<
---
5#.)  Charlotte's Web CBD Est. 2012
---

Charlotte's Web CBD is a Colarado-based CBD company founded in 2012.  It was originally created by the Stanley brothers to help a girl named Charlotte Figi who suffered from seizures because of a condition called Dravets syndrome.
Today Charlotte's Web CBD stocks a wide range of CBD products with lots of positive reviews.
Read more about Charlotte's Web CBD HERE<<<
---
Final Thoughts
---
Overall, I think as long as the Mint flavour is not a problem you can definitely trust Touchstone Essentials.  I kind of base this on my experience I've had with dealing with them for their Pure Body Extra supplement but still I do like what I see.  I think Calm Premium CBD Oil is a safe bet for anyone looking to use CBD to treat their health problems.  
Although I will admit the others I shared I think all look like reputable brands.  CBD Essence I think the owner Don Ballou puts a lot of work into making sure his product stands out from the rest.  Blessed CBD I think is great if you are in the UK like myself and struggle to get the other brands imported. 
The other three I've not really researched much but they were just names that kept coming up so I thought they could at least be worth a look at.  
I will probably save this for some future reviews but anyhow if you'd like to find out more about Calm Premium CBD Oil or actually Calm Advanced+ CBD Oil I will share a link below;
>>>Shop For Calm Premium CBD Oil, Calm Advanced+ CBD Oil Plus More @ TheGoodInside.com<<<
---
Your Feedback
---
So what do you think of Calm Premium CBD Oil?  Have you tried this?  or is there another CBD brand that has helped you?  If you would like to share your experience or your thoughts, feedback, and questions please leave me a message below ⏬
Also if you know anyone that might find this content helpful please consider giving this a share.
Many thanks for reading and of course #STAYDYNAMIC
YOURS TRULY;
Alex B. Chivers
DynamicIdeas4Life.com
Contact Us at chivs86@dynamicideas4life.com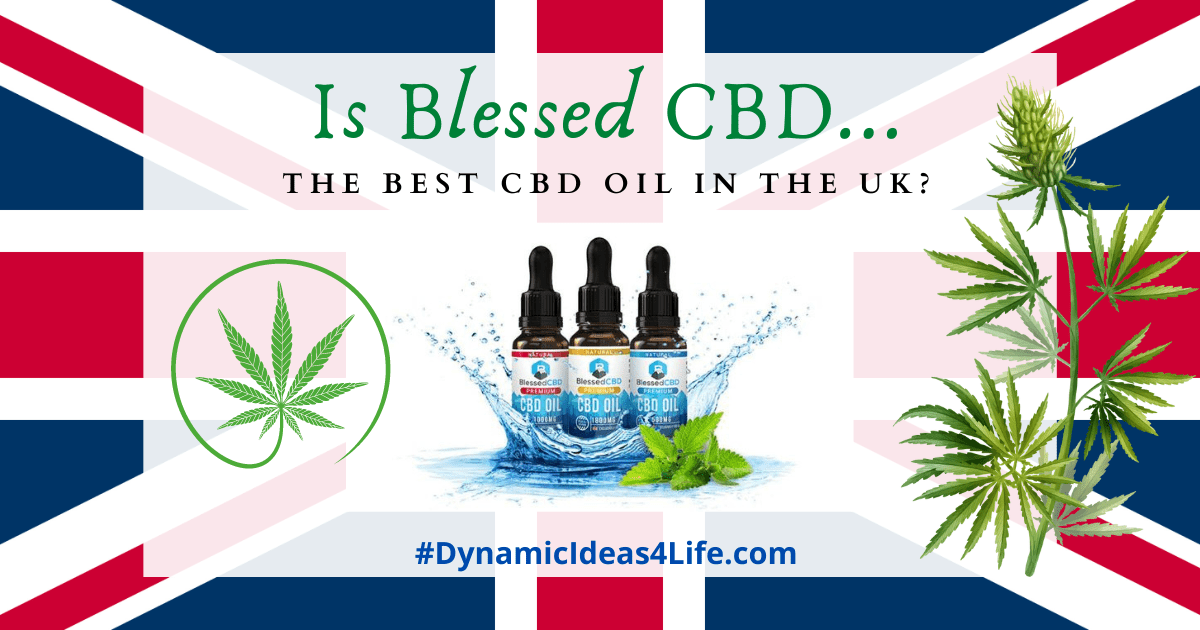 Despite its meteoric rise in popularity one very big issue that affects CBD brands is locale. Many …
Read More
Anxiety and Depression best ways to lower blood sugar BiOptimizers blood pressure supplements blood sugar support supplements Digestive Enzymes Supplement digital products Dr Sam Robbins Exercise Gut Health Healthy Living heart health HFL how to lower blood sugar levels How To Lower Cholesterol insulin resistance joint health supplement Keto keto dieting Keto Diet Weight Loss leaky gut supplements leptin resistance list Magnesium deficiency Matt Gallant mental health multivitamins Nootropics nutrient supplements Probiotics Probiotic Supplements proteolytic enzymes reverse type 2 diabetes stress and anxiety stress relief Tinnitus vitabalance vitapost Wade Lightheart weight loss articles weight loss diet plans weight loss product reviews weight loss supplements weight loss supplements that work weight loss tea
About Author