Do you know about Nitric Oxide supplements?  How they relax the artery muscles, increase blood circulation, and vasodilation (the widening of our arteries).  Many products of this kind are currently for sale, but do they work?  Which are the good ones and which are the bad ones?  Please keep reading my Juvenon Blood Flow 7 Review to find out more.
Now, In order for the body to function properly, nitric oxide is essential.  All organs of the body benefit from its activity. [R]
When nitric oxide levels are low in the body, blood circulation (flow) is affected.  Its absence can lead to numerous health problems.  Heart Disease and Erectile Dysfunction are just 2 of these conditions that can be caused.  When blood vessels are being constricted or being blocked by fat deposition many ill effects may occur as a result.
It is fortunate that Nitric Oxide supplements are available to aid in improving blood flow.  Our review today covers the Juvenon Blood Flow-7 Nitric Oxide supplement.  A product that claims to restore youth and vitality, increase energy, and maintain stamina. 
If you are looking for an all-around solution for better health then this might just be it.
---
Juvenon Blood Flow 7 Review (TOC)
---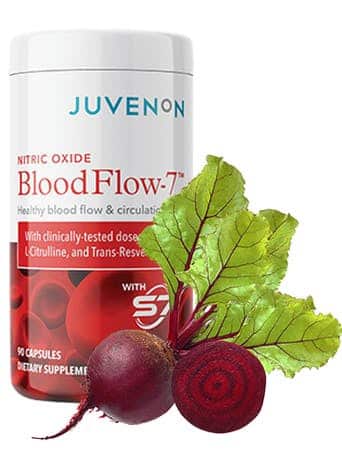 Product Name:  Blood Flow 7
Manufactured By:  Juvenon
Creator:  Dr. Darren Farenesi

Website: BloodFlow7.com

Short Description:  Nitric Oxide Based Blood Flow Supplement with L-Citrulline and Trans-Reservatrol

Pros:  Its LEGIT, good reviews
Cons:  Only 60-Days Money Back Guarantee

Rating:  4 Stars out of 5 ⭐⭐⭐⭐

Verdict:  I Am Pleasantly Surprised, please keep reading!
FTC Disclosure:  

Please note this post contains affiliate links.  If you make a purchase using one of these links there is a good chance I may receive a commission.  The price you pay will not be affected.  Also, not every product we review on this website is recommended but if this is the case we will recommend something better.

If you have any questions please contact me by email: chivs86@dynamicideas4life.com
---
What is Juvenon BloodFlow 7?
---
Just in case you are wondering.  
The Juvenon BloodFlow-7 supplement is a health product that increases energy levels, stamina, endurance, and focus. The manufacturer of BloodFlow- 7 says a single dose improves blood pressure, heart rate, and cognitive function by improving a natural process called vasodilation – the widening of the blood vessels.
Medical Age Management is the company developed by Dr Farnesi, a board-certified physician, researcher, and founder. According to his research on anti-ageing and regenerative tissues, a decrease in blood flow due to ageing is the main cause of people's lack of energy.
Low blood flow leads to a decrease in oxygen levels since blood carries more oxygen to other organs which have more open pathways.  The organs which lack oxygen will continue working but in a substandard manner.
Juvenon BloodFlow-7 increases oxygen levels in the body by increasing Nitric Oxide production.  According to Dr Fernesi, who also happens to be the product developer behind BloodFlow-7, this compound (NO) increases blood flow by 62%, strengthens heart muscles, boosts stamina, and lowers LDL cholesterol levels.
Really, this might actually be something worth looking into.  
I have covered a few blood flow circulation products at dynamicideas4life before.  My top picks are HFL Solutions Blood Flow Optimizer and Elements of Healthcare L-Arginine Plus but let's give Juvenon Blood Flow 7 a fair trial.  
I was a bit sceptical about it at first but I do wonder…
 
---
Are Juvenon Blood Flow 7 and Dr Farnesi Legit?
---
Honestly, there are too many dietary supplements today that promise the earth and just do not deliver.  Many of these I have looked at in other reviews.  The saying about separating the sheep from the goat's springs to mind because I can tell you there are legit products out there, and there are total scams.
The scams all seem to be the same.  They have a very good sales letter, a crazy video about a magic herb or something like that.  Then you have the owner of the product that has teamed up with some Hollywood Doctor or whatever.  The Doctor is risking his reputation and life for the benefit of mankind yadda yadda yadda.  
All very entertaining but I will cut the crap.  Is Dr Darren Farnesi the real deal?
I didn't think he would be but yes, it does definitely appear so.   
If you see above this is a screenshot from the Medical Age Management website.  You can look this up on google.  They are based in San Diego, CA (I think) and if you are really dubious (still) here is their phone number;  +16197956700 
Now, check out this screenshot from the Juvenon Blood Flow 7 Sales Page.
The same person right?  I have to tell you it is nice to find a legitimate product to review for a change.  I mean sure it doesn't guarantee that this is the best blood flow supplement to try but if this is a real doctor willing to put his reputation on the line.  So surely, if this is really the case then maybe it could really be worth a try.
---
How does Juvenon BloodFlow 7 work?
---
Well, In a nutshell, Juvenon BloodFlow 7 increases the levels of Nitric Oxide in the body.  With regular use of BloodFlow-7, your organs will be more nourished with oxygen and healthy nutrients.
It is because of a nitric oxide deficiency that elderly people do not get the proper oxygen supply to their organs.
The rate at which your blood pressure declines each year after 30 is 10% according to research. 
They say you will produce only 25% of the NO that you could in your 30s by the time you hit your 70s and 80s.
Nitric oxide levels in the blood are increased when you take BloodFlow-7.   
The manufacturer (Juvenon) claims that NO production may increase by 230% after taking this supplement. 
By increasing Nitric Oxide production the flow of oxygen is readily transported to every organ by opening up the tiny capillaries.  An increased blood flow to your organs ensures they receive the oxygen and nutrients they require to stay healthy. From this process, your cells are better able to repair and rejuvenate. 
To Learn More About Nitric Oxide Check Out This Video on Youtube
Back to what I was saying about Juven Blood Flow 7 though…
---
Who is it for? ?
---
Juvenon BloodFlow 7 is specifically designed for adults over 21 who wish to maintain or improve their energy and youthfulness.  Dr Farnesi, the formula developer, recommends this to patients with any medical conditions caused by weak blood flow or poor circulation.  If you have any related health problems including;
Numbness or tingling in fingers or toes
Muscle Pains and body aches
Tinnitus or Ear Ringing
Erectile Dysfunction
Hair Loss or Thinning
Swollen or Varicose Veins
Thrombosis of Legs and Feet
Skin Discolouration 
and any other related medical health issues.
Then definitely look into this
Of course, you must talk to a doctor but all the above are signs and symptoms of poor circulation.  Which is exactly what the Juvenon Blood Flow Formula is designed to help with.
---
How Long Does It Take To Work?
---

Generally speaking, Nitric Oxide Supplementation should take around 90 minutes to take effect.  Naturally, Nitric oxide is always working in some way or another.  This is because the human body is constantly producing it. 
However, if we are looking at taking a Nitric Oxide Boost then yes as I said above, this will take around 90 minutes.  This is according to a range of studies and in fact, many have reported positive effects that can happen much sooner. 
Although it varies from person to person.   Also, which should be noted when utilizing nitric oxide for sports endurance and times when you want a natural energy boost it may take 2-3 hours to work.
Each person is different though and it really can depend.  The best advice to give with any dietary supplement really is to try a product out for 2-3 months and to see which results you get.  If you feel any adverse effects or even no effects at all after 6 weeks then this is probably a good time to contact the company for a resolution.
So there is this but…
---
---
Now, this is something that definitely needs addressing.  Juvenon Blood Flow 7 DOES NOT contain Nitric Oxide!
It's OK though because its main blend 'The Nitric Oxide Precursor Blend' contains 3 vital amino acids for NO production. 
As you can see above these are L-Arginine HCL, L-Citrulline, and Setria® L-Glutathione.
These are the main parts making up the majority of the formula (1080mg) but also you have Beet Root Extract (25% betaine nitrate).  Only 100mg but what is interesting to note is Beets and other Deep Red Veggies are very good for helping the body to produce Nitric Oxide [R].   
So, yes these are the main ingredients really but you also have the S7™ Botanical Blend, added to help shield against free radicals that interfere with NO production.  Plus you also get 30mg of Trans Reservatrol which is added because it helps to amplify the production of Nitric Oxide which is triggered from the main blend.    

Altogether, Blood Flow 7 contains 6 key ingredients that work in three different ways to boost the production of NO.
 All of the ingredients have undergone clinical testing, and to ensure that you get a proper boost of NO production, they're mixed in a given ratio.   Also, in case you're wondering BloodFlow7 is vegan friendly and comes in veggie capsules.
Which is cool right but…
---
What are the Overall Benefits of BloodFlow-7?
---
For a start by boosting low Nitric Oxide levels your life becomes more vibrant, radiant, and energetic.  There will be improvements in your immune system, your mood, cognitive function and you will have healthier skin, teeth and hair.
Restoring your vitality is made possible by taking Juvenon BF7.  Your energy and stamina will be sustained and enhanced.  As will, your well-being and physical health.  
In Juvenon Blood Flow 7 taking these capsules offers the following benefits:
It improves blood flow and circulation.
Blood pressure is controlled and diseases associated with it are kept at bay.
You will become more active and energetic when you take it.
It boosts your memory, concentration, and mental agility by increasing the oxygen supply to brain cells.
Exercise performance and muscle recovery are improved by nitric oxide.
Ageing is slowed down by it. 
Rejuvenate yourself by repairing your cells faster in every organ, tissue, and muscle.
The view from within. You feel a surge of energy as well as a warm feeling in your hands and feet.
Older men especially can benefit from it because it increases libido.
Sleeping better will make you feel better.
In terms of hair, skin, and nails, nitric oxide is very rejuvenating.
---
Is Juvenon Blood Flow 7 Safe?
---
This is a very good question for sure.  Nitric Oxide supplements should be taken in consultation with a physician (your GP). 
A doctor should be consulted before taking these supplements (like any others) if you have any medical conditions.
Pregnant women or nursing mothers should not use it.  Neither should children under 18 years of age.
---
What are the Side Effects of BloodFlow-7
---
According to the Juvenon website, BloodFlow-7 is created with a precise natural blend of ingredients without any harmful chemicals.  Whilst it is not impossible to suffer from side effects Juvenon has taken extra care to make sure that this product is safe as possible and to the very best of their care to ensure BloodFlow7 is free from side effects.
However, this does not guarantee this will not happen.  For instance, with some dietary supplements, the user may have a reaction if they are allergic to one of the ingredients for example.   
Also, those that suffer from heart disease should consult a doctor before they take any Nitric Oxide Supplement.  As it's not recommended as there may be serious consequences with taking certain products.
---
Dosage
---
In case you are wondering about what dosage to take of Juvenon Blood Flow 7. 
The recommendation is that you can take 1 pill three times per day with a glass of water.   
For best results continue usage for 30-Days Minimum.
DO NOT exceed more than 3 capsules a day as a safety precaution.
---
How To Contact Juvenon
---
For More Details About Blood Flow 7 Contact:
Juvenon
165 Pleasant Ave
South Portland, ME 04106
Email: cs@juvenon.com
Blood Flow 7 Phone Number: 1-800-588-3666
---
Final Verdict
---
I am actually quite impressed with this product.  Juvenon, the makers of this supplement have put a lot of work and experience into making this.   They actually have a few other products for sale which is interesting incl. NuvoFlex, SeroLastin and Thymogel just to name a few.  Their headquarters is based in California and their products are manufactured in both FDA and GMP approved facilities.  
In my opinion, buying the Juvenon BloodFow-7 supplement is a great way to invest in your health as it is the result of years of research and carefully selected ingredients.  I would say it looks as good as any other product out there but I honestly just have one small issue with this company.  They only offer a 60-Days Warranty from the purchase date.
Honestly, a lot of Supplement companies do the same but I have a lot more trust in the one's that offer a longer period.
---
Customer Reviews
---
Another thing I really like about Juvenon Blood Flow 7 is there are reviews.  The Juvenon website takes reviews from Facebook and Google plus allows its customers to submit their own.  There are a few negative but mostly positive.  Kind of what to be expected but they are very professional here.  Over 330 reviews on their website alone.

Also, here is where it gets even more interesting.  Juvenon Blood Flow 7 has over 1600 Reviews on Amazon and an Amazon Choice badge.  There is no denying its quality really – I can't share the Amazon screenshots but this is probably one of the best Blood Flow Supplements I have found so far.
---
The Competition
---
I would actually recommend one product over Juvenon Blood Flow 7 and only because it offers a 1-year money-back guarantee over Juvenon's 2 months (60 days).  If this was not the case then I would stay quiet but anyhow.
The other product I recommend is HFL Solutions Blood Flow Optimizer [Read My Review Here]
Or click the banner below to visit their website 
Also, check out this table for some more Blood Flow products below if you are looking for others.
| | | | | | |
| --- | --- | --- | --- | --- | --- |
| Circulation Support | Amate LiFe | 8 | $20.99 | 60 Days | N/A |
| L-Arginine Plus | Elements of Healthcare | 12 | $39.95 | 60 Days | N/A |
| Number One Nutrition | N1N Blood Circulation | 8 | £50.40 | 60 Days | N/A |
| Circulation Support | NutriONN | 8 | $19.95 | 60 Days | N/A |
| Blood Circulation Formula | Dr Christopher's | 6 | £11.15 | 60 Days | N/A |
| OptiFlow | Bricker Labs | 2 | £56.00 | 60 Days | N/A |
| Juvenon | Blood Flow 7 | 11 | $39.95 | 60 Days | N/A |
| Blood Flow Optimizer | HFL Solutions | 18 | $39.97 | 1-Year | N/A |
---
In Conclusion
---
I am kind of torn between HFL and Juvenon for the best product.  In terms of the customer reviews on Amazon and the Juvenon website, I think they both are good products.  In fact, I don't even think the warranty matters because going on the experience of others BloodFlow7 obviously does work for the majority of people who take it.
So if want to safeguard your investment in case it doesn't work go with HFL but if you are willing to risk losing your money on a very possible solution for better blood flow and circulation go with Juvenon.  I mean I think I would choose them myself because there seem to be more reviews across the web but I shall leave it up to you.
---
Where To Buy Juvenon Blood Flow 7
---
OK, so you can buy Juvenon Blood Flow7 from Amazon, and eBay.  No doubt other places as well but to be safe from buying fake versions that could be unsafe you should really only buy from the official source. 
For this, I will share the link below.
Also, if you are wondering about pricing you can buy with discounts as a multi-pack.
So ONE BOTTLE = $39.95 + Shipping
There is no deal for 2 bottles!
THREE BOTTLES is $119.85 but you get 1 Free + Free Shipping
FIVE BOTTLES + GET 2 FREE + Free Shipping = $199.75
So technically you only save on shipping but you get extra bottles for free if you buy more.
Medical Disclaimer
---
About Me and DynamicIdeas4Life.com
---
---
Your Feedback
---
Are you reading this because you have heard of Juvenon Blood Flow 7?  What did you think of my review?  Are you looking for a product to try for heart health or improving blood flow?  Maybe there is another product you would like me to write a review for.  If you would like to share your thoughts or have any questions please leave your feedback below.
Many thanks in advance and hope to see you all again soon.
#StayDynamic
Alex B. Chivers
DynamicIdeas4Life.com
PS:  if you know anyone that might find this content helpful, please share it on your socials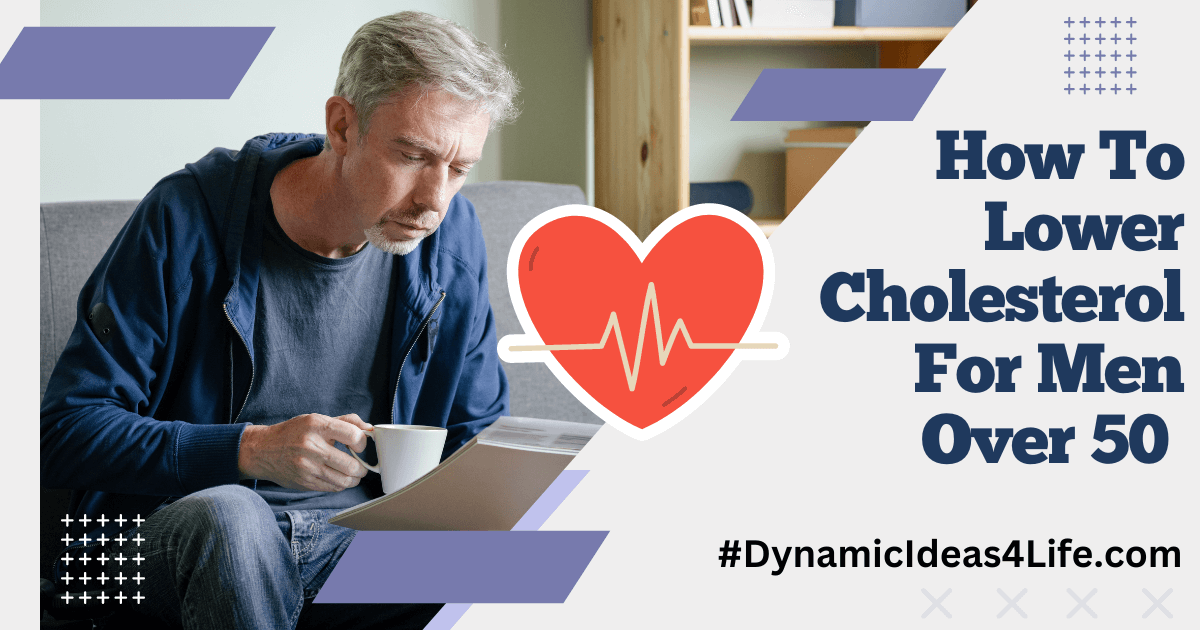 Cholesterol is a fatty substance that is produced by the liver and is essential for the normal funct…
Read More
Anxiety and Depression best ways to lower blood sugar BiOptimizers blood pressure supplements blood sugar support supplements Digestive Enzymes Supplement digital products Dr Sam Robbins Exercise Gut Health Healthy Living heart health HFL how to lower blood sugar levels How To Lower Cholesterol insulin resistance joint health supplement Keto keto dieting Keto Diet Weight Loss leaky gut supplements leptin resistance list Magnesium deficiency Matt Gallant mental health multivitamins Nootropics nutrient supplements Probiotics Probiotic Supplements proteolytic enzymes reverse type 2 diabetes stress and anxiety stress relief Tinnitus vitabalance vitapost Wade Lightheart weight loss articles weight loss diet plans weight loss product reviews weight loss supplements weight loss supplements that work weight loss tea
About Author