Recently one very big claim to hit news outlets has been that CBD can reduce symptoms of anxiety in young people by up to 50% [R].  It must be said that with more people in the 18-34 years old demographic suffering from anxiety that solutions are needed now more than ever before!
Why CBD is the word on everyone's lips.  More people every year now are paying attention to this latest health supplement trend.  Exactly why Joy Organics CBD products are becoming so popular, and you really can't ignore their reviews.  If you are looking for quality CBD products then this is one company to really look out for.
I actually also recommend a few other CBD businesses on this website [See Here] but anyhow.
Just take a look at the comprehensive lineup of Joy Organics CBD products and see what they have to offer.
From tinctures to topicals, Joy Organics has got you covered.  Even CBD for pets is an area of specialty for this company, but In this article, we will take a closer look at their main product line…*
To see what makes them stand out from the rest of the competition.  To find out whether better products are available elsewhere, and if Joy Organics CBD Products might be suitable for your health and wellness needs.
So without further ado…
---
What Are The Best Joy Organics CBD Products – A Comprehensive Guide
---
FTC Disclosure:  Please note that within this post I will be sharing my own affiliate links.  This will not affect the price you pay but if you do use one of these links which leads to you making a purchase I may receive a percentage of this sale as a commission.  If you have any concerns regarding this please contact me at chivs86@dynamicideas4life.com.
Health Disclaimer: Views and opinions expressed within this content are my own and do not reflect that of the company.  I am not a trained health professional and anything advised within this content is for informational purposes only. If you experience any negative effects after taking Joy Organics or any other health supplements please discontinue use and always speak to a qualified health professional first.
---
Joy Organics Overview
---
Company Name:
Joy Organics
Products:
CBD Oil Tinctures, Gummies, Capsules, and Salve
Business Owner:
Joy Smith
Company Based In:
Colorado, USA
Website:
JoyOrganics.com
Short Description:
CBD Solutions for Stress/Anxiety, Joint Pain, Better Sleep, etc.
Things To Note:
Some products contain THC
Made From Pure Organic USA Grown Hemp
Co2 Extracted
30-Day Money Back Guarantee
Vegan Friendly and Allergy Free
Expected Results:
5 to 10 Days
Pricing:
Varies from each product to the next
Do I Recommend:
Not my top pick for CBD Oil but still think this looks good.
Now…
Who Are Joy Organics?
---

Obviously, Joy Organics is a company that is in the business of supplying CBD Oil.  They are a family-run business managed by a lady called Joy Smith and they are based in Colorado USA. 
Currently, Joy Organics has 3 of its own stores and 100+ retailers. They are known as an Industry leader in the CBD space and offer a wide variety of different products.  [R]
What You Should Know Before You Buy
---
If you are looking for a premium grade, third-party lab tested USA grown hemp then Joy Organics ticks every one of these boxes.  For any individuals considering an investment in CBD for better health Joy Organics CBD products are consistently produced to a high standard with cutting-edge Co2 extraction methods.
They are available in both full and broad spectrum, and you can also buy Joy Organics CBD Products in a range of different flavors.
These include several unique products such as;
Broad Spectrum CBD Softgels with Melatonin & CBN for Sleep,
Full Spectrum CBD Softgels with THC
THCV Gummies
Organic CBD + CBG Tinctures
Delta 9 THC Gummies – 5mg Beach Buzz,
and even Organic CBD Massage Oil.
In total there are 24 different products (as of now) in the Joy Organics product range.  Many of these products are specially developed for different areas of health including Sleep Troubles, Stress/Anxiety Relief, and Pain Relief.
They really do have something for everyone but maybe the best part is that you can also save 20% on your first order by using this link HERE<<<  *Do not accept 10 or 15% off they will offer you 20% off after.
Just visit their website you will see what I mean.
But Why Choose Joy Organics CBD Products?
---
So, Joy Organics is a family-run CBD company founded by Joy Smith.  Its original concept was to develop premium CBD products through innovation and excellence, with service to match.
Something that its customer reviews today show is still very much the case.
This is a screenshot from Trustpilot.com. Not really a very good resource for reviews as there are only 4 reviews here (as of now) but keep reading I will share some more Joy Organics customer reviews from other sources further down;
What Products Do Joy Organics Sell?
---
I shared a short list above you can find a full list of products on the Joy Organics CBD products store page but just to summarize a few key areas I will share a few different areas of the information below;
1. Joy Organics CBD Oil Tinctures
---
Joy Organics CBD oil tinctures are some of the best on the market.  They come in four different strengths (250mg, 500mg, 1000mg, and 1500mg) so you can find the perfect one for your needs.
Besides this Joy Organics also offers a variety of flavors, including mint, orange, lime, and unflavoured.
From this selection of tinctures, you can find both full-spectrum CBD Oil which contains a small amount of THC, and Broad Spectrum CBD oil, which means it contains all of the beneficial cannabinoids, terpenes, and flavonoids but none of the THC.
So basically this makes it a great choice for those who want CBD's benefits without THC's psychoactive effects.
I'd say these are only mild really, to be honest, but anyhow so other than this Joy Organics CBD tinctures are third-party lab tested for purity and potency.
Their lab results can be found on the Joy Organics website, and what these basically highlight is that Joy Organics CBD uses a supercritical CO₂ extraction process to extract the CBD from USA-grown organic hemp plants.  This is then blended with MCT oil and the natural flavorings mentioned above.
---
2. Premium CBD Gummies
---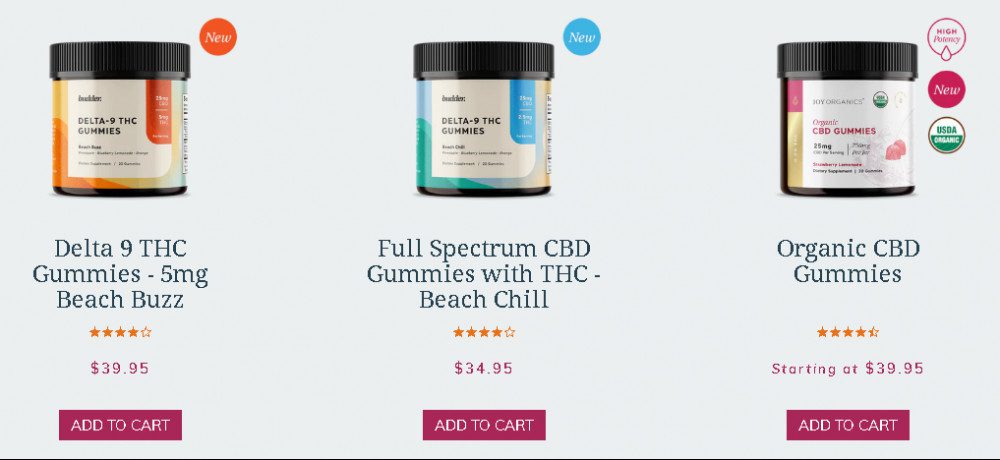 Joy Organics also offers premium CBD gummies.  These gummies are available as broad-spectrum, full-spectrum, and enhanced full-spectrum CBD and come in five different varieties.
Delta 9 THC Gummies – enhanced full spectrum with 5mg THC – Beach Buzz – 3 Flavours -750mg
Full Spectrum Gummies – Beach Chill – THC 2.5mg – 3 Flavours – 750mg
Organic CBD Gummies – Strawberry Lemonade Flavour 0.0% THC – 750mg
CBD Gummies for Sleep with Melatonin & CBN – 750mg total
THCV Gummies – Passion Fruit Flavour with 10mg of THCV – 900mg total
Like the CBD tinctures, Joy Organics gummies are also third-party lab tested for purity and potency.
Each gummy includes natural ingredients like tapioca syrup, cane sugar, pectin, and fruit and vegetable juices. They are GMO-free, gluten-free, and vegan.  Each type varies for different purposes [Visit Website To Find Out More]
---
3. Premium CBD Softgel
---
Joy Organics has you covered with premium CBD soft gel capsules if you prefer capsules to gummies or CBD oil.
These capsules are available as both broad-spectrum and full-spectrum with THC.  For any interested buyers, each type is specialized for a different area of health.  The one pictured on the left is for stress and anxiety support, the second is for sleep, the third is for joint and muscle pain, and the fourth is for relaxation.
Each CBD softgel blend is third-party lab-tested for purity and potency and is a great way to get your daily dose of CBD in a convenient form.
The capsules are made with a water-soluble nanoemulsion technology, which makes them easier for your body to absorb. They are also GMO-free and vegan. You can find them in a 30-count bottle (10mg per serving).
---
4.  Organic CBD Salve
---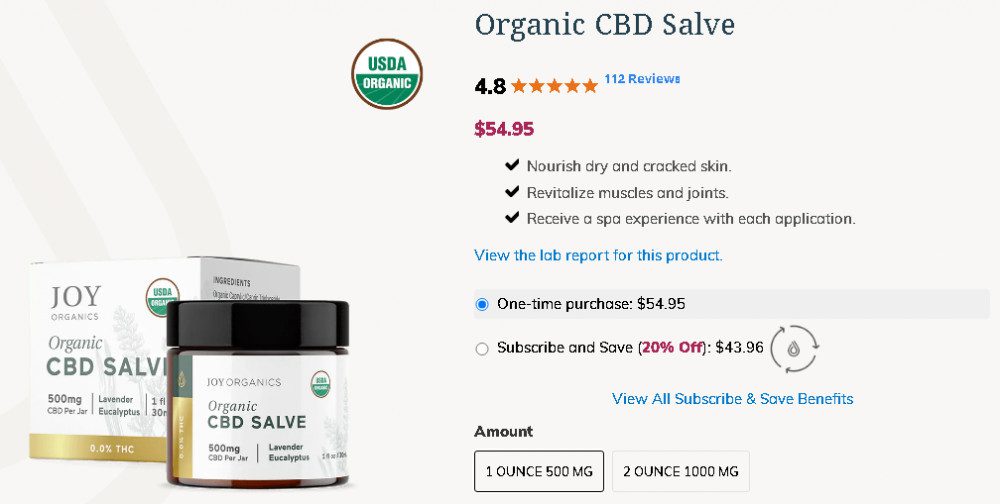 Joy Organics' organic CBD salve is a topical product that can be used to relieve pain and inflammation.
It is made with broad-spectrum CBD, beeswax, coconut oil, shea butter, and essential oils. It is third-party lab tested for purity and potency and comes in a convenient travel-sized tin.
The salve is a great choice for those who want the benefits of CBD but don't want to ingest it. It can be applied directly to the skin and is absorbed quickly. The beeswax and essential oils help to soothe and protect the skin, while the CBD works to relieve pain and inflammation.
So these are some of the best products that Joy Organics has to offer. If you're looking for high-quality CBD products, they are a great option. Be sure to check out their website and see for yourself. You won't be disappointed!
If you are not sure which type of CBD Oil will be best for you then click on the box below to check out this cool quiz ⏬

Joy Organics CBD Oil Reviews
---
I've already shared one screenshot from TrustPilot above.  As of now the score on Trustpilot is nothing special really 4 reviews 2 positive and 2 not so positive.  It doesn't really look good here but actually, if you visit the Joy Organics website there are hundreds of positive reviews from customers.
Each product has its own set of reviews and even though it can to a degree be difficult to trust a brand's own website because of how easy something like this is to manipulate still the number there does make you think these do include legitimate reviews.
I would say they are as credible as you can get in this respect but outside of here bbb.org list Joy Organics as an A+ Accredited Business with 3.7 out of 5 stars.
Their Facebook page has 116 reviews with a rating of 4.9 out of 5 stars, and Quora, and Reddit no doubt have more reviews.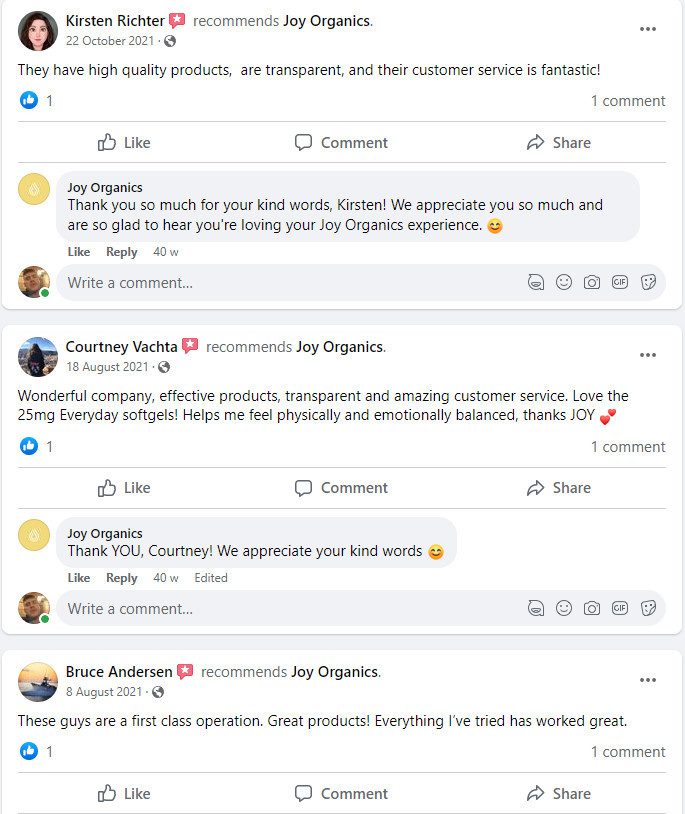 It seems that there are customers that are not happy with Joy Organics CBD products but many of them are.
What I Like
---
I think it is good the options that Joy Organics CBD Products offer.  You have the choice between flavors and there are both full-spectrum and broad-spectrum products.  There are also 4 main options for tinctures, topicals, gummies, and soft gel capsules with a few other unique products.
I also like how there are products that specialize in things like sleep troubles, joint pain, and stress relief.  Other CBD brands I find usually go for the more general approach.  Which I think is all good really CBD can be used to treat a multitude of things.  Just as long as the quality of the product is good.  Although having this extra benefit I think is attractive.

What I Don't Like
---
There isn't much really I can say I don't like about Joy Organics CBD Products.  Maybe because there aren't more reviews on Trustpilot I think is a problem but they definitely make up for this with their reviews on Facebook and their own website.
I think maybe I will need to come back to this question at a later date but as of now, I don't see much to moan about.
How Does Joy Organics Compare To Other CBD Companies
---
In contrast, as I said in the last section there isn't much I can find wrong with this brand.  The 2 other CBD companies I've also reviewed I think they look equally good but perhaps I would give CBD Essence my recommendation over Joy Organics.  Mostly, just because their ratings on Trustpilot are far superior.
Also, Touchstone Essentials Calm Premium CBD Oil I would also give a special nod to as I've actually dealt with this company personally on several occasions and I think their products are great.
Joy Organics Pros and Cons
---
The Pros
Available both online and in selected stores
Wide range of products including both broad and full spectrum CBD.
Third-Party Lab Tested, FDA & GMP Approved
Organic and USA Grown
Select products for Sleep, Pain Relief, and Stress/Anxiety
The Cons
Not available Outside the USA
Only 4 reviews on Trustpilot
High Prices for some products
Some products are not always available.
May not work for everyone
Joy Organics CBD Products FAQs
---
What Are CBD Softgels and Gel Capsules?
CBD Softgels and Gel Capsules are soft pills that contain CBD. They are much easier to take and are simple to add to your routine as a dietary supplement.
What Do CBD CBD Softgels and Gels Do?
CBD Softgels are just a unique way of taking CBD Oil. Their effectiveness is not really better or worse than tinctures or gummies but they just react with your body in a different way when consumed.
Which Joy Organics CDB Softgels Are Right For Me?
Take the Joy Organics CBD Quiz to see what product best suits your needs [Click Here]
How Are Joy Organics CBD Tinctures Flavored?
Joy Organics CBD Oil is flavored using a combination of essential oils and MCT oil.
Broad Spectrum Vs. Full Spectrum CBD?
For those worried about the psychoactive effects of THC (even in very small amounts) Broad Spectrum is the type for you. Whereas the Full Spectrum kind contains THC but this still is less than 0.05% which is required by law.
What Is a CBD Oil Tincture?
This is a bottle that allows easy application of CBD oil. Basically, so it can be used as a liquid rather than a capsule, or gummies.
What Makes Joy Organics CBD Gummies Different?
Joy Organics CBD strives to create the best CBD oil possible. Whenever it can it uses only organic and vegan sources and never uses artificial flavorings. It also undergoes rigorous third-party lab tests to check for over 50 different pesticides.
What Do CBD Gummies Taste Like?
Joy Organics gummies are described as having a fruity flavor with a slight taste of hemp. Except for the full spectrum type that has a stronger hemp taste besides the fruit flavors.
How To Take Joy Organics CBD Topicals?
What Joy Organics recommend is to apply their CBD Topicals to the skin whenever you feel it necessary to do so. Simply just rub it into the affected area and wait for the results.
What Is CBD Salve?
CBD Salve is a kind of CBD Topical. It's no different from an ointment or balm and works by being applied directly to the skin where the CBD absorbs into our body.
What Are The Best CBD Products for Pain Relief Anxiety and Sleep
Joy Organics has got you covered. Products like THCV gummies can help with stress and anxiety, their CBD gummies with Melatonin can help with sleep and their CBD tinctures can help relieve joint and muscle pain. Take the quiz here to see what is best for you.
Final Word
---
Are you in search of CBD products online?
Then you should find that Joy Organics comes up high on most of the CBD comparison lists.  They are definitely popular that's for sure. Just look at their reviews on their website.
But Why Take CBD Oil?
CBD oil is definitely something that appears to have a lot of potential to help people.  For 18 to 34-year-olds that struggle with Stress and Anxiety giving them something like Joy Organics CBD Products might just make the difference.  There is definitely scientific data that goes some way to support this.  [R] [R] [R]
Just make sure before you do to read the guidelines.

When taking CBD oil of any kind always make sure you read the guidelines set out by the company you are buying it from.  You should also speak to a doctor if you are taking any medications as a precaution because of any possible interactions.   

Also
You may find that speaking to the company you bought the CBD oil from may be able to tell you more about any possible side effects you might experience.  New users especially may take time to adjust to new supplements so speaking to your CBD oil supplier should help you find this out.
Mostly you should be fine and if Joy Organics seems like something you'd like to give a try…
Where To Buy Joy Organics
---
Joy Organics has dispensaries in nearly every USA state.  You can find out the nearest store to you if you would prefer to buy in person by checking out this list here;
Alabama
Birmingham
Huntsville
Montgomery
Muscle Shoals
Spruce Pines
Alaska Anchorage
Juneau
Arizona
Avondale
Cave Creek
Chandler
Flagstaff
Gilbert
Glendale
Goodyear
Mesa
Phoenix
Prescott
Scottsdale
Tucson
Arkansas
Conway
Little Rock
Rogers
California
Albany
Alhambra
Anaheim
Bakersfield
Brea
Brentwood
Burbank
Camarillo
Carlsbad
Cerritos
Chino Hills
Chula Vista
Citrus Heights
Claremont
Clovis
Fresno
Fullerton
Irvine
Long Beach
Los Angeles
Merced
Modesto
Needles
Oakland
Palm Desert
Rancho Cucamonga
Riverside
Sacramento
San Bernardino
San Clemente
San Diego
San Francisco
San Jose
San Luis Obispo
Santa Ana
Stockton
Ventura
Colorado
Arvada
Aurora
Boulder
Cañon City
Castle Rock
Centennial
Colorado Springs
Denver
Dillon
Estes Park
Evans
Grand Junction
Greeley
Fort Collins
Johnstown
Loveland
Pagosa Springs
Connecticut
Bridgeport
Greenwich
Hebron
Old Lyme
Delaware
Wilmington
Florida
Boca Raton
Bonita Springs
Clearwater
Clermont
Fort Myers
Fort Walton Beach
Jacksonville
Lakeland
Long Beach
Miami
Melbourne
Naples
Orlando
Orange Park
Palm Bay
Port Charlotte
Sebring
St. Petersburg
Tallahassee
Tampa
West Palm Beach
Georgia
Atlanta
Augusta
Camilla
Canton
Chamblee
Duluth
Marietta
Smyrna
Tifton
Hawaii
Honolulu
Idaho
Boise
Challis
Coeur d'Alene
Idaho Falls
McCall
Post Falls
Rexburg
Illinois
Batavia
Buffalo Grove
Chicago
Elgin
Glenview
Harrisburg
Lake Bluff
Lake in the Hills
Lake Zurich
Moline
New Athens
Palatine
Peoria
Schaumburg
Indiana
Fort Wayne
Indianapolis
South Bend
Wabash
Iowa
Belmond
Kansas
Liberal
Mission
Parsons
Topeka
Wichita
Kentucky
Ashland
Frankfort
Lexington
Louisville
Louisana
Baton Rouge
New Orleans
Maine
Bradford
Maryland
Annapolis
Baltimore
Bel Air
Bethesda
Germantown
Glen Burnie
Hagerstown
Rockville
Westminster
Massachusetts
Boston
Fairhaven
Haverhill
Hyannis
Michigan
Berrien Springs
Detroit
Lansing
Midland
Muskegon
Minnesota
Mankato
Marshall
Minneapolis
Minnetonka
Saint Paul
Mississippi
Horn Lake
Missouri
Houston
Kansas City
St. Louis
Montana
Kalispell
Nebraska
Lincoln
Omaha
Nevada
Henderson
Las Vegas
Reno
New Hampshire
Concord
New Jersey
Jersey City
Newark
New Mexico
Albuquerque
Las Cruces
Santa Fe
New York
Albany
Buffalo
New York City
Riverhead
Wading River
White Plains
Yonkers
North Carolina
Charlotte
Clinton
Durham
Fayetteville
Greensboro
Raleigh
Wilmington
North Dakota
Cavalier
Fargo
Ohio
Akron
Ashland
Athens
Canton
Cincinnati
Chester
Cleveland
Columbus
Coschocton
Dover
Findlay
Medina
New Philadelphia
Orrville
Tiffin
Toledo
Wadsworth
Wooster
Oklahoma
Bixby
Oklahoma City
Tulsa
Oregon
Portland
Pennsylvania
Allentown
Bethel Park
Harrisburg
New Ringgold
Philadelphia
Pittsburgh
State College
Waymart
Puerto Rico
Rhode Island
Woonsocket
South Carolina
Charleston
Columbia
Greenville
Myrtle Beach
South Dakota
Tennessee
Chapmansboro
Franklin
Knoxville
Memphis
Nashville
Texas
Abilene
Allen
Amarillo
Arlington
Austin
Carrollton
Cedar Hill
Cedar Park
Coppell
Corpus Christi
Cypress
Dallas
El Paso
Fort Worth
Houston
Humble
Katy
Laredo
Lubbock
McAllen
McKinney
Odessa
Plano
Richland Hills
San Antonio
Spring
Utah
Ogden
Salt Lake City
Vermont
Colchester
Virginia
Alexandria
Midlothian
Richmond
Virginia Beach
Washington
Leavenworth
Seattle
Spanaway
Washington, D.C.
West Virginia
Wisconsin
Madison
Menomonee Falls
Milwaukee
Richland Center
Sheboygan
Wyoming
Besides this, you can also purchase Joy Organics Directly from their website by clicking on the banner below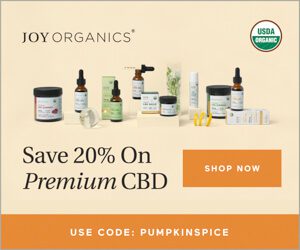 Your Feedback
---
Before we go have you tried Joy Organics CBD Products?  What did you think?  Is this a product line you would recommend to others or is there another CBD brand that you think is better?
Or if you have never tried Joy Organics what did you think of the information I have shared in today's post?  Is Joy Organics something that you would try?  Let us know what you think it will be great to hear from you.
Also, do you know anyone that might like to read this review?  If so please share away this would be awesome.
Finally, thanks for reading, and if you have any questions or would like to leave feedback drop us a comment in the comments section below;
Best regards and #StayDynamic, Healthy, and Happy!
from

Alex B. Chivers
DynamicIdeas4Life.com

Contact us at chivs86@dynamicideas4life.com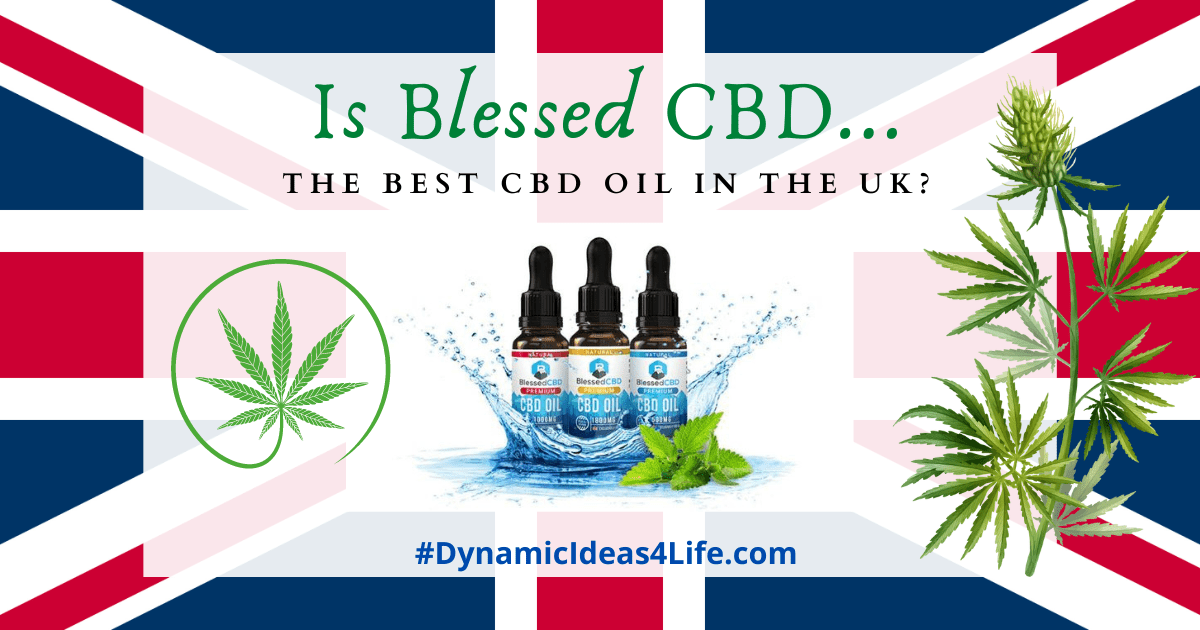 Despite its meteoric rise in popularity one very big issue that affects CBD brands is locale. Many …
Read More

About Author