According to a study published in 2015 by the Annals of Internal Medicine consuming 30 grams of Fiber each day can help you lose weight, improve your body's response to insulin, and can lower your blood pressure just as effectively as a strict diet regime.  [R]  
We should not be surprised that by focusing on a fibre-rich diet this can have a huge impact on our health and wellness.  By eating the right kinds of foods the health benefits are very clear to see but for anybody looking to take this a step further, this is certainly something that Touchstone Essentials Organic Super Fiber can be an effective solution for.  
Whether you might be looking to lose weight, resolve detrimental gut health issues, or really just if you want to take action towards all-round better general health and well-being then definitely keep reading this review.
For this post, there will certainly be much that is said about the product above but I will also look to cover several other important points too such as; 
How Prebiotic Fibre Can Help Lose Weight?
What a Fibre Rich Diet Can Do For You
How Gut Health Effects Brain Function and…
Which Is Better:  A Fibre Rich Diet or Prebiotic Supplements? or both together?
Bottomline whether you choose to look into getting this product or not – this article should still be worth your time to read.
For anyboy just looking for information about how improving gut health can positively aid in weight management then this absolutely will be something I will look to share with you.
So please keep reading and any questions I will gladly do my best to try and answer in the comments towards the end.
 Now, let's dive in shall we and let's explore this question…
---
Can Organic Super Fiber Help You Lose Weight?
---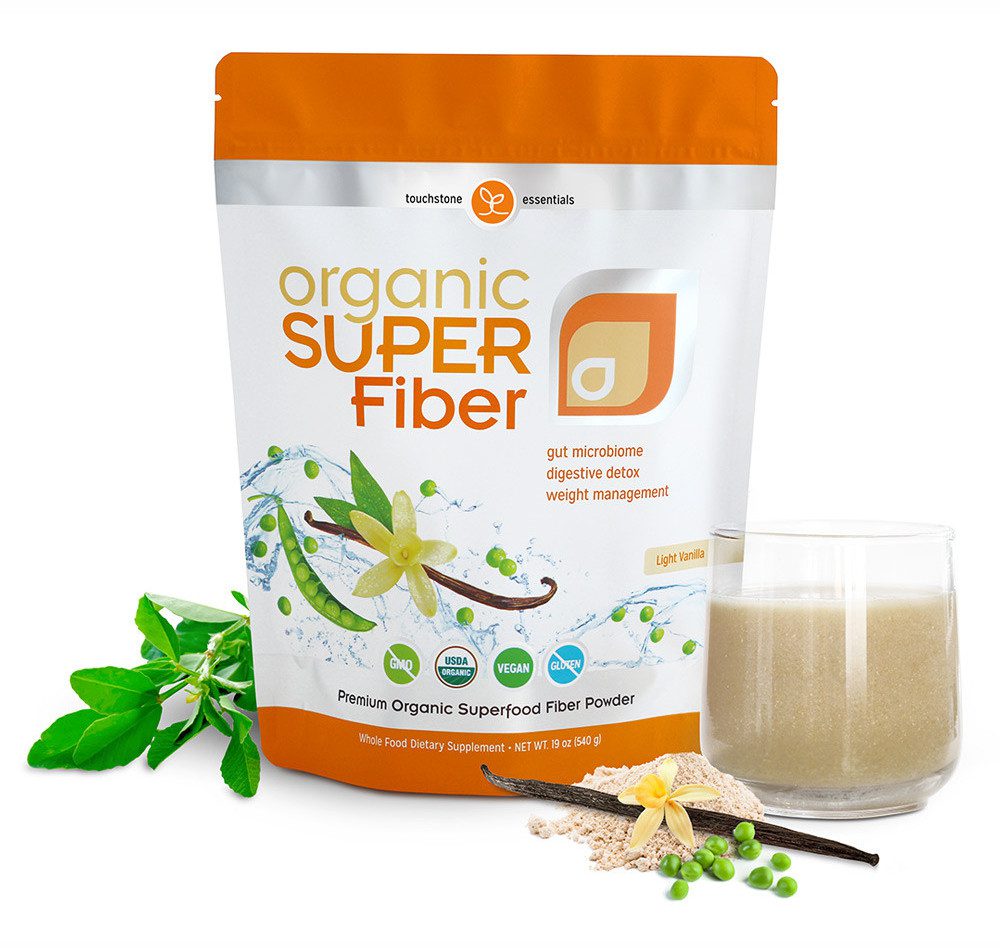 Product Name:
Organic Super Fiber
Manufactured By:
Touchstone Essentials (the Good Inside)
Owner:
Eddie Stone
Website:
Grit Free, Vegan Friendly, Gluten Free, Soy & Dairy Free, USDA Organic, GMO-Free
Pricing:
Take 1-2 Scoops with 1 x 12-18 oz. a glass of water before breakfast.
Things To Note:
$65 for one pouch + discounts for subscribers and packs of 3 and 5 pouches
Ingredients In short:
Pea Protein, Pea Hull Fiber, Flax Seed, Quinoa, Psyllium Husk, etc.
Directions for Use:
Having dealt with Touchstone Essentials several times in the past they are a brand you can trust.  Organic Super Fiber is a new product (at the time of writing this) but it is something that I think has the potential to help with weight loss as well as other gut health issues. 

Dietary fiber is clearly very important for the gut microbiome and taking a supplement such as Organic Super Fiber looks to be a good source of nutrition for better digestive health.  
Do I Recommend: 
Having dealt with Touchstone Essentials several time in the past they are a brand you can trust.  Organic Super Fiber is a new product (at the time of writing this) but it is something that I think has the potential to help with weight loss as well as other gut health issues. 

Dietary fiber is clearly very important for the gut microbiome and taking a supplement such as Organic Super Fiber looks to be a good source of nutrition for better digestive health.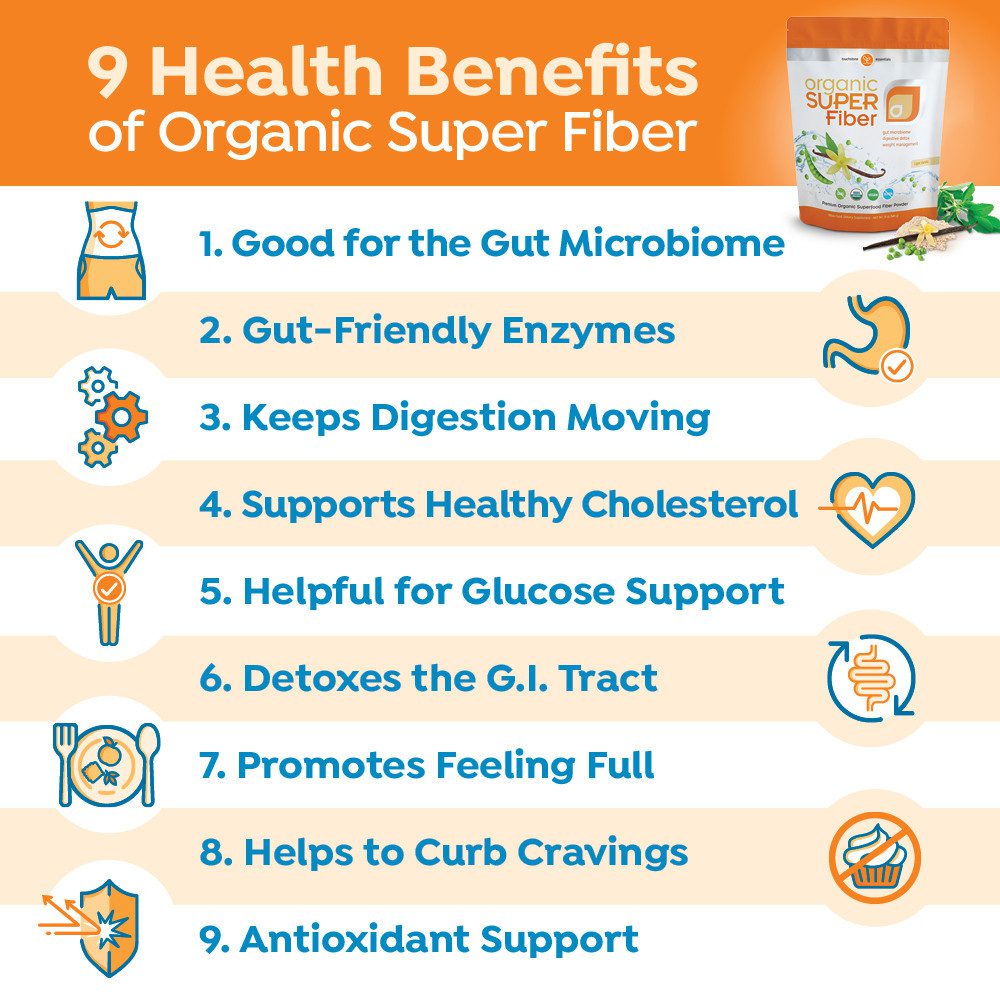 FTC Disclosure: 
Please note that this article contains affiliate links.  Some links within this post will redirect to a sales page where if you decide to make a purchase I might receive an affiliate commission.  The price you will usually pay will not be affected and if you find this information helpful this is a great way of supporting my work.    
Health Disclaimer:   
Note: that I am not a qualified health professional.  The information shared within this post is for informational purposes only and should not replace that of a doctor or qualified medical professional. 
*Note OSF contains Fenugreek.  Please be advised if you are pregnant this should only be consumed in small amounts.  OSF does not contain big amounts of Fenugreek but this is something that is highlighted on the website as a word of caution.

They don't really say too much that I haven't said already but anyhow…
---
So What Is The Organic Super Fiber Supplement
---
In short Touchstone Essentials Organic Super Fiber is a dietary supplement that is made with a combination of soluble and insoluble fiber-rich ingredients.  
Pea Protein,
Flax Seed,
Psyllium Husk 
Quinoa
Rice Fiber
Chia Seed

These are just a few ingredients included in this organic fiber-rich blend.
And besides those mentioned above OSF also includes Probiotics and digestive enzymes such as Protease and Amylase.  
(see list of full ingredients below)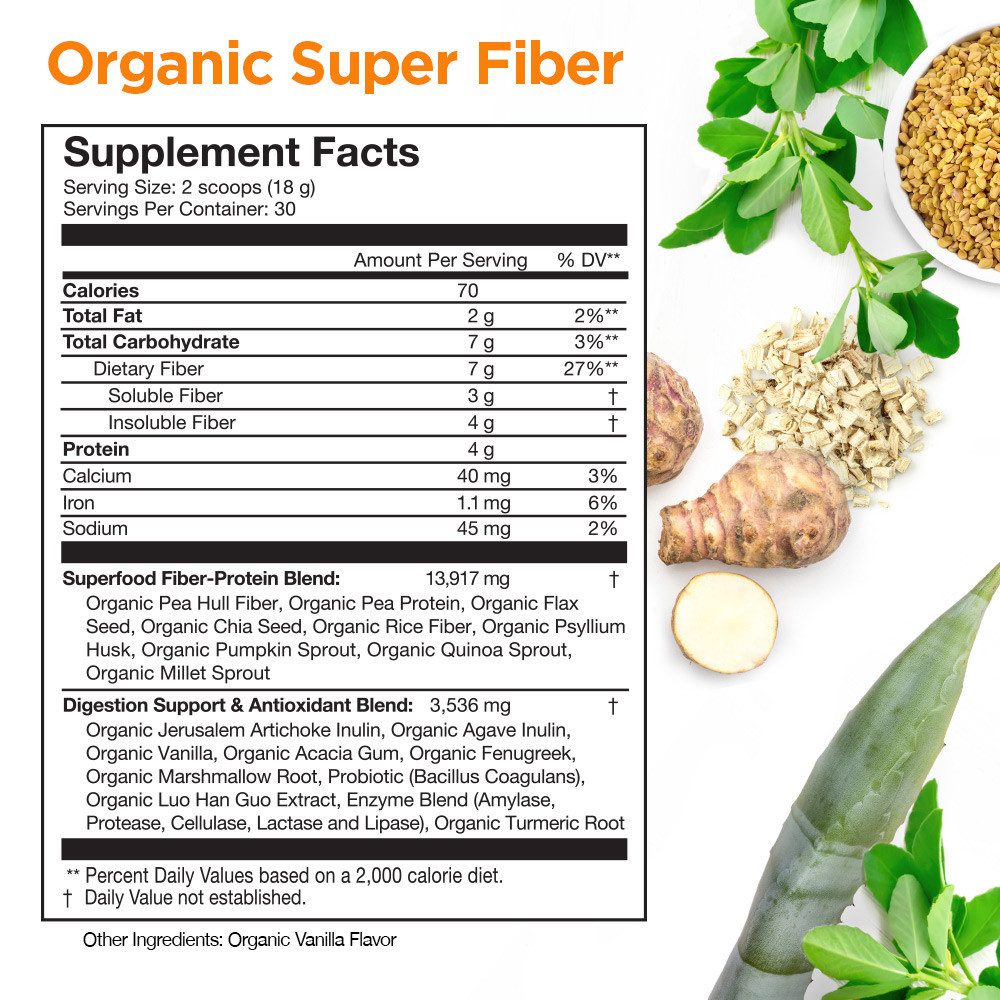 Quite a lot to unpack here but one clear thing to note is that on the product label for Organic Super Fiber, it is described as a Premium Organic Superfood Powder.  
Each serving of OSF contains 7g of Fiber and its main description is that OSF is a digestive detox remedy for the gut microbiome that is suitable for both improving gut health and helping with weight management (weight loss).
Plus what's more – for those looking for a gluten free, vegan friendly, non GMO solution for optimal gut health and all the benefits that come from supplementing with a high fiber blend of ingredients this claims to be one of the best that money can buy.  
But really is it?  Personally, I think so but for anyone that is really curious…
---
Who Are Touchstone Essentials
---
The company behind Organic Super Protein is Touchstone Essentials (thegoodinside.com).  Eddie Stone is the owner of TSE and has run this company since 2012.  Other products by TSE include Pure Body Extra and Calm Premium CBD oil.  
---
To really understand what this company is about the main thing to note about Touchstone Essentials is that its business model is largely about providing high-quality nutritional supplements that use only the best organic ingredients
In fact, touchstone essentials not only grow its own ingredients for its products but also is done sustainably.
According to the TSE website, the plant used in these products are only picked at the peak of ripeness and one other thing that might appeal to people is that TSE doesn't use plastic packaging but rather instead earth-friendly amber glass bottles.
For those that are interested to learn more about healthy living, you can also read more from the TSE blog.
Some great articles were published there, and  I like to think I do the same here but yes so…
 
Who Is Organic Super Fiber For
---
As the title of this review 'Can Organic Super Fiber Help You Lose Weight?' suggests anyone with weight issues may want to consider trying out this product.  
Quite simply by improving the body's ability to break down stubborn fats, carbs, and proteins, this can not only help with losing weight but also with many other things such as boosting metabolism and energy levels.
Just this alone is absolutely essential for weight loss but besides this for anyone that suffers from any kind of gut health issues such as inflammation, bloating and gas then OSF (I believe) looks like a great product to try.
I think especially that if you are looking to lose weight and also struggle with blood pressure (hypertension) and blood sugar problems adding more fiber to your diet is a very good idea.  [R]
There are obviously plenty of other ways to acheive this without OSF but really if you are looking for a ready-made solution that doesn't involve having to shop around for such ingredients this is definitely a time saver.
---
How To Take Organic Super Fiber
---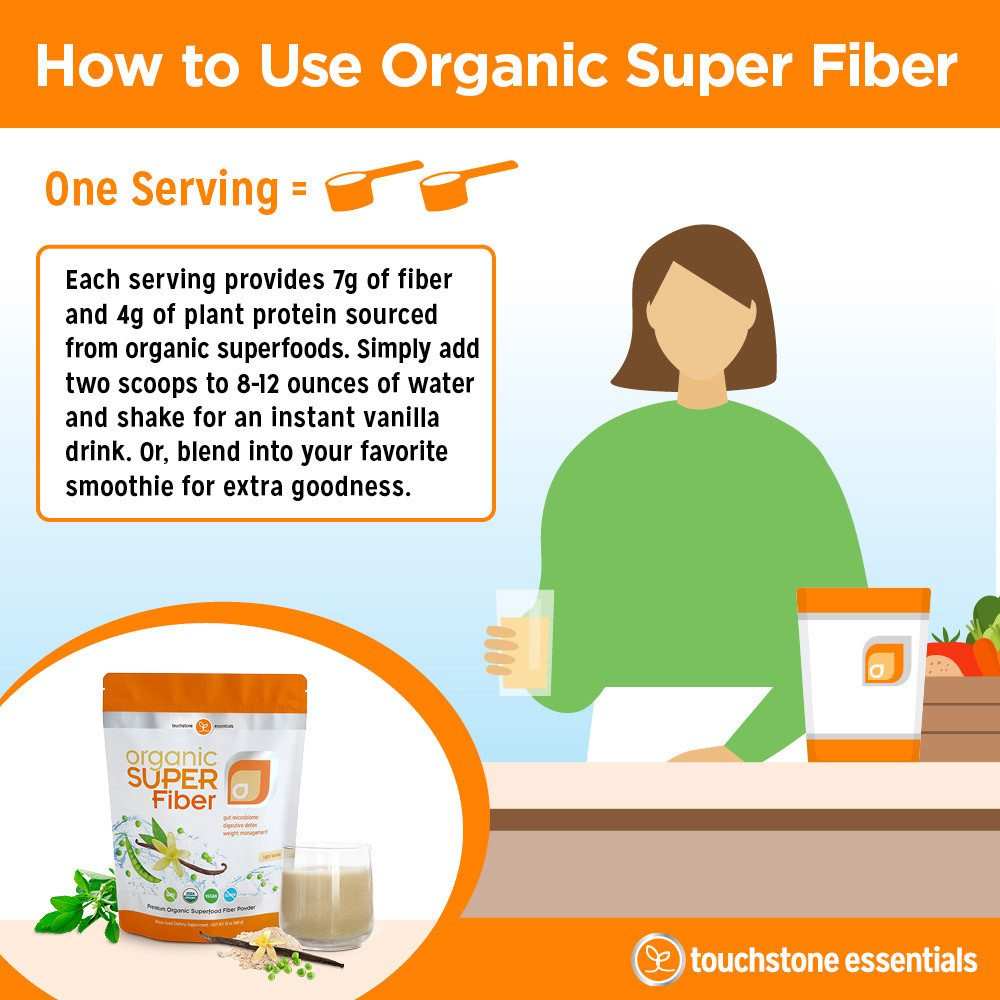 Organic Super Fiber comes as a powder that you can mix in with water or with your morning smoothie.
Per instruction on its website, OSF should be taken as 2 scoops of powder with 1 x 8 oz glass of water.
To use, blend 2 scoops of Organic Super Fiber with 8-12 oz of water, or add to your morning smoothie.
It is recommended that after opening reseal the pouch to maintain freshness.  
ALSO – keep in a cool, dry place for best-kept solution.
---
What Does OSF taste like?
---
This is a good question.  Currently there isn't many reviews online that really highlight peoples experience of taking TSE Organic Super Fiber but as TSE describe this product themselves.  The flavor is Vanilla and the powder is grit free.
It is besides this (I think) worth mentioning too that if you are wondering about Touchstone Essentials in general that many of their older products do have mostly quite positive customer reviews.
Just a couple I will share below and just to quickly say if you want to skip through scroll down to my FAQ section.
Quite a lot to share here about weight loss and adding fiber to your diet.  But anyway…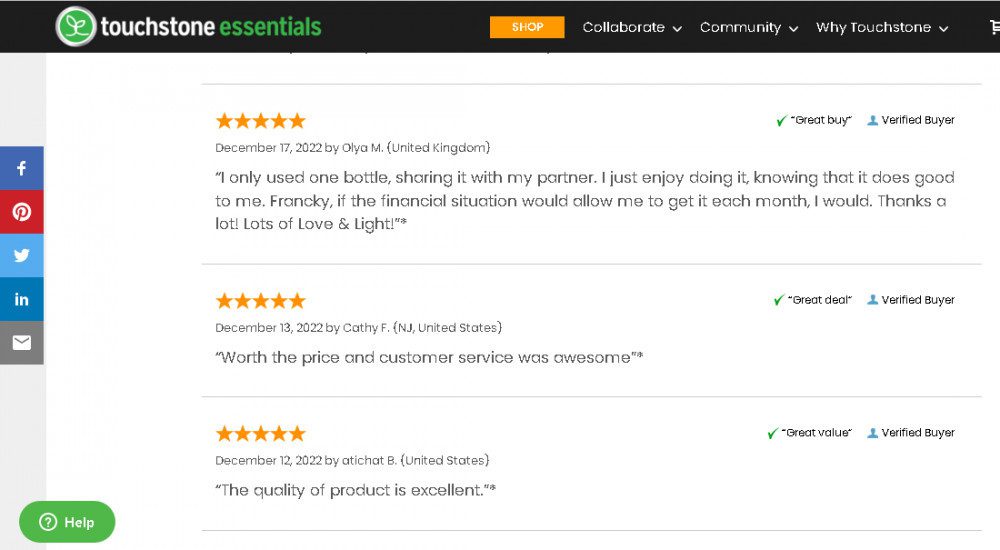 ---
Organic Super Fiber Product Features
---
Quickly just going through the information available about Organic Super Fiber I would say these are the main points;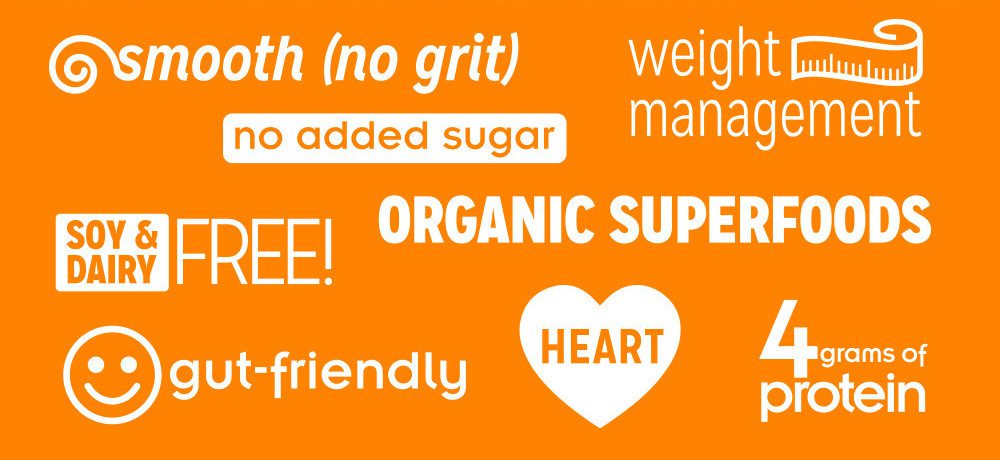 Grit Free / Vanilla Flavour
Many that choose to supplement with powder such as protein shakes and the like will complain about the grittiness.  Please don't shoot the messenger here but according to TSE – Organic Super Fiber is both grit free and it tastes great.
Vegan Friendly with Biodegradable Packaging
In this day and age many people whether they are actually vegan or not prefer vegan-friendly supplements.  Organic Super Fiber only contains Plant Based Ingredients and all their packaging besides this is plastic-free.
Gluten, Soy, and Dairy Free
One common problem for many people that choose to take dietary supplements is they might find they are allergic to the ingredients inside.  This is surely one of the great things about OSF they are free of Gluten, Dairy, and Soy.
GMO-Free & Organically Farmed ingredients
This is I'd say the best thing about Touchstone Essentials as a whole.  They only use GMO-Free & Organically Farmed Ingredients.  Most of these farm themselves.  Typically many people without realizing it consume inorganic GMO food which has been linked to many diseases and adverse health conditions.  This is something TSE has been very careful to avoid. 
---
Organic Super Fiber Ingredients
---
Really there are too many ingredients in Organic Super Fiber to write about them all
(24 ingredients in total) but let's see –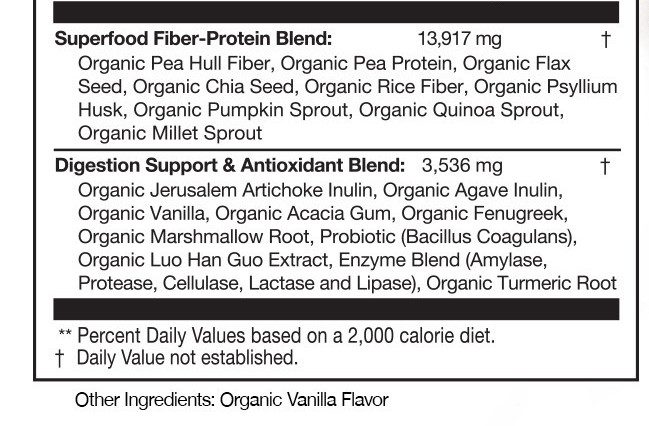 Pea Hull Fiber and Pea Protein:  
---
Both types of these Pea ingredients are sources of insoluble fiber that are rich in vitamins and minerals.  Many that take protein shakes will be aware of at least pea protein as this is in a lot of these powders.  Nutritionally adding this into the mix is a no-brainer in so many ways.  And this is just the beginning…
Flax Seed and Chia Seed
---
Flax seed is both high in fiber and protein as well as heart-healthy omega-3 fatty acids as well as essential vitamins and minerals.  [R]  Whilst Chia Seeds again contain omega-3 fatty acids, high fiber content, and essential vitamins and minerals.  These include both magnesium and zinc which are very important electrolytes.  [R]
Rice Fiber and Psyllium Husk
---
Rice Fiber is a soluble fiber that is very good for supporting regular bowel movements.  It is known to help strengthen the GI tract and encourages the growth of gastric mucosal cells.  Psyllium Husks on the other hand are what are known as Pseudo grains and are known to be very helpful for a wide array of gut health issues.
Pumpkin Sprouts, Quinoa Sprouts and Millet Sprouts
---
Pumpkin Seed Sprouts are high in fiber, antioxidants, and minerals such as Iron, and Magnesium
Quinoa Sprouts help improve digestion and boost the absorption of various nutrients.
Millet Sprout is a source of both soluble and insoluble prebiotic fibers. 
Jerusalem Artichoke Inulin and Agave Inulin
---
Inulin is a type of prebiotic dietary fiber derived from plant polysaccharides.  For gut health, Inulin helps diversify the good bacteria in the gut microbiome.  It is known to help fuel the good bacteria (probiotics) in the guts with things like short-chain fatty acids, and essential vitamins and minerals.  [R]
Fenugreek and Marshmallow Root
---
Fenugreek is a very popular spice in both TCM and Ayurvedic Healing.  One reason it is very most likely added to Organic Super Fiber is because of its ability to remedy gut inflammation.  For adequate weight management digestive function and treatment of gut inflammation are very important.  [R]
Marshmallow Root on the other hand has a wide array of gut health benefits.  Leaky Gut Syndrome is a big one but also acid reflux, gastric ulcers and lining the stomach are all things that this plant can help remedy.  [R]
Luo Han Guo (Monk Fruit) Extract and Turmeric Root 
---
Monk Fruit in most cases is added to dietary supplements as a low calorie, low sugar sweetener but it is also known to help bolster beneficial gut microbes.  Turmeric Root is in almost every dietary supplement available and for good reason.  It's packed full of antioxidants and anti-inflammatories.  It is both beneficial for lowering gut inflammation and treatment of gut permeability.
Bacillius Coagulens (Probiotics)
---
Mostly,  Bacillius Coagullens are not naturally occurring in the body but one way this probiotic strain functions is to help produce lactic acid in the gut.  Lactic Acid helps the gut by improving nutrient absorption, protecting cells, and it also by lowering gut inflammation.
Digestive Enzymes (Amylase, Protease, Lactase, and Lipase)
---
Losing weight and the treatment of detrimental gut health issues really boils down to a number of different things.  Of course conditions such as gut inflammation and a toxic gut environment are important but another thing is undigested carbs, fats, and proteins.  Especially, gluten and casein from grains and dairy. 
Many might not think about how much of our food we actually digest and how much is just left in the gut as undigested waste but this actually something digestive enzymes are great for and certainly this is why they are added to the TSE Organic Super Fiber formula.
---
Organic Super Fiber FAQs
---
Below are just a few points about why Organic Super Fiber Help can help You Lose Weight, and just generally about how getting the right amount of dietary fiber can help you. If you see the 4 points towards the beginning I will share them below;
How Prebiotic Fiber Can Help Lose Weight?
---
In one sense since prebiotic fiber naturally helps to fill you up faster and the more fiber you fill up with, the less caloric food you'll have room for.  Then through the process of fermentation prebiotics also help produce short-chain fatty acids that promote the growth of probiotics.  
This In effect, is itself beneficial because these probiotics support healthy digestion which as a result can help the body to work better to burn calories and metabolize energy.  [R]

What a Fiber-Rich Diet Can Do For You
---
If you are wondering about why you should include more fiber in your diet there are a number of very good reasons.  Amongst these, there is strong evidence that consuming a fiber-rich diet is associated with a lower risk of heart disease, stroke, type 2 diabetes, and bowel cancer. 

This is before we consider improved digestion and treatment of adverse conditions such as constipation, bloating, and gas.  [R]


How Gut Health Affects Brain Function
---
When the intestine is unhealthy this can send signals to the brain.  Much like when the brain feels troubled this can send signals to the gut.  Feelings of stress, anxiety, and depression are all impacted by this gut-brain connection. 

Many will have some understanding of this based on their own personal experiences but basically, the gut like the brain is a nerve center.  The saying healthy gut, healthy mind really could not be more true.
In fact, for anyone considering a high-fiber diet or something like the Organic Super Fiber supplement, this is actually a great reason to do so. 

I would actually recommend a second product here if you feel your brain function is impacted by gut health issues but still OSF I think looks like a great product.
Which Is Better:  Fiber Rich Diet or Supplements?
---
Is it better to get your dietary fiber from food or supplements?   Well, of course, Fiber has a number of health benefits, and it's definitely best to get fiber from food as a primary source.  It really does depend on the product but many supplements don't provide the vitamins, minerals, and other nutrients that fiber-rich foods do.
However, dietary fiber supplements can contribute to the recommended daily intake.  For optimal gut health and for better weight management, digestive detox, and better heart health, blood glucose support taking something like Organic Super Fiber alongside a healthy fiber-rich diet could be a very good investment.
Where To Buy Organic Super Fiber
---
To purchase Touchstone Essentials Organic Super Fiber you need not look any further than thegoodinside.com which is the Touchstone Essentials official website.  Several deals are available for anybody that is interested.
 *Note 1 pouch of Organic Super Fiber is quite expensive $65.00 one-time payment but you can save $10 if you subscribe for auto-ship.  You can also make further savings on their 3-pack and 5-pack.
Click one of the images above or on the button below if you'd like to learn more…
Final Word
---
So Can Organic Super Fiber Help You Lose Weight?  This is the main question for this review and my conclusion is YES mostly based on the fact that improving gut health can help with digestion and energy metabolism I am convinced that it can indeed be something that can benefit individuals looking to burn fat and calories.
However, taking ANY supplements should be in addition to a healthy diet and exercise.  You can get dietary fiber from many household foods including; Oats, Rice, Beans, Whole Grain Bread, and Pasta.  Although, really actually sourcing everything inside Organic Super Fiber as Individual Ingredients is potentially more trouble than it is worth and for this reason, if you can afford it Touchstone Essentials Organic Super Fiber is worth every penny.

About Author