HFL Blood Pressure Optimizer By Dr Sam Robbins
Pros
Gluten & Soy Free
Made in the USA
Made in FDA GMP Approved Facility
Vegetarian Friendly
Non-GMO
Cons
Only Available Online Through the HFL website
You may need more than one bottle
Requires Discipline - Take Every Day!
Unsuitable for Under 18's and Pregnant Women
---
Recently, I had the pleasure of a night's stay at my local hospital. Very unfortunate as I'd paid quite a bit of money to go to this 2-day music festival. I, unfortunately, didn't get the chance to go back but anyhow I was checked over because of some concerns from the security staff about my well-being. Really because I was found to have very high blood pressure. I think it was 157/88 mmHg or something. ?
Note: 120/80 mmHg is the normal range and ideally you will want to get something close to this.
So, anyway I am a 36-year-old man – I probably don't have the healthiest lifestyle at times but never did I think I could have heart problems at my age. I mean I like to think that I'm still quite young and healthy but anyhow so this was what made me think about trying HFL Blood Pressure Optimizer.
Now, I don't mean to scare people I am actually over the worst of it I think – judging by the tests I have taken since but certainly, this is a very serious matter for many people.
Please Keep Reading If You Have Concerns Over Your Blood Pressure – This may save your life! Hypertension is no laughing matter – it is important you take this seriously!
>If someone in your family suffers from high blood pressure, heart attack, or stroke then this may very well mean that you are likely to suffer as well.
Just bear this in mind – visit your doctor's surgery for regular checkups and basically just take precautions.
Look at changing your lifestyle if it is that unhealthy. Invest in a blood pressure monitor if you feel the need to keep an eye on your blood pressure. And look at adding more heart-healthy foods to your diet.
I will let you decide about this product but just to point out that this company offers some very favourable benefits including a great price, a 1-Year Satisfaction Guarantee and even a double your money back bonus.

I have not put them to the test over this but definitely, they appear to be a reputable brand and the product seems (I think) to be miles ahead of others that I have also researched.

Nobody wants to get something like high blood pressure and if they do it is something that has to be treated ASAP. This article/review I hope should explain what can be done and how this can help make for a better quality of life.
---
FTC Disclosure:

Please note that this post contains affiliate links. What this means is that if you click on certain links within this post and this leads to you making a purchase I may receive an affiliate commission. This will not affect the price you normally pay and also affiliate links help to fund my activities on this website so they are if you choose to buy anything with them this is a great way to support my work.
Also, just a quick health disclaimer – so as the author of this blog I would just like to point out that although I am a health researcher with over 2 1/2 years of experience I am not actually a qualified medical professional. This information is not intended to replace any information given by qualified professionals.

You should always consult with a doctor first before taking any dietary supplements.

Now, let's get started with this review…
---
HFL Blood Pressure Optimizer Review (2022) –
Is This The Best Way To Lower High Blood Pressure?
---
Just quickly the pin I've shared above is a few things to look out for if you suspect you might have high Blood Pressure. Healthy blood pressure is usually around 120/80. Mine, before I was taken off to the hospital recently, was (I think) 157/88 – it was noted that my eyes looked very blurry but there are a few signs to look for – brain fog, fatigue, muscle weakness, chest pains, etc.

If you notice any of the be sure to get yourself tested as soon as possible.

This is my recommended dietary supplement for Blood Pressure problems. I think there are one or two more that I think could also be good as well but anyway for the rest of this post I will share my review of this product ~ Blood Pressure Optimizer By HFL Solutions.
Product Name:
Blood Pressure Optimizer
Created By:
HFL – Health, Fitness, and Longevity Solutions
Company Owner:
Dr. Sam Robbins
Website:
My.4HFL.com/BloodPressureOptimizer
Company Based In:
USA
Usage:
For helping to lower both top and bottom systolic numbers to keep blood pressure in a healthy range.
Directions for Use:
Take one a day with breakfast, lunch, or dinner, or see cycle options 1 and 2 [Click Here]
Things To Note:
#Vegetarian and vegan-friendly
#GMO-Free, FDA Approved and GMP Certified
#Formula Based on Clinical Scientific Studies
#5 Patented Ingredients
#365 Days Money Back Guarantee
Ingredients in Short:
Potassium, Hawthorne Berry, Grape Seed, Celery Seed, Pomegranate, Lycopene, Olive Leaf
Expected Results:
6-8 weeks
Do I Recommend:
Yes
Short Summary:
HFL Blood Pressure Optimizer is marketed as a dietary supplement that can help lower your blood pressure. According to the company, it only takes a few days to lower the top ( systolic ) and bottom ( diastolic) numbers.
Taking this supplement also helps to support vasodilation and cardiovascular health lowering the risks of heart problems. It claims to do this because of a special blend of Vitamins, Minerals, and Plant Extracts.
I don't want to give people false hope here. Take this if you find you are having trouble with lowering your BP and if it doesn't make sure you get in touch with the company to claim your money back.
Also, if lowering your BP really is this difficult call a doctor ASAP as this could be a serious problem.
Now, I will try not to make this blog post just about this product but just before I do let's look at this.
---
How Does HFL Blood Pressure Optimizer Work
---
HFL Blood Pressure Optimizer combines 7 ingredients that work together to lower blood pressure and improve heart health overall.
This is achieved by using the ingredients in an optimal dosage amount. This ensures that, unlike most other blood pressure products, you get the best out of many factors for maximum heart health.
It also maintains proper levels of both top and bottom blood pressure whilst strengthening the blood vessel's elasticity and strength.
Ingredients such as L-Arginine ensure that dilation of the blood vessels takes place. This allows the blood to flow more freely and quickly, thus, reducing high blood pressure.
Besides this, another big benefit is other ingredients that also work to lower the levels of LDL cholesterol.
Basically, the main things that may otherwise block the blood vessels resulting in a heart attack or a stroke!
So according to the manufacturer HFL Blood Pressure Optimizer works as it contains antioxidants added especially to help to fight free radicals. This is important because this can cause oxidative damage to your blood vessels, thus restricting the flow of blood.
The HFL Blood Pressure Optimizer Supplement has been around for more than 20 years now. Since it was first released in 2003 and since this time technological advances have been made, and so has the formula been improved.
I can not really speak for everyone that has tried this product but what I think really looks good to me is what's inside this formula.
---
A Special Unique Blend Of Unique Ingredients…
---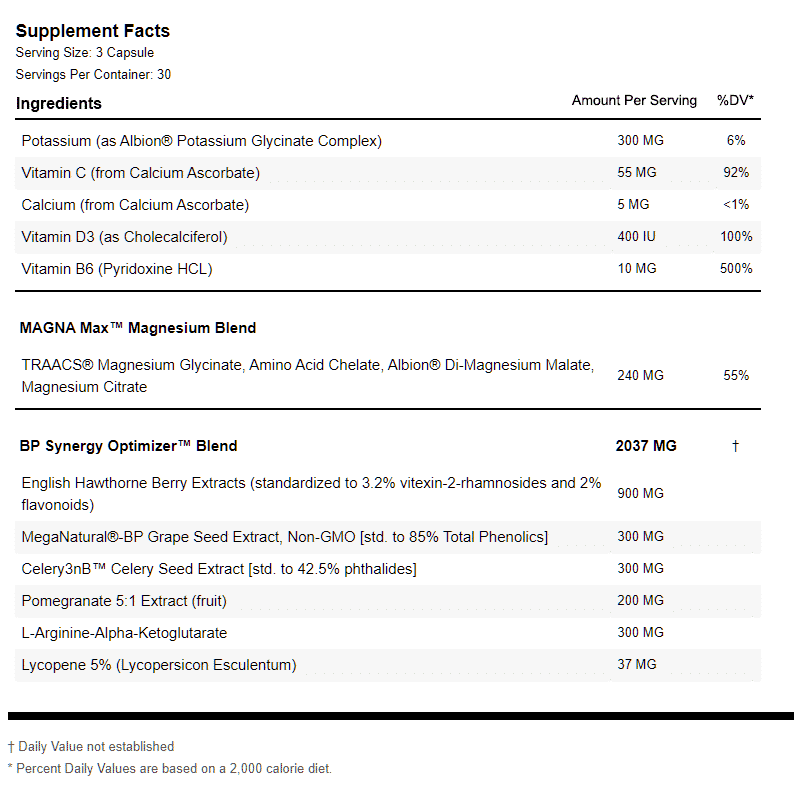 Quite an extensive list here but in a nutshell…
Vitamin B6 can help to prevent clogged arteries and to reduce the risk of Heart Disease.
Vitamin D3 is added because it helps absorb more Calcium *Note: This ingredient is not VEGAN friendly. Made from sheep's wool.
Calcium can help with diabetes as well as high blood pressure
Lycopene is an antioxidant that can help with heart health.
Grape Seed Extract, Can reduce blood pressure as well as improve blood flow.
Hawthorne Berry has antioxidant properties, that can help to lower blood pressure, as well as stored fat levels.
Magnesium is a necessary mineral for lots of body functions. It's a natural blood thinner that can prevent heart attacks and strokes from occurring. Magnesium also acts as a chain blocker, which means that it helps to relax and widen your blood vessels. This in turn improves blood flow and relieves pressure. [Read More Here: Signs and Symptoms of Low Magnesium]
Pomegranate, Studies have shown that pomegranate reduces platelet aggregation, which then lowers blood pressure.
Potassium lessens the effects of sodium, which can accumulate in the body and make blood pressure worse. Regular consumption of potassium can reduce excess water in the body and lower the blood pressure
Celery Seed Extract contains special components that can relax and dilate muscles. When It does this it partly blocks the flow of calcium, which may otherwise line your blood vessels. This improves the flow of blood and reduces high pressure.
Arginine Alpha Keto-glutarate, " Nitric oxide is a powerful neurotransmitter that helps blood vessels relax and also improves circulation. Some evidence shows that arginine may help to improve blood flow in the arteries of the heart. This can also improve symptoms of clogged arteries, chest pain or angina, and coronary artery disease " (1)
So, just to elaborate a bit further. HFL Blood Pressure Optimizer is a kind of 5-in-1 formula that includes 3 different blends of ingredients;

i.) Vitamin and Mineral Blend | ii.) MagnaMax Magnesium Complex Blend | iii.) Blood Pressure Synergy Blend.
In total it includes a mixture of 4 Patented Ingredients; TRACCS Magnesium Glycinate, Albion D-Magnesium Malate, MegaNaturalBP Grape Seed Extract, Celery3nB. 5 Herbal Extracts (Hawthorne Berry, Pomegranate, Celery Seed, Grape Seed, and Lycopene). 2 Amino Acids (L-Arginine and Amino Acid Chelate). 8 Different Vitamins and Minerals including 3 types of Magnesium.
Note: The reason HFL Blood Pressure Optimizer is called a 5-In-1 Formula is not specific to the ingredients but rather the 5 different health benefits of taking this supplement. These I think I've mentioned already but in case you are wondering [See Below].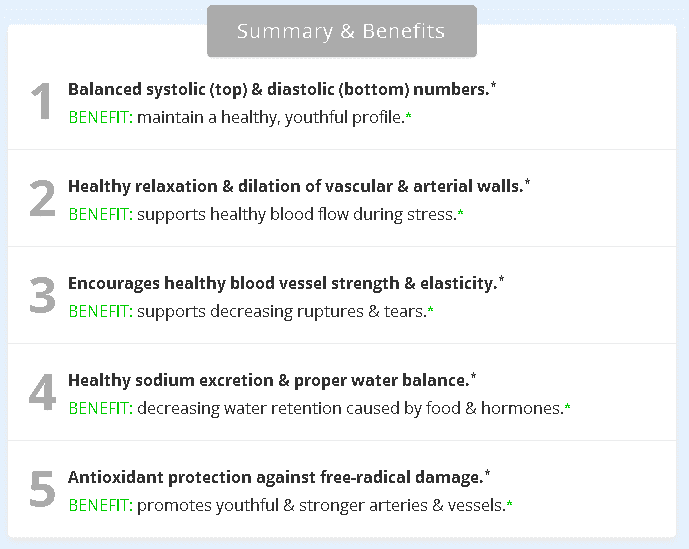 You can find out more by visiting the website HERE ~ I mean taking a supplement to lower blood pressure is not the only way to get your BP levels down – there are plenty of dietary options to consider. Although I would say if you can afford to give this supplement a try many customers have claimed that this has been helpful.
Download This EBook For Free ✅
Alvin Hopkinson
Natural Remedies for High Blood Pressure That Really Work
How To Lower Your Blood Pressure Naturally!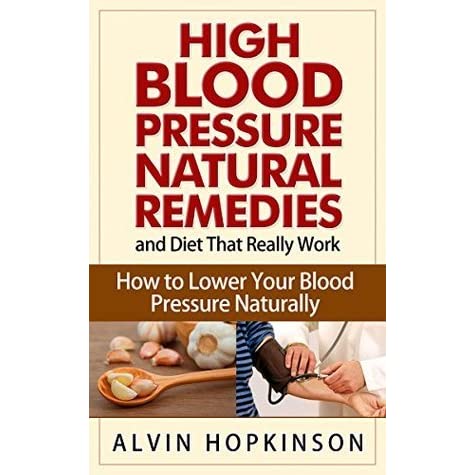 How Safe Is It To Take Blood Pressure Optimizer?
---
Well, according to the manufacturer and the many reviews that can be found online, HFL Solutions Blood Pressure Optimizer is very safe to use.
The ingredients they say have been through rigorous clinical testing and this lasted for well over a year before this actual product was released.
On top of this, before releasing it to the public, this supplement was also used in clinics as well as holistic health centres for more than 17 months.
This made sure that it was not only useful but also that it had no undesired side effects. HFL Blood Pressure Optimizer is also FDA Approved and GMP certified plus it is also 3rd Party Tested – See the screenshot below;
So Just My 2 Cents Here
I think this looks pretty safe to me although I will say from my own experience that high blood pressure is a very delicate matter. Getting the right nutrition is absolutely beneficial and taking a supplement such as this one is a good idea. Just really to be on the safe side more than anything else.
Still, you should go for regular checkups with your doctor and also you should invest in a blood pressure monitor for when you are at home to keep a close eye on your levels. This supplement seems to be a good source of nutrition but you can not rely on it to save you during an emergency.
Honestly, I would say before you even think about investing in something like this make sure you got at least a half-decent BP monitor first.
---
The Health Benefits of Blood Pressure Optimizer
---
OK so when considering HFL Blood Pressure Optimizer, or for that matter any other Blood Pressure supplement you will likely wonder what the actual benefits are. I can not really speak for the rest in this article but according to HFL and Dr. Sam Robbins at least here are the reasons you might want to consider their Blood Pressure Optimizer over the competition.
Improves the strength and elasticity of blood vessels.
Promotes sodium excretion and proper water balance.
Protects your blood vessels from free-radical damage
It encourages healthy blood circulation and flows.
It reduces cortisol levels which in turn reduces your stress levels.
It promotes proper relaxation and dilation of the vascular and arterial walls.
This is on top of the 1-year satisfaction guarantee might I add – I will discuss this further soon but when you also look at the brand's reputation, their FDA/GMP status, that there made in the USA, and everything else they really do seem to be a cut above the rest.
Although there are definitely cons as well as pros to consider before looking to purchase this product.
---
HFL Blood Pressure Optimizer Pros and Cons
---
What Are The Pros ✅
No Artificial Colours

Gluten & Soy Free
Made in the USA
Made in FDA GMP Approved Facility
Vegetarian Friendly
Non-GMO
3rd Party Laboratory Tested
Made from all Natural Ingredients
The Cons ❎
Only Available Online Through the HFL website
A warning letter was sent to HFL from the FDA
You may need more than one bottle
Requires Discipline – Take Every Day!
Unsuitable for Under 18's and Pregnant Women
NOT VEGAN FRIENDLY – uses Chloraceferol as its source of Vitamin D3. This is made from Lanolin [sheep wool]
---
HFL Blood Pressure Optimizer Customer Reviews
---
" I started to take the Blood Pressure optimizer roughly 6 weeks ago. Within a few days, I noticed some improvements. By the end of the first bottle 30 days later, my levels went from the usual 140-150 / 75-85 … all the way down to 120-125 / 65-70. I was so excited that it motivated me to make other improvements in my life, based on the emails you send out when I purchased your pills.
---
Today, my number was even better 116/64!!! Can you believe this? I can't remember ever having such brilliant readings. I think my teenage years was probably the last time. I'm even more motivated and excited. I, feel so much more energized too. I, wish I had started this many years ago."
---
"I have been meaning to come back and give feedback on blood pressure optimizer for a few months now, but I never got around to it. I just wanted to say that my numbers have been great ever since I, started taking BPO by Dr Sam Robbins. The improvement was gradual, and now it's been stable for 9 solid months."
---
"I started taking your BLOOD PRESSURE OPTIMIZER and also added in some extra Vitamin C and E because I felt so bad. It's now been seven weeks, and I went from feeling really bad, zero energy to feeling great and youthful. My blood pressure is under control now and I, feel better now, at 58 than I have in over 10 years. I had no idea my blood pressure was prematurely ageing me so much."
---
Is Dr. Sam Robbins A Real Doctor?
---

Anyone that has seen the HFL product line might be familiar with the owner Dr Sam Robbins. But who is this man behind the products such as HFL Blood Pressure Optimizer and the several others that I have also reviewed?

OK, so according to his personal blog he is a doctor and his qualifications include the following;

I think this answers this question pretty well but I know there was this thread going around Reddit. It is a bit crazy I must admit but whatever I don't think it's true. I think as there were some videos on Youtube that only included voiceovers some people thought this might have been a fake persona used to sell more products but whatever I think even if this is true – how about all the reviews are they also fake?
Like really I don't think so but if you'd like to investigate further whether Dr Sam is CGI or not check out his youtube channel HERE<<<
So that is one possible issue MAYBE but another thing to add that is somewhat controversial…
---
Why Does It Say That HFL Received A Warning From the FDA?
---
So, I thought I better bring this up because if you Google 'HFL Solutions, Dr Sam Robbins' one of the first results you will see is this.
So I think there is quite a good explanation by Dr Sam Robbins here and anyway, this is not related to HFL Solutions Blood Pressure Optimizer. I think from the information I shared above that this is a good product but still if you are put off by any of this I would instead recommend either Juvenon or CLE Holistic Health Blood Pressure Support. I mean you don't even need to go the supplement route all you need is to commit to a healthy diet and lifestyle and to keep tabs on your blood pressure levels in case of an emergency. Supplements like this should only be a safeguard.
Although yes still I do recommend this…
---
My Verdict – To Buy Or Not To Buy
---
I am honestly, convinced that this product is better than the competition. From my own experience, it really works! HFL I have listed as one of my trusted brands and this product is one reason.
Even forgetting about my own experience I see a lot of happy customers on Amazon and also from the HFL website which has over 588 submitted customer reviews. In fact, I've only seen 2 negative reviews so far. One that says they don't like the packaging and another on eBay [See Screenshot]

lol – I know it hardly screams BUY THIS PRODUCT but seriously this is the only negative review I could find. I am pretty sure I am not allowed to share screenshots from Amazon but as positive reviews go check out a few from Dr. Sams Facebook page ⏬
---
Where To Purchase HFL Solutions Blood Pressure Optimizer
---
It is best to purchase 'HFL blood sugar optimizer' from the official website because if you wanted your money back this is the only way to guarantee this will happen. You can purchase it online from other retailers, sure you can, but beware if it doesn't work you may not be refunded.
Not only this but another benefit of the official website is you get access to many special offers.
Of course, the best one of these is knowing you are purchasing the official item and not a fake.
Plus, If You do decide to purchase You have 3 options to choose from:

These are…
Single purchase 1 bottle containing 90 capsules for $49.97 a saving of $20.
Free VIP membership (auto-fill) 1 bottle for $39.97 a saving of $30.
Further discounts if you buy more. If you do you get some for free.
See the Price list here ⏬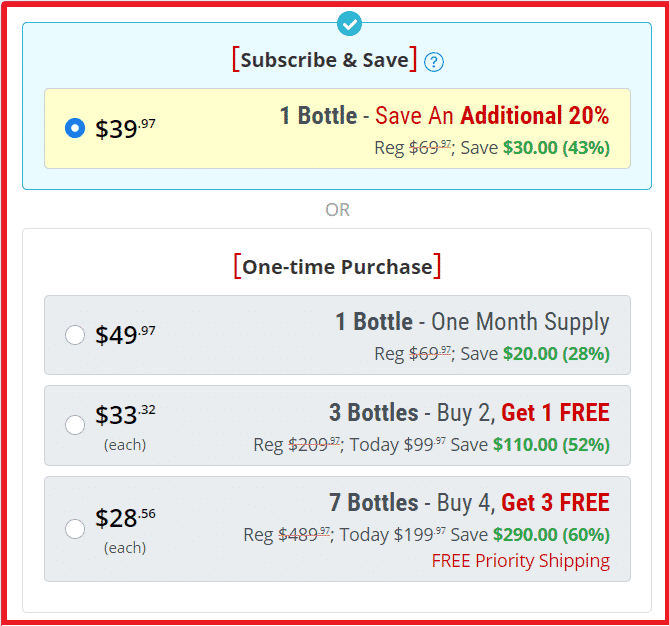 Note: Shipping is not included and will be added at the checkout
---
About The 1-Year Guarantee
---
Right, so I recently realized that with another product line, I have gone into a lot of trouble advertising that their actual 1-year guarantee isn't as straightforward as I previously thought. I mean I want this review to be completely unbiased so I will level with you there are terms.

The 1-year guarantee only applies to your first order and to no more than 4 bottles. Also, you must contact support@HFLsolutions.com to discuss your health and what your experience has been taking their product.

And You can also only claim cashback within 90 days and all bottles used and unused must be returned. After this you can only claim back a refund as store credit although they will give you 200% I think if you can prove that this has not worked – [Read More HERE]
---
The Best Way To Use It
---
There are a few ways in which you can take HFL Blood Pressure Optimizer.
If you are new to this, the manufacturer recommends that you start off with a low dose of one to two pills to assess how you feel.
If you feel alright, you can go ahead and choose one of the recommended doses below:
GENERAL USAGE
Take three pills per day with food. This should be spread out evenly throughout the day, with one capsule taken with breakfast, lunch, and dinner.
CYCLE OPTION 1
This option is highly recommended if you have very high blood pressure.
There are different ways in which you can take HFL Blood Pressure Optimizer.
This option is taking a total of four capsules per day, two at a time with a meal.
when your blood pressure goes down you should lower the dosage to three capsules.
CYCLE OPTION 2
This is also called the prevention method
It is designed for people who have a family history of high blood pressure, heart attack, or cholesterol problems.
It is taken to help to avoid future problems associated with the above conditions.
This option requires that you take one capsule, twice daily with a large 8 oz glass of water with a meal.
---
Who Can Use HFL Blood Pressure Optimizer
---
This supplement can be taken by people who are looking to lower their blood pressure and improve their overall heart health.
It can be taken by both men and women who are over 18 years of age.
Blood Pressure Optimizer is also ideal for those who suffer from high cholesterol, as well as people who are at a higher risk of heart attack and stroke.
Not To Be Used By.
Expectant and lactating mothers, as well as anyone under the age of 18.
---
My Final Thoughts
---
Health Fitness Longevity, the company that produces this doctor-recommended supplement is so confident in the product that they offer an awesome money-back guarantee. If it does not improve your blood pressure readings in just 30 days, you will get a full refund as well as a $100 cashback.*
The customer reviews are extremely positive with the results mainly being the lowering of your blood pressure and having a lot more energy.
I would recommend this product over others but as someone that has suffered from High Blood Pressure, I would say that supplements should only be part of the parcel. For one your lifestyle is the main thing to consider – going out drinking alcohol, smoking, caffeine, drugs, not exercising, etc. You need to address this first if it is causing your blood pressure to spike. You should also focus on eating better – supplements are all good but don't use them as an excuse to not make healthy dietary changes.
PLUS make regular appointments with your doctor for checkups – high blood pressure is a serious condition. DO NOT treat it like it isn't I really hope this information helps and I would love to hear from you about your own experiences. Drop me a comment below or contact me at chivs86@dynamicIdeas4life.com
Download This EBook For Free ✅
Alvin Hopkinson – Free EBOOK
Natural Remedies for High Blood Pressure That Really Work
How To Lower Your Blood Pressure Naturally!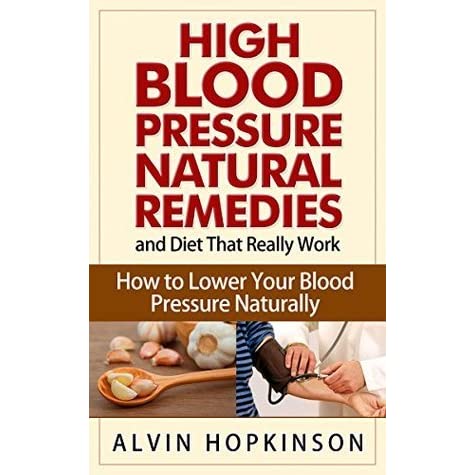 ---
YOUR FEEDBACK
---
I, wish to thank you for taking the time out of your busy day to read this article. If, you have any questions or would like to share your own experiences with HFL Blood Pressure Optimizer or anything similar drop us a comment below.
I love to hear from you all and I will get back to you ASAP.
Also, If, you know anyone else who would benefit from reading this then please feel free to share it using the share buttons to the left.
Take great care of yourself because you are worth it.
#Stay Dynamic from
Alex B. Chivers
DynamicIdeas4Life.com

Contact us at chivs86@dynamicideas4life.com
Article Originally Published By Lisa Harvey on HealthyMindHealthyPeople.com
This post does not provide medical advice, diagnosis, or treatment.

The information contained in this website is for educational and informational purposes only and is not intended as health or medical advice. Always consult a doctor or other qualified health practitioner regarding any questions you may have about a medical condition or health issue.
* As long as a doctor confirms it did not work for you. 
Read More of our related posts HERE ⏬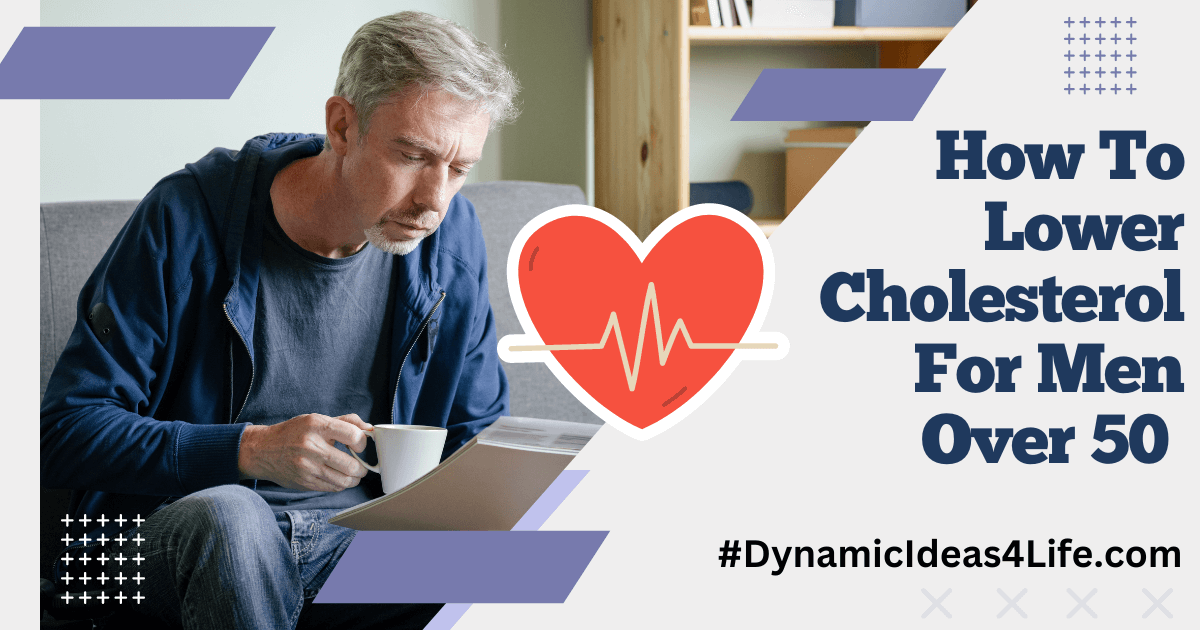 Cholesterol is a fatty substance that is produced by the liver and is essential for the normal funct…
Read More
Anxiety and Depression best ways to lower blood sugar BiOptimizers blood pressure supplements blood sugar support supplements Digestive Enzymes Supplement digital products Dr Sam Robbins Exercise Gut Health Healthy Living heart health HFL how to lower blood sugar levels How To Lower Cholesterol insulin resistance joint health supplement Keto keto dieting Keto Diet Weight Loss leaky gut supplements leptin resistance list Magnesium deficiency Matt Gallant mental health multivitamins Nootropics nutrient supplements Probiotics Probiotic Supplements proteolytic enzymes reverse type 2 diabetes stress and anxiety stress relief Tinnitus vitabalance vitapost Wade Lightheart weight loss articles weight loss diet plans weight loss product reviews weight loss supplements weight loss supplements that work weight loss tea
About Author