When we hear of Collagen we may think of it as a treatment for skincare or even hair loss. However, what might not be so clear is that Collagen is an essential protein needed for both the Brain and Central Nervous System (CNS) to function correctly.
---
Bioptimizers Nootopia Collagenius claims to be a nutritional solution to help solve this. If you struggle with the negative effects of an ageing brain this could be because of a Collagen Deficiency and here is why… 
So, Collagen has been a point of discussion amongst many in the scientific community since at least the 1950's.  As a protein it has continuously been shown to be remarkably biocompatible, biodegradable, versatile and non-toxic.
Furthermore, Collagen provides the brain with the essential amino acid Glycine which is an important neurotransmitter key to a healthy brain environment.  Glycine supplements are recommended for the treatment of a wide range of different conditions including metabolic syndrome and insomnia.  
The feel good hormone serotonin is also released because of Glycine. 
So getting to the point Collagen Supplements for Brain Health and Cognitive function look very promising.
Reduced Collagen production is a common factor as we grow older.  The effects of this happening can affect us in many ways including decreased nerve function and low energy levels.   We may even notice other troubles such as joint pain and muscle weakness and even alzheimers disease has been linked to low collagen levels.
For this reason we may look to a product such as Bioptimizers Nootopia Collagenius to bring this all under control.
But is this product the real deal?  Please keep reading to find out more.
---
Bioptimizers Nootopia Collagenius Review
---
Product Name:
Nootopia Collagenius
Manufactured By:
Bioptimizers Nootopia
Company Owners:
Matt Gallant and Mark Effinger (Mr Noots)
Website:
Nootopia.com/Collagenius
Price For One Bottle:
$75 (one time) or $66 (subscribe and save)
Product Description:
Formula Made With Collagen and Exotic Mushrooms that has been developed to help reverse the negative effects of an ageing brain by boosting neurogenesis
Directions For Use:
Take 2 capsules with a glass of water just before your main meal.
Things To Note:
Not Vegan Friendly (contains bovine collagen)
Contains Dairy (milk powder) and coconut oil (tree nuts)
1 Year Money Back Guarantee on 1 Bottle,
3rd Party Lab Tested,
Made In USA by Trusted Brand
FDA and GMP Approved
Ingredients:
Bovine Collagen
Marine Collagen
Reishi Mushrooms
Lions Mane Mushrooms
Chaga Mushrooms
Cordyceps Mushrooms
Cocoa and Cacao Powder
Do I Recommend:
Yes if you are not vegan or allergic to dairy.
My Rating:
4 out of 5 Stars
FTC Disclosure: 

Please note that this article contains affiliate links.  This means that by clicking on certain links within this post you will be taken to a website where if you make a purchase I may receive an affiliate commission.  If you find this content helpful this is a great way to help support my work and keep me writing future blog posts.
If you have any questions please contact me at chivs86@dynamicideas4life.com

Health Disclaimer:
Information shared within this content is for informational purposes only. I am not a qualified medical professional and any views shared within this content are mine and mine only. Always speak to a qualified professional before trying this or any other supplements, and if you experience any adverse reactions discontinue use.
---
What Is Bioptimizers Nootopia Collagenius?
---
As the name implies Bioptimizers Nootopia CollaGenius is a Nootropics Supplement made with Collagen.  On the Bioptimizers website they describe Nootopia CollaGenius as a Collagen-Mushroom blend that helps the brain trigger Neuro Genesis.  A process where the brain starts creating new neurons from neural stem cells.
If you google Collagenius you may also notice another product with this name which is a Collagen Therapy LED Face Mask.  This is not related to Bioptimizers Nootopia CollaGenius Nootropics just to quickly point out but anyhow.  Nootopia Collagenius is a potent powdered blend including Collagen, Lion's Mane, Reishi, Cordyceps and Chaga Mushrooms.
It's main features include the following;
Great Taste – Apparently you can not taste the Mushrooms
Helps to Boost BDNF – Brain Derived Neurothropic Factor
Gives you Maximum Brain Power.
Additional health benefits for hair, skin and nails.
May also help support stronger immune function.
Apparently good for heart health, anti-ageing and joint health.
*Please note these are Bioptimizers claims not my own but this is a brand I do trust because of their other products. 
Who Is This Product For?
---
For anyone that has began to notice a decline in their Brain function Bioptimizers Nootopia Collagenius could just be what your looking for. Poor concentration, short attention span, brain fog, memory loss, Increased Irritability towards others, anxiety and mood swings could all be things linked to poor brain health. Especially as we get older. [R]
This is because these can be signs of cognitive deterioration. Mostly these are negative effects of more brain cells and nerve cells dying due to the body's inability to create important amino like before. Learning and memory are usually the 2 biggest factors and we can begin to see this decline from around our early 30's onwards. It's a scary thought but this could be something that Nootopia Collagenius can help with.
Their claim is that our brains do not produce enough Collagen which is an important compound that both stops brain shrinkage and helps to maintain a healthy environment for the brain to create new neurons and nerve cells. Anyone that is either experiencing these issues already or wants to extra precaution may want to try this product. Visit the Nootopia website HERE if you would like to learn more.
---
What Is a Collagen Deficiency?
---
One of the biggest claims made by Bioptimizers Nootopia Collagenius is that a deficiency in the protein Collagen can have a detrimental effect on our brain power.  As we get older our body produces less of this essential protein.  Although we can not measure how much Collagen is in our body at any given time we can notice symptoms such as muscle weakness, joint pain, papery skin, stiff tendons and ligaments. 
Not forgetting as well other problems such as gastrointestinal problems, slow injury recovery and wrinkles.
Even it is said that degenerative brain diseases such as alzheimers and dementia may be directly linked to a collagen deficiency.   Kind of just hearsay in the scientific community really but this definitely does make sense because of collagens role as a protein. 
If our brain doesn't get enough of the Collagen that it needs than it does actually start to effect cognitive ability. Other factors definitely play a role here such as a decline in vitamin and mineral absorption and things like hyaluronic acid but this definitely something to think about. 
How To Test If We Need More Collagen?
---
Really this is a tricky one although it is said that we can not test Collagen levels several companies claim to offer a possible solution.  According to AmericanSpa.com here are 6 companies that provide instruments that apparently can help meaure Collagen levels;
Dermascan by Cortex Technology (www.cortex.dk)
Multiphoton Tomography DermaInspect by Jenlab GmbH (www.jenlab.de)
DermCup by Atys Medical (www.atysmedical.com)
Ultrascan UC 22 by Courage + Khazaka Electronic GmbH (www.courage-khazaka.de)
Osteoson-Collagenoson by Minhorst (www.minhorst.de)
Vivascope by Mavig (www.mavig.com)
LabRam by Horiba (www.horiba.com) 
I can not verify the legitimacy of any of these products but rather I would say it is important to note that actually as we age we naturally produce less Collagen.  We should assume depending on our age that we most likely are to some level deficient in this protein and finding practical ways to increase our Collagen levels will likely to be something we benefit from.
Collagen and Brain Health
---
Although many will think of Collagen as something we need for shinier hair, more radiant skin and stronger nails much research has been conducted about its wider use.  Stronger joints and a better quality of sleep are other factors but cognitive function and increased learning, memory, problem solving, focus and decisiveness can be added to this list as well.
Taking Collagen supplements may be beneficial for the repair of neural networks and neurogenesis (the formation of new neurons in the brain).  Some studies even suggest that the use of Collagen may help in the treatment of degenerative diseases such as Alzheimers and Dementia.  [R]
Collagen is also widely used in FDA approved products marketed for Nerve repair such as (NeuraGen®, NeuroFlex® and NeuroMend®).  So there definitely does seem to be some strong foundation in claims made by Bioptimizers and Nootopia.
The thing to understand is Collagen is essential to both the CNS (Central Nervous System), making up a large part of its infastructure, and the extracellular matrix proteins that are required for optimal brain function.  [R]
Technically there is quite a lot to understand how Collagen works but about the Bioptimizers Nootopia CollaGenius Supplement>>>
---
Who Are Bioptimizers?
---
Bioptimizers is a company founded by Wade T. Lightheart and Matt Gallant in 2004.
Wade and Matt have since worked together for over 20 years and since this time have helped to benefit the needs of several pro athletes and other high performers, as well as helping countless customers transform their health.  
Wade and Matt met in the gym, where they first become friends and decided to launch their own health and fitness business that today is known as Bioptimizers.
If you search for Bioptimizers on Trustpilot you can read 500+ customer reviews with a 4 out of 5 star rating.
These are not the only reviews you can find online for Bioptimzers – Amazon, Facebook and the Bioptimizers website all have legitimate reviews you can research.  Generally most people have reported that the products are great but some have experienced issues with checkout and the process of ordering the actual supplements. Also many have been angry because they have unknowingly subscribed for a recurring order.
Who Is Mr Noots (Mark Effinger)
---
I think this is important to add in here. So Wade Lightheart is not involved (I don't think) in the Nootopia range of products. Instead Matt Gallant and Mark 'Mr Noots' Effinger are the two brand managers. I personally hadn't heard of Mr Noots before but after doing some digging he seems to be quite a big player in the field of nootropics. It seems he has made quite a noise since the release of Nootopia.

I see he has appeared recently on a couple of podcasts. Not able to find an embed link unfortunately but I see there is a quite long video interview of Mark (Mr Noots) on Youtube.
---
Nootopia Collagenius Ingredients
---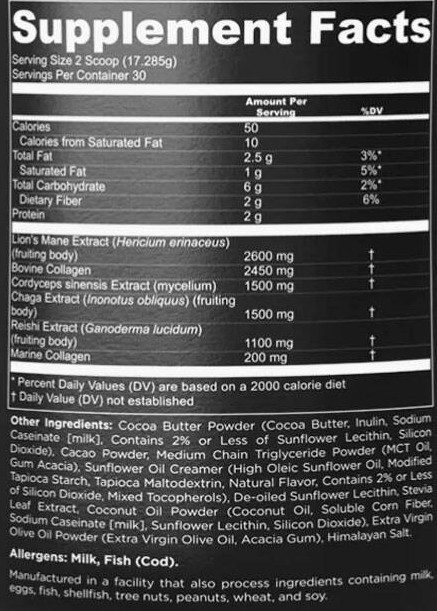 CollaGenius Ingredients Label
2,600mg of lion's mane mushroom extract.
2,450mg of bovine collagen.
1,500mg of cordyceps sinensis mycelium extract.
1,500mg of chaga mushroom extract.
1,100mg of reishi mushroom extract.
200mg of marine collagen.
So I didn't know this before but after doing some research I see that the reason these exotic mushrooms are in this mix are not just because they are complimentary ingredients that are great for brain health BUT these actually help increase the bioavailability (absorption) of Collagen and help to prevent it breaking down.
See screenshot from a google search I did below;
Bovine Collagen and Marine Collagen
---
Bioptimizers Nootopia Collagenius uses 2 types of Collagen.  Bovine and Marine.
Collagen is classed as a hydrogel that helps to store water molecules throughout the human body.  The Central Nervous System is cheifly made of thick collagen fibers and it is these that Collagen supplements may help to reinforce.  [R]
Mostly though Collagen is a pure source of protein which the brain needs to stay healthy.
Many sources actually debate the effectiveness of Collagen supplements for improving brain health but it must be said that the connection to Glycine and its role in protecting the brain from degeneration do seem to validate Nootopias claims.

Lion's Mane Mushrooms 2.6g
---
Each dose of Collagenius contains 2 ½ g in each bottle of Lion's Mane mushrooms.  Taking Lion's Mane boosts BDNF (Brain Derived Neurotrophic Factor). Something shown to significantly improve learning and memory.
Taking Lion's Mane at the concentration found in Collagenius also massively promotes the number of neurons being created. 
By focusing on the BDNF and expanding the amount your body can intake, Lion's Mane is one of the most vital nutrients to include on your path to achieving effective neurogenesis.

Reishi Mushrooms 1.1g
---
The 2nd of the 5 Mushroom Collagenius blend is Reishi.  Reishi mushrooms are both neuroprotective with adaptogenic potential.
Fungi, found in Reishi mushrooms, can benefit brain health in a number of ways including stimulating nerve growth promoting communication among the neurons in the brain.  It can also help by calming an overactive nervous system, and supporting the adrenal glands.   Collagenius contains 1100 mg of Reishi Mushroom extract in every bottle.

Cordyceps Mushrooms 1.5g (100:1)
---
Every bottle of Collagenius Nootropics includes 1.5 g (100:1) Cordyceps mushroom extract – which is equal to 400 grams of ground mushrooms. Cordyceps have many health benefits including:
Improved exercise performance
Anti-aging qualities
Improved heart health
Anti-inflammatory qualities
Chaga Mushrooms 1.5g (100:1)
---
Lastly, Nootopia Collagenius Nootropics contain 1.5 g (100:1) Chaga mushroom extract, which is equal to 300 grams of ground mushrooms.  Chaga is used as an antioxidant to support your immune system and can also:
Lower blood sugar
And lower cholesterol
Other Ingredients
---
Also inside Bioptimizers Nootopia Collagenius it is worth noting several more ingredients to create its powdered blend.
Cocoa Butter Powder
South American Cacao Powder
MCT Oil
Sunflower Oil Creamer
Deoiled Sunflower Lechtin
Stevia Leaf Extract
Coconut Oil Powder
Himalayan Salt
*Note not suitable for those with dairy, tree nut or seafood allergies.  Also this is produced in a factory that also process ingredients such as wheat, dairy, soy, eggs, shellfish, peanuts and tree nuts.
 Now…
---
Is Bioptimizers CollaGenius Legit?
---
Yes this is without question I've looked at almost every product released by Bioptimizers now.  Although, there are sometimes issues from customers regarding check out and delivery I've rarely seen much bad said about their products.
I take myself Magnesium Breakthrough which has worked great for my heart health issues.
Are Bioptimizers Nootopia Products Safe?
---
Again yes for most people but then if you have allergies check the bottle before making a purchase as some products may contain allergens.  Also, Bioptimizers advise as a precaution that their products should not be taken by under 18's, pregnant mothers, breastfeeding mothers or those currently taking pre-existing medication.
Collagenius Pros and Cons
---
What Are The Pros
Helps to raise BDNF levels
Improves Cognitive Function
Stimulates Neurogenesis
FDA, GMP Approved
Made in USA, 3rd Party Lab Tested
365 Day Warranty on first bottle
The Cons
Not Vegan or Vegetarian Freindly
Contains Allergens
Not good if you dislike Mushrooms
Only 1 Flavor
Some issues at checkout for some customers
What I Like About Collagenius
---
Firstly, I think Bioptimizers Nootopia Collagenius Nootropics looks like a good product to try.  Nootropics are probably my favourite kind of supplements.  When I'm writing especially I really like how they can help me write more.  Like taking a good nootropics supplement I notice they start working quite fast for me.  
I am yet to try Collagenius not going to lie but based on what I know about Bioptimizers already, and reading so many positive reviews I would be very interested in trying this.  
It seems to be more affordable than their other Nootopia products which are only available in stacks and seem to work in a different way to Bioptimizers Cognibiotics (their other brain health formula). 
The chocolate flavour seems like it could be another good thing as well but then saying that.
What I Don't Like About Collagenius
---
I actually hate mushrooms.  Never liked them since I got ill from eating mushrooms and milk when I was younger.  Its kind of an Irish delicacy lol but ever since then even though I've tried to eat them its like my body just rejects them.  So I know this is kind of different I actually drunk liberty cap mushroom tea as a teenager a few times – I guess it is more like that but I do think this is one thing that would persuade me to try something else instead first.
Also, the idea of chocolate tasting bovine collagen I find a little strange too but I do think I could get over this.
Other than that I think its a shame they couldn't have tried to work out the dairy issue.  Maybe there is no way to mask the flavour of all the mushrooms otherwise but lots of people are allergic to dairy so I think this should be something for them to try fix with future variations of this blend. 

Maybe they could try and work on a vegan friendly blend without bovine collagen?
We shall see…  but Anyway.
---
Nootopia Collagenius Directions For Usage
---
Bioptimizers Nootopia Collagenius is a powder.  It doesn't come as capsules.  The recommendation is take 2 scoops with a 6. oz glass of water or smoothie blend.  Almond milk apparently makes for a good drink but you add to any protein shake or whatever really.  Each bottle has the eqivalent of 30 scoops so you can try taking every other day to make it last.
Although it is also suggested that you can use 3 or 4 scoops for a stronger drink.
Where To Buy Bioptimizers Collagenius?
---
As of now Bioptimizers Nootopia Collagenius is only available at the Bioptimizers website.  At is not for sale anywhere else but knowing Bioptimizers its likely they will put up for sale at times in limited quantity on Amazon.  Only buy from the official bioptimizers store.  I think they only sell on here to get the Amazon reviews because usually once they have enough they don't tend to restock their products but yes you can buy from Bioptimizers or Amazon.
How Much Does Bioptimizers Nootpia Collagenius Cost?
---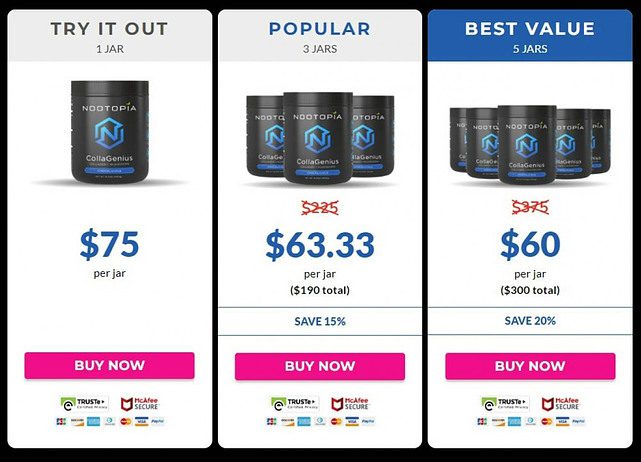 For UK customers this is equivalent to £69.99 – £299.99 with discounts available depending on how many bottles you buy.
You can also make further savings if you subscribe to automatically reorder.
For the best deal this would be $55 a Bottle ($255 in total) if you buy 5 Bottles.
Also no deals include Free Shipping
Bioptimizers Return Policy
---
Depending on how many bottles you buy this varies.  Usually you can return with 30 days and both used and unused bottles must be returned.  Bioptimizers also do not cover return postage.   However, if you just want to buy 1 bottle to try this product out you have a full 365 day money back guarantee.  If you are not happy with your first bottle you can get a refund.
What Is The CollaGenius LED Face Mask?
---
This product has nothing to do with Bioptimizers and Nootopia but I'm sure many people will come across this in their online searches for Collagenius.  As this product also uses this name.  So just for anyone that is curious;
The CollaGenius LED Face Mask is a LED light therapy mask made with a 140 LED lights to help supposedly treat a range of skin conditions including wrinkles, acne, rosacea, scarring, and sun damage.
It is apparently proven to help the skin in its rejuvenation process and boost cell activity that increases collagen production.  The process they say is completely painless, natural and is a maintainable beauty treatment for use whenever you feel the need and is suitable for the by the whole family!
I shall not write anymore about this as this is not the product I have made this review for but if you are interested [Click Here]
Nootopia Collagenius Vs Organixx Ageless Brain
---
Now I'm assuming that for those interested in Bioptimizers Nootopia Collagenius may wonder about the competition.  
Maybe because you are looking for something vegan, allergy free and that doesn't include mushrooms?
Or it could be that you might have to join the waiting list to receive Bioptimizers Nootopia Collagenius because it is currently out of stock?
This is actually another problem with all of Bioptimizers products they often run out of stock.
Not sure if this is a promotional thing but anyhow…
Nootopia Collagenius Vs Cognibiotics
---
Alternatively, something else to maybe try if you are just looking for something to help improve brain health.
This was the first Nootropics product to be released by Bioptimizers back in 2020.  You can actually buy this as part of one of Bioptimizers Brain Health stacks alongside Nootopia products.  It is kind of different though because this is basically a prebiotic fiber blend made with Chinese herbs.  For anyone that especially struggles with mood swings and poor concentration this is maybe a better product to try.   Also unlike Nootopia Collagenius this product is Vegan Friendly.
---
Final Word
---
Honestly, I never knew really anything about using Collagen for Brain Health prior to writing this Bioptimizers Nootopia Collagenius Review.  I thought this was just something for hair, skincare and nails but I must say that I am quite surprised about everything I've read from the Nootopia website.  
It is quite clear to me that the fact our body produces less Collagen as we grow older and that we are more prone to disease and degeneration seems more than just a coincedence.
Plus as someone that knows about this brand I can definitely trust that this is a good quality product.
I will leave the rest up to you.
Your Feedback
---
Once again thanks for your time.  
If you would like to leave feedback or have any questions please leave us a comment below in the comments section.     
We appreciate you taking your time to visit us today and hope to see you again in future.
Also if you have found this information helpful please consider giving this a share with your friends and social media contacts.
All the best for your health and happiness
#StayDynamic
Alexander B. Chivers
Contact us ay chivs86@dynamicideas4life.com
When we hear of Collagen we may think of it as a treatment for skincare or even hair loss.  How…
Read More