VitaPost ACV Pure Review – Apple Cider Vinegar 
Hi Guys,  For today's post this will be my VitaPost ACV Pure Review.  This an Apple Cider Vinegar supplement made in the USA with pure fermented apple extracts.  I have decided to review this product as this has been recommended by one of the new vendors that I have started promoting new products for.  
The company Vitapost I have actually featured one of their other products in my post about Ginger and Turmeric.  Prior to looking at this product here though this was the first I had heard of them.  I did not really pay too much attention to their other products then but just looking now I can see the company has a whole host of different health supplements for sale.  These include things like Immune Support, Blood Pressure Solution, and Sleep Plus.
In general, the prices of VitaPosts products range from $20-$30 and are created apparently by using a blend of modern science and ancient cultural medical practices.
---
FTC Disclosure:

Please note that this post contains affiliate links, and if you make a purchase as a result of the information inside this post I may receive an affiliate commission. 

---
Anyway; about VitaPost ACV Pure…
VitaPost ACV Pure Review
Name: ACV Pure
Website: https://www.acvpure.com/
Price: $24.95
Owners: VitaPost
Overall Rank: 79 out of 100
Quick Summary:  

ACV Pure by VitaPost is an Apple Cider Vinegar Naturally Fermented Dietary Supplement.   It contains 1300mg of all-natural ingredients (apple extracts) and is made to GMP standards in an FDA-approved facility. 
---
VitaPost ACV Pure Review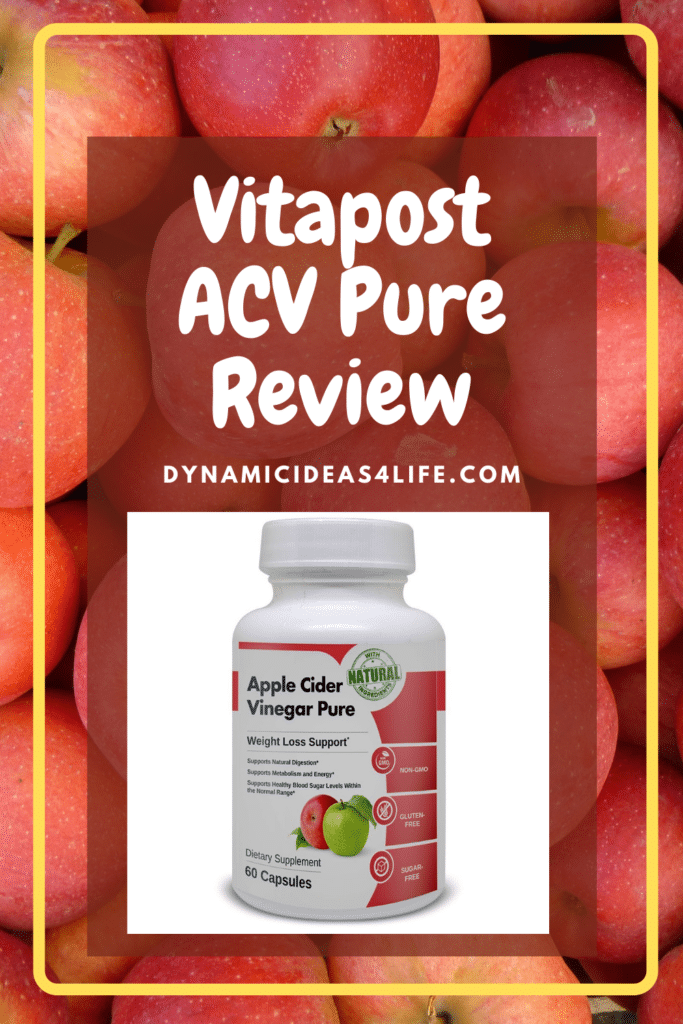 ---
---
1# – VitaPost ACV Pure Product Overview

VitaPost Apple Cider Vinegar Pure is a new extract of apple cider vinegar available in the form of easy-to-swallow capsules. Apple cider vinegar is considered one of the best health tonics available in the market right now. There are plenty of health benefits of apple cider vinegar, and many health professionals also acknowledge it.

The truth is that if you purchase this tonic from the market, then you will notice that it has a pretty sharp smell and an awful taste. But if you are buying VitaPost ACV pure, then the best thing about it is that you will get it in the form of easy to swallow capsules that are without any smell and nasty taste.
This is one of many products available online including a product with almost the same name Vitacost Apple Cider Vinegar but I have chosen to review this product here as I very much like the product line on the VitaPost website.
Anyway, you are maybe wondering…
---
2# – Who is VitaPost?
VitaPost is the official supplier of ACV Pure. It is a USA based company known for producing different health products and health supplements. All products made by VitaPost are natural and pure; it means that there are no side-effects of consuming any of their products. It is one company that is leading the market right now with its health products and supplements. and has thousands of satisfied customers that got results by consuming our supplements and products.
---
3# – Health Benefits of Taking Apple Cider Vinegar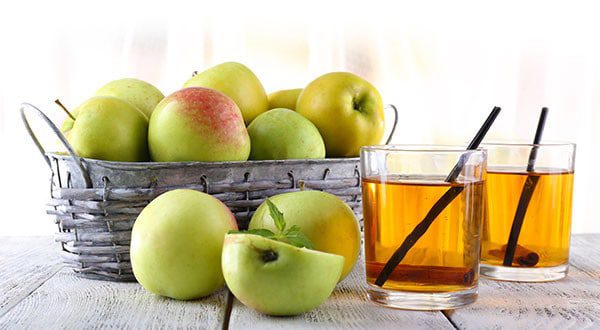 Apple cider vinegar has several health benefits. It is known for having antimicrobial and antioxidant properties. Some evidence even suggests that some other health benefits may be lowering blood sugar levels, reducing cholesterol, and improving the symptoms of diabetes.
Check out this list below for just some of the significant health benefits of Apple Cider Vinegar.
i.)  Enriched with a powerful type of Acetic Acid
Apple cider vinegar is prepared by fermenting sugars from apples. It is then turned into acetic acid, which is the main ingredient in apple cider vinegar. There are many proteins, enzymes, and friendly bacteria. While there are no abundant vitamins or minerals, there is still potassium, amino acids, and many different antioxidants.
ii.)  Aids in killing unhealthy Bacteria
ACV can help in killing pathogens and harmful bacteria. It was traditionally used by people prior to modern times as a disinfectant, for treating nail fungus, lice, warts, and ear infections.
iii.)  Can Help To Manage Diabetes And Lower Blood Sugar
Apple cider vinegar has been proven beneficial for improving insulin sensitivity in people that are suffering from diabetes. It helps in lowering the blood sugar responses and is also effective for blood glucose levels.
iv.). May Help In Weight-Loss
Some studies show that vinegar can help with weight loss. It can increase the feelings of fullness in your body, which allows you to eat less and consume considerably fewer calories. Which may ultimately result in weight-loss.
v. Can Improve Skin Health

Apple cider vinegar is widely used to treat skin conditions like dry skin and eczema. Our skins are naturally acidic, and the user of apple cider vinegar on the skin can help in reducing the pH of the skin and can improve its protective barrier.  It is only possible if you use it in the diluted form. But if you consume it in the form of capsules and tablets, then it can help you prevent many skin infections and problems like eczema.
---
4# – VitaPost ACV Pure – Pro's and Cons

The Good & the Bad ??
The Good ?
PRO #1 – Vegan Friendly
PRO #2 – Can help in losing weight
PRO #3 – It can help boost your energy levels
PRO #4 – Available in the form of easy to swallow capsules.
The Bad ?
CON 1# – Only Available from the VitaPost website
CON #2 – Only available in select countries
CON #3 – No customer reviews on Amazon etc.
---
5# – Who is ACV Pure For?

You do not need any medical prescription to purchase ACV-Pure. It is made up of all-natural ingredients and is 100% pure. It means that there are no side effects of this product, and it can be consumed by almost anyone, especially those people that are suffering from diabetes and high cholesterol levels.
If you are having trouble losing weight, then you can also add it to your diet as it is helpful in losing weight.  The only thing VitaPost does point out that ACV Pure should only be taken twice daily, and not above this recommended dose.  Plus it is also suggested that if you are under-18, pregnant or suffer from underlying health issues you should consult with your GP before taking.
---
6# – VitaPost ACV Pure Support?
To contact VitaPost there is actually a Live Chat option available on the ACV Pure website.  You can contact the company from here.  In my experience, this only takes 1-2 minutes to talk to a human agent.
You can also contact them with the following details;
Phone US Toll-Free: 1-888-455-9995
Email: support@vitabalance.net
---
7# – ACV Pure Price + Bonus Offer

If you are interested in purchasing ACV Pure you can buy 1, 2, or 5 bottles.
*Discounts available as ACV Pure Multi-Pack.  Click below to purchase.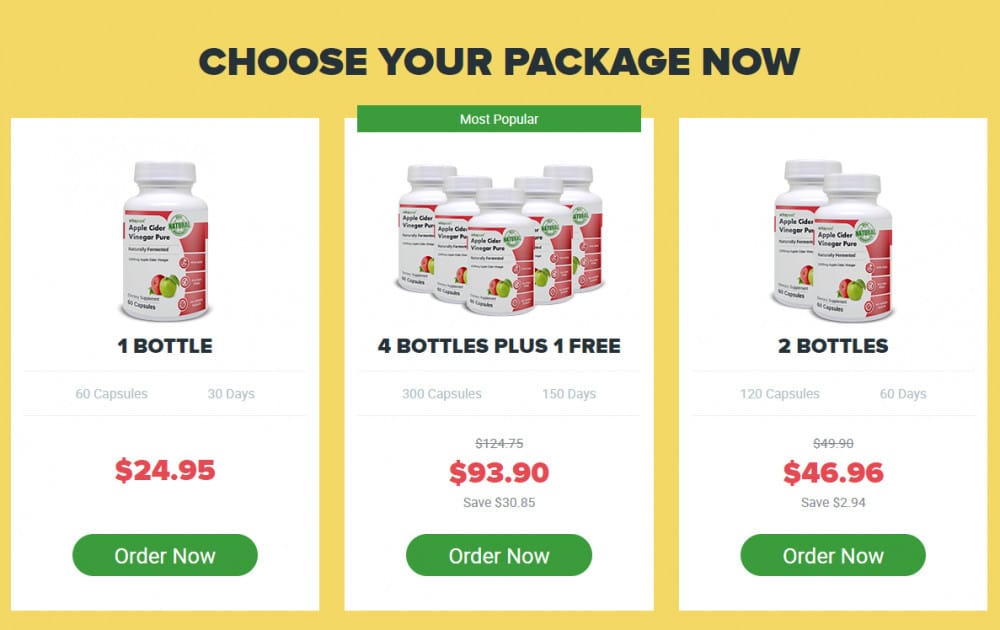 ---
8# – My Final Opinion of ACV Pure
OK, so I think if you currently use Apple Cider Vinegar in its liquid form then this might just be worth a try.  For one it does not stain your teeth like the liquid and by taking this supplement in its pill form doesn't have the unpleasant taste either.  The only thing is maybe its the price.  Buying Apple Cider Vinegar isn't too expensive and is even cheaper to make your own and this is definitely cheap er than $27.95.
However, for a supplement, I don't think this is too expensive, and there is the added convenience as well.  I am not 100% certain how refunds work should you need one but from my experience, this company is extremely easy to contact so (I think) you can trust them.   My only qualms are there are no reviews on Amazon which usually too me indicates whether a product is worth trying or not.  Although to me I do trust VitaPost so far by looking at their website…
---
9.)  VitaPost ACV Pure at a Glance…

Name: VitaPost ACV Pure
Website: acvpure.com
Owners:  VitaPost
Price:  $29.95
Overall Scam Rank:  0 out of 100
VERDICT:  LEGIT
---
10# – In Conclusion
Coming to the end now of my VitaPost ACV Pure Review.  In hindsight, I think this is a more attractive supplement than some of the others I've reviewed over the past year.  I have heard of Apple Cider Vinegar for weight loss but this isn't something I've personally tried. 
For what this product is on sale for I think it might be worth a look at still but I will say the same as what I've said before about other supplements that this might not work for everyone.  
Plus I can't say whether this is any better than any other products on the market but I would suggest still taking a look at the ACV Pure website and having a look at what they've got to say.
Check out there website here==> https://acvpure.com
YOUR FEEDBACK
Finally…  Like always your feedback is very much appreciated.
Any questions etc. or if you would like to give feedback please refer to the comments section below.  You can also contact me directly at alexc@dynamicideas4life.com  
Otherwise, if you have found this content helpful please like, follow and share with others on Social Media.  We are on both Facebook and Twitter…
Plus be sure to subscribe to our email list for notifications when new posts are published.  As well as loads of other cool free stuff such as ebooks and free exclusive content sent straight to your inbox…
Many thanks
Yours Sincerely
Alex Chivers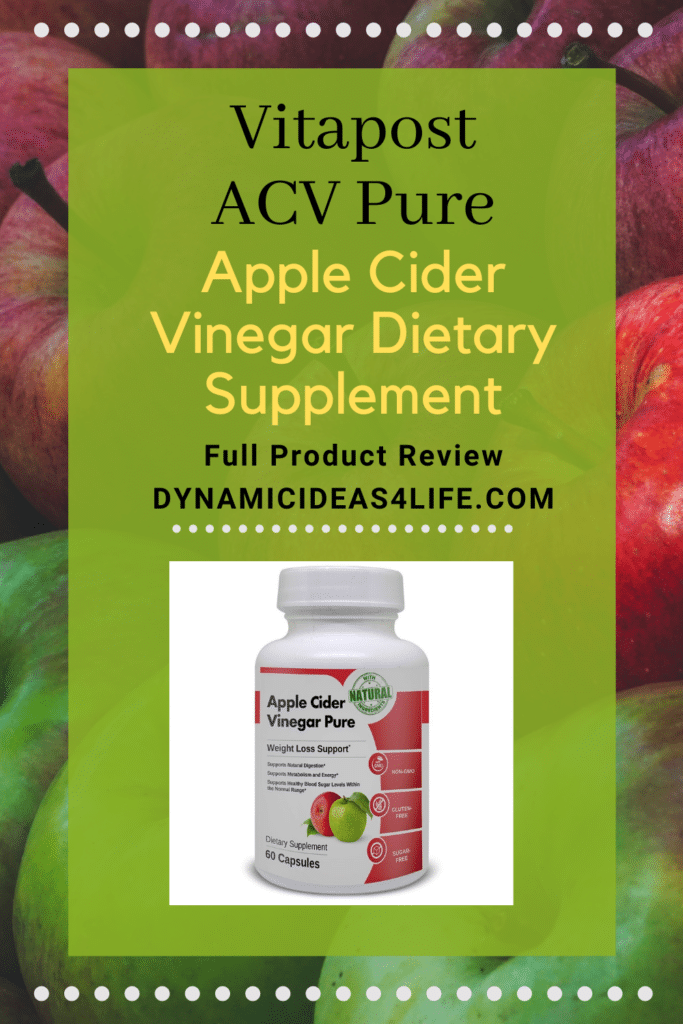 Anxiety and Depression best ways to lower blood sugar BiOptimizers blood pressure supplements blood sugar support supplements Digestive Enzymes Supplement digital products Dr Sam Robbins Exercise Gut Health Healthy Living heart health HFL how to lower blood sugar levels How To Lower Cholesterol insulin resistance joint health supplement Keto keto dieting Keto Diet Weight Loss leaky gut supplements leptin resistance list Magnesium deficiency Matt Gallant mental health multivitamins Nootropics nutrient supplements Probiotics Probiotic Supplements proteolytic enzymes reverse type 2 diabetes stress and anxiety stress relief Tinnitus vitabalance vitapost Wade Lightheart weight loss articles weight loss diet plans weight loss product reviews weight loss supplements weight loss supplements that work weight loss tea
About Author