Hello All, today we are going to look at Megafood's Men's One a Day Multivitamins Supplement.  Do Multivitamins Really Work? If you are a reader here you may have seen my other post for Megafood's Women's One Day Multivitamin formula. 
Both are variations of each supplement with both males and females in mind. 
The company I hadn't heard of prior to writing the last review.  My biggest shock was that this company has been around for so long. Since the 1970s.   They are pushing 50 lol

To find out more about Megafood Men's One a Day Multivitamins Watch this video;

Anyway, so this product here we are going to review today. Obviously, it is made by MegaFood. It's a supplement to improve Men's Health and it is a Multivitamin Formula. It is designed so you only need to take it once a day and this is pretty much it. For anybody interested to find out more I will try my best to cover everything I can throughout the length of this post.
---
Megafood Men's One a Day Multivitamins Supplement Review 2021 – Do Multivitamins Really Work?
---
Table of Contents:
Please Be Aware:  This Article Contains Affiliate Links.  This means I may make a small commission if you make a purchase.  It will not affect the price you pay.

---
Megafood Men's One a Day Multivitamin's Supplement Review 2021
1# – History of MegaFood – How Long Has it Been Around For?

MegaFood was founded back in 1973, it has been around for nearly 50 years. 

In 1989, Carl E. Jackson became the owner and president.  Since they first went into business in the 1970s Megafood has established itself by making products to boost wellness.  Using only whole food ingredients which provide the necessary minerals and vitamins needed to maintain normal body balance.  All ingredients are also sourced from Megafood's own harvests.  So every one ingredient found inside Megafoods products is from a trusted source.
---
2# – The Best Thing About Megafood
Answer: It Practices Regenerative Farming.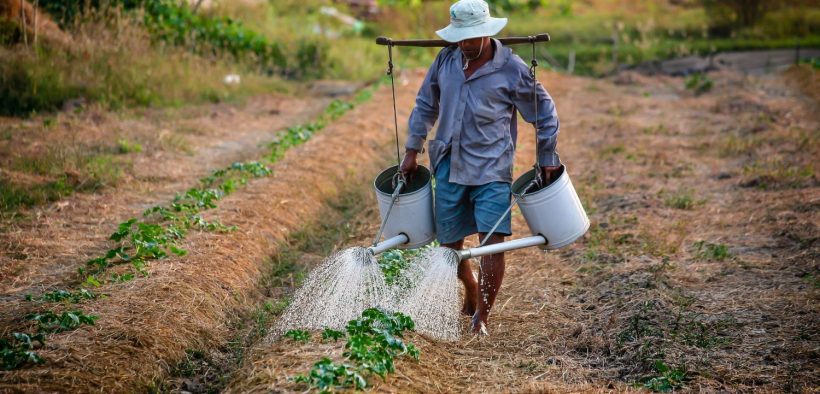 Regenerative Agriculture is a system of farming principles and practices that increases biodiversity, enriches soils, improves watersheds, and enhances ecosystem services.  Regenerative Agriculture aims to capture carbon in soil and aboveground biomass, reversing current global trends of atmospheric accumulation.
Regenerative agriculture also offers many benefits beyond carbon storage! It increases the soil's water holding capacity, stops soil erosion, protects the purity of groundwater and sets up the conditions for crops to become more disease and pest resilient without the need for pesticides.
---
3# – Do Multivitamins Really Work?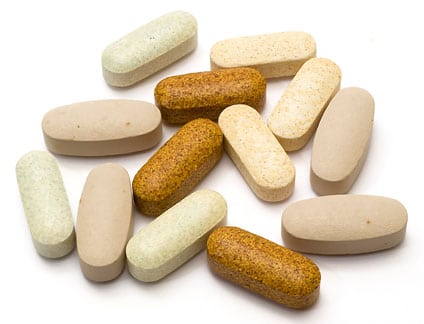 We get our vitamins mostly from the food we eat.  Studies show the majority of people don't eat enough fruit and vegetables.  This is why a supplement such as Men's (and Women's) One Daily can make such a difference.   As, if we don't eat enough of the right foods our bodies can suffer from vitamin deficiency.
This would affect us in many ways.
Here are the many benefits of multivitamins:
Vitamin C boosts immunity.
Vitamin D and E Helps the immune system and can help to reduce the effects of allergies.
Vitamins B and C are water-soluble which means they are not stored by the body.
Vitamin B gives you an energy boost, as well as a decrease in stress and anxiety.
Vitamin B is very good for your heart.
Vitamins A, C and E are very good for your skin.
Vitamin B 3 and C are great for hair health and giving you a fuller head of hair.
Vitamins A, C, E and B 3 and Selenium, support eye health. Reducing the risk of macular degeneration.
Using multivitamins regularly also reduces the risk of Cancer.
All of the vitamins contained here help all of these parts of the body.
---
4# – Megafood Men's One a Day Multivitamins Ingredients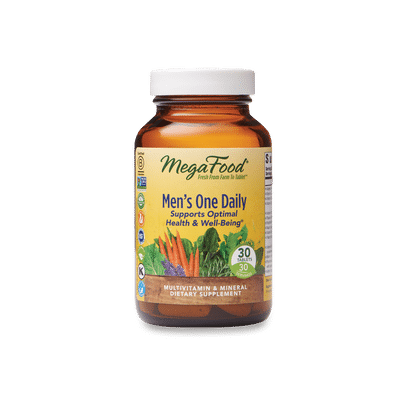 As per the label.
Supplement Facts
Serving Size: 1 Tablet
Servings per Container: 90
Amount Per Serving % Daily Value

Vitamin A (50 mg carrot) As Alpha & Beta Carotene with Mixed Carotenoids (Cryptoxanthin, Lutein, Zeaxanthin) 2500 IU 50 % Vitamin C (240 mg whole oranges) 60 mg 100 % Vitamin D3 (8 mg S. cerevisiae) 400 IU100 % Vitamin E (60 mg organic brown rice) 15 IU 50 % Vitamin K (3 mg cabbage) 32 mcg 40 % Thiamin (B1) (16 mg S. cerevisiae) 4 mg 267 % Riboflavin (B2) (30 mg S. cerevisiae) 3 mg 176 % niacinamide  (80 mg S. cerevisiae) 20 mg 100 % Vitamin B6 (15 mg S. cerevisiae) 3 mg 150 % Folate (40 mg broccoli) 400 mcg 100 % Vitamin B12 (3 mg S. cerevisiae) 15 mg 250 % Biotin (24 mg organic brown rice) 120 mcg 40 % Pantothenic Acid (40 mg S. cerevisiae)10 mg 100 % Calcium (40 mg S. cerevisiae) 2 mg 1% Iodine (4 mg S. cerevisiae) 60 mcg 40 % Magnesium (40 mg S. cerevisiae) 2 mg 1% Zinc (300 mg S. cerevisiae)15 mg 100 % Selenium (32 mg S. cerevisiae) 32 mcg 46 % Copper (5 mg S. cerevisiae) 50 mcg 3 % Manganese (20 mg S. cerevisiae) 1 mg 50 % Chromium (GTF) (30 mg S. cerevisiae) 60 mcg. 50 % Molybdenum (10 mg S. cerevisiae) 20 mcg  27 % Potassium (763 mg S. cerevisiae) 4 mg< 1g Boron (50 mg S. cerevisiae) 500 mcg *Immune Health Blend
Organic Astragalus, whole Orange (natural source bioflavonoids), Organic Eleuthero Root, Wild Blueberry (natural source anthocyanins), Cranberry (natural source proanthocyanidins), Organic Schisandra Berry, Organic Shiitake Mushroom53 mg* Body Strengthening Blend
Fo-Ti Root, Organic Ginger Root, Organic Saw Palmetto Berry, Organic Nettle Leaf, Organic Dandelion Leaf & Root35 mg*
Other Ingredients: Plant Cellulose, vegetable lubricant.Silica
Warning product labels do change from time to time, be sure to check before consuming.
---
5# – Pros and Cons ✅❎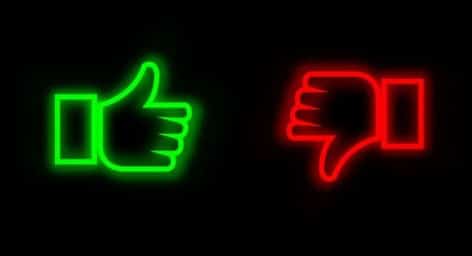 Pros
Gluten-free
Dairy-Free
Soy Free
Non-GMO
Organic
Vegetarian
Can be taken on an empty stomach
Made from organic ingredients
All-natural
Only need to take 1 a day
Certified Kosha
Cons
---
My Final Thoughts
Megafood has been around for nearly 50 years.  The ingredients used are organic and they practice sustainable farming.  This means better quality produce that is much better for the land and the environment.
Only companies that make these kinds of supplements that work are around for this amount of time.  I have read many, many, many reviews of this product from 20 different sources and I only found 2 reviews where people were not happy or said it didn't work for them.
The only con I could find is that it is not suitable for Vegans.
You only need to take 1 a day and this can be taken at any time. Even on an empty stomach.
Megafood Men's One a Day Multivitamins comes in bottles of either 30, 60 or 90 tablets. They are easy to swallow and come with a 30-day money-back guarantee.
This supplement can help so many parts of the body in many effective ways. As they do say: "Prevention is better than cure".
A great thing to take if you are not very keen on fruits and vegetables and many people fall into this category.
---
YOUR FEEDBACK
I wish to thank you for taking the time to read this article. If you have any questions or want to leave a comment then you can do so below.
I love hearing from you and I will always reply.
Also, If you know anyone else who would benefit from reading this, then please feel free to share it.
Take great care of yourself because you are worth it.
Stay Dynamic x
Alex B. Chivers
#Di4L
---
Anxiety and Depression best ways to lower blood sugar BiOptimizers blood pressure supplements blood sugar support supplements Digestive Enzymes Supplement digital products Dr Sam Robbins Exercise Gut Health Healthy Living heart health HFL how to lower blood sugar levels How To Lower Cholesterol insulin resistance joint health supplement Keto keto dieting Keto Diet Weight Loss leaky gut supplements leptin resistance list Magnesium deficiency Matt Gallant mental health multivitamins Nootropics nutrient supplements Probiotics Probiotic Supplements proteolytic enzymes reverse type 2 diabetes stress and anxiety stress relief Tinnitus vitabalance vitapost Wade Lightheart weight loss articles weight loss diet plans weight loss product reviews weight loss supplements weight loss supplements that work weight loss tea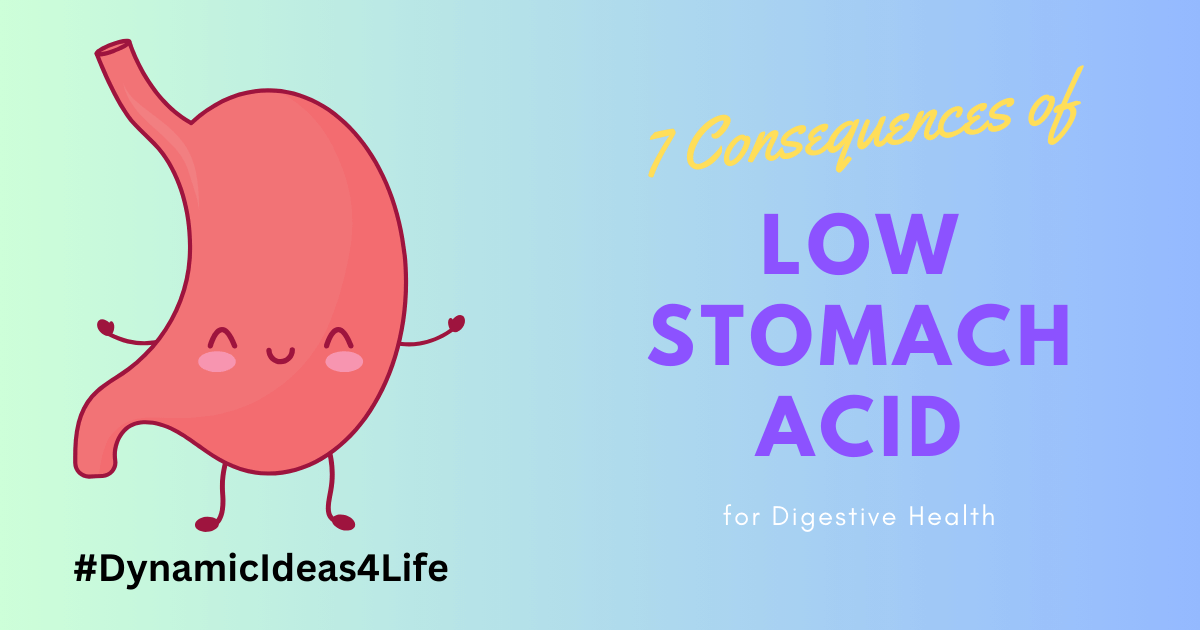 The consequences of untreated low stomach acid are often overlooked in people's understanding of dig…
Read More
About Author