Hello Everybody, First, thank you very much for stopping by.  As a sufferer of Irritable Bowel Syndrome (IBS), it's not always easy to find a probiotic formula that I can take without any problems.  However, this is not the case with Seed Synbiotic Probiotics.
Which is one of the main reasons I'm very excited to share this review with you.
This is a probiotic formula this much is clear but this is like nothing I have ever come across before.
If you are looking for a unique and high-quality probiotics supplement look no further.
Because I think these are good.  Really good.  They are a great company to deal with and I think this product is fantastic.
Something hopefully I will be able to share with you more throughout the course of this review.
So, let's dive in and find out more about Seed Synbiotic Probiotics!
---
Seed Synbiotic Probiotics Review (2022) – What Makes These So Special?
---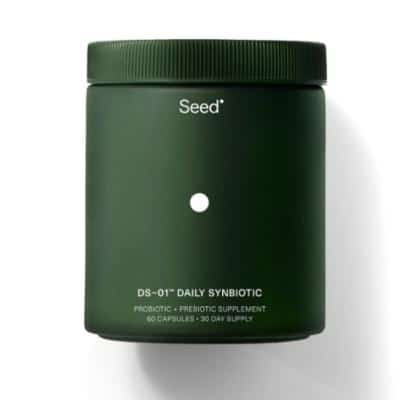 Product Name: DS-1 Daily Synbiotic

Manufacturer: Seed Inc.

Owner of Company: Dr. Gregor Reid

Based In: The USA
Price: $49.97
Return Policy: 30 Days
Rating Out of 5 Stars: ⭐⭐⭐⭐
Website: Seed.com/daily-synbiotic

Short Description:
Synbiotic means both a blend of Probiotics and Prebiotics. This is a dietary supplement that comes in a bottle of 60 capsules which is a 30 days supply. Inside you can find roughly 29 ingredients that are formulated into 3 different blends.

Please note:  This post contains affiliate links.  This means if you purchase a product through this link, I may receive a small commission.  The price you pay will not be affected.   Also, please be aware that not every product I review I actually recommend so please read carefully. For more info. feel free to contact me at chivs86@dynamicideas4life.com
Health Disclaimer:
If you suffer from any health issues that you feel may benefit from supplementation please just be aware that the information shared in this post is not meant to replace that of any health professional or physician. This is for informational purposes only.
Now then this post I am sharing today is a review for Seed Synbiotic Probiotics. I first came across this product around 2 years ago and whilst I was hesitant to try these – mostly because of having to set up a standing order and the fact you only have 30 days to return if you are not satisfied still I do think these are a great product to try.

I think you only need to visit their website just to see how much they actually have on offer. Trust me on this one?
---
Why Are Seed Synbiotic Probiotics So Different?
---
Why is Seed different? Well, Firstly they only make this one product and it's not because they are a new company. They have been around for almost 4 years at the time of writing this post. (They first launched DS-01 on 06/06/18).
But not only this they do things in a totally different way from the majority of companies that make Probiotics.
Before my product arrived, I received several emails from the Seed team. Giving me a digestible dose of science and a day-by-day game plan for starting my new probiotic. This happens to every new customer. So…
---
About Seed Synbiotic Probiotics
---
For anyone new to Seed Synbiotic Probiotics the first thing to note is these are a mixture of both probiotic bacteria and prebiotics. Inside Seed is a combination of 24 ingredients. This is what is known as a broad-spectrum probiotics supplement.
Seed Probiotics are formulated by both doctors and a team of scientists. One of which is Dr. Gregor Reid, a pioneer in microbial sciences with 35 years of research, who chaired the United Nations – World Health Organization panel.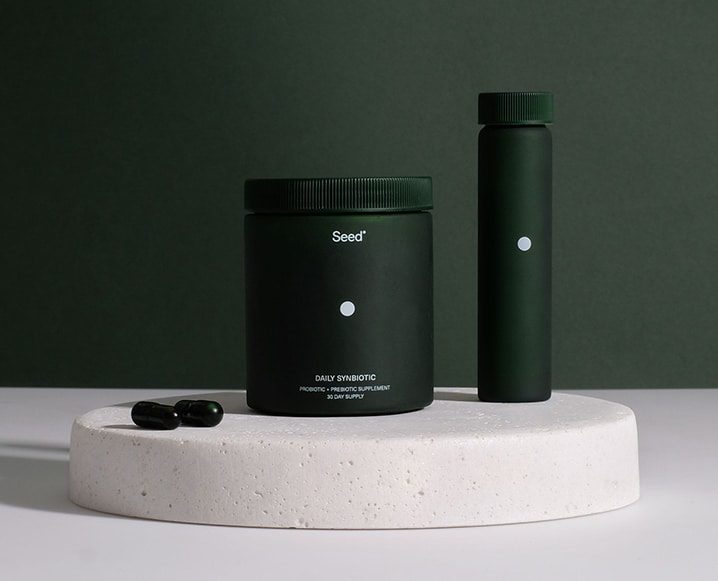 What Ingredients Are In Seed Daily Synbiotic
---
Seed Synbiotic Probiotics contain a total of 53.6 Billion AFU (Active Fluorescent Units). These are basic estimates of how many probiotics you will receive in each dose. So quite a lot right? Well, another thing about Seed is its ingredients contain 5 different blends;
See screenshots from the website below;
---

---
---
---

---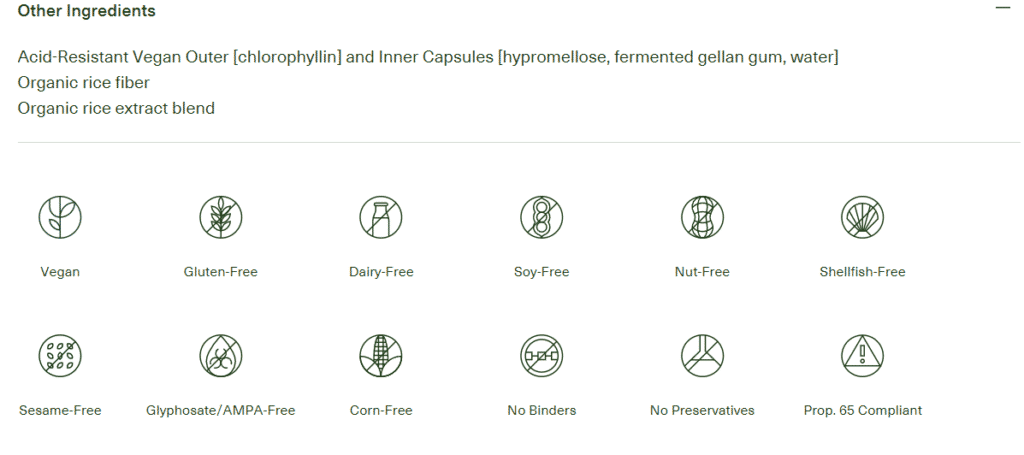 So as you can see here if you are interested in Seed Synbiotic Probiotics there is quite a list of ingredients here. If you count all of the above this totals 24 Probiotic strains, Prebiotics including Indian Pomegranate and the vegan capsules which include the acid-resistant outer shell and the actual inner shell which is designed to help keep the probiotics inside the supplement alive ready for when you take them.
---
What Attracted Me To This Product?
---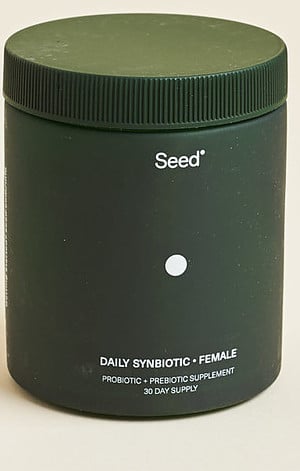 Apart from all the science and the doctor-formulated probiotics, it was in fact the beautiful packaging. In the welcome kit, you will receive 2 glass jars, the larger of the two holds one month's supply of seed probiotics.
Then the second is a much smaller version that holds a 7-day supply for when you are traveling.
You keep both jars and just refill them with your next month's supply which comes in corn foam packaging that dissolves in water. (It's actually quite fun to dissolve it )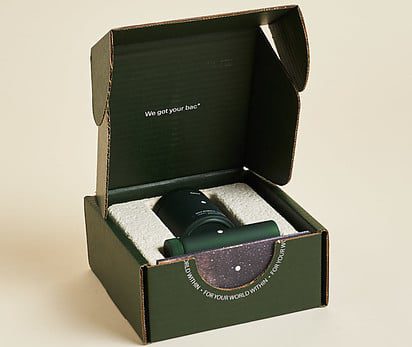 The outer packaging is made from a biodegradable foam that is fully compostable and disappears in just 30 days. The box is made from biodegradable algae paper, which is also recyclable.
---
Bonus: The Information Booklet
---
Instead of putting a shortlist of instructions on how to take the product they chose instead to provide a full booklet of information explaining the product's use, their refill guide, information on probiotics and prebiotics, and other key health benefits.
If they take this much care on the packaging, you can imagine how much care goes into the Seed Daily Synbiotic. Let's look at that now…
---
What's Inside the Seed Synbiotic Probiotics Supplement?
---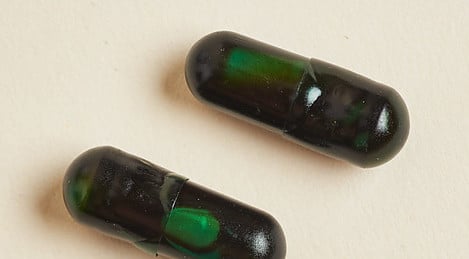 I was very impressed by the way Seed keeps the probiotic strains alive and active. In fact, I didn't actually know this that bacteria such as Probiotics are sensitive to light, temperature, and moisture. And what this means is that most of these microorganisms hardly survive the trip from manufacturer to store shelf. Never mind long enough to actually reach your digestive system.
As you can see in the above picture there is another capsule inside the outer green capsule. They have used a 2-in-1 vegan capsule system for the express purpose to protect the ingredients from stomach acid and ensure that the probiotic makes it to your colon. (The outer capsule contains the prebiotic, and the inner capsule is the probiotic.)
How clever is that?
---
The Formulation of Seed Daily Synbiotic
---
Seed Synbiotic Probiotics combines clinically-verified, naturally-occurring probiotic strains. These are not found in yogurts, or fermented foods and beverages. Indeed, these are replaced with a new class of patented plant-based, non-fermenting prebiotics sourced from Indian pomegranate and Scandinavian Chaga mushroom and pine bark.
Seed Inc. is the first to take a Microbe-Systems Approach with strain-specific benefits beyond digestive health, including heart health, skin health, gut immune function, reproductive health, gut barrier integrity, and oxidative stress."
---
How Much Should You Take?
---
The recommended dosage for Seed Synbiotic Probiotics is 2 capsules a day. In each bottle, you will find 60 Capsules. However, when you first start taking this supplement seed suggest taking just one a day to ensure your body can cope.
This is what I did. I have irritable bowel syndrome and I have to be very careful about which supplements I take. In my own experience, this worked very well for me, with no problems at all. I started to take 2 a day after this and ever since they have made a huge difference.
So, my advice is definitely to follow these instructions. For the first couple of weeks take one a day and then after that take two. Even,  if you don't suffer from any stomach issues I would still say it's best to start slowly.
For best results take your dose on an empty stomach in the morning or a few hours after your last meal.
The Bottle Contains a 30-day supply and costs $49.99 A Month. Which, is a subscription plan but it can be canceled at any time.
---
Seed Synbiotic Probiotics Pros and Cons
---
What Are The Pros?
Gluten, Dairy, and Soy-free
Non-GMO
No Binders or Fillers
No Preservatives
Suitable for Vegans, Vegetarians, and Ketogenic
Easy to swallow
The capsules have no taste
12 classes of allergens defined by the *EFSA
(European Food and Safety Authority)
Can be taken with other supplements
Can be used by pregnant women and breastfeeding mothers
It's not necessary to refrigerate them
Free shipping in the USA
A flat-rate fee for International Shipping is $10.00
30-day risk-free guarantee
The Cons
You must subscribe to buy Seed Every Month
*Although you can cancel anytime
Some people say the price is too high
Available only online
What Are The Overall Benefits
---
According to the company taking 'Seed Daily Synbiotic Probiotics' for a sufficient period of time is supposed to help to improve;
Gastrointestinal (GI) Function,
Gut Barrier Integrity,
Cardiovascular Health,
Metabolism (if you are overweight),
Energy Production,
Gut Immune Function,
and Oxidative Stress.
For me personally, I found the biggest benefit of taking Seed Synbiotic Probiotics for a month was less bloating and stomach discomfort.

This was a major breakthrough for me. Plus the other thing I noticed was this was able to help me lose weight as well.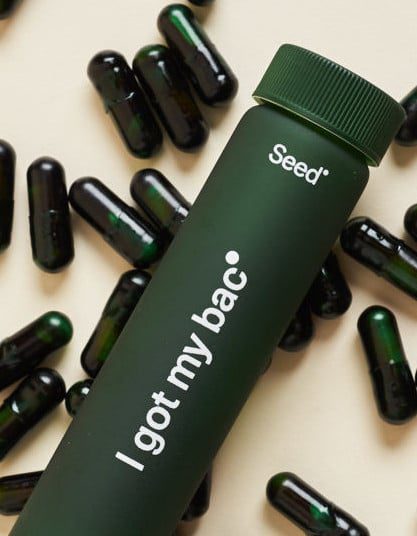 My Final Thoughts
So yes, I highly recommend taking Seed Synbiotic Probiotics. This is by far the best probiotic supplement I have ever taken. It 100% has helped me to improve not just my gut health and IBS but generally speaking other areas of my health as well.
I mean I don't really like the subscription. It's ok if you can afford it but I think it's quite expensive having to pay $60.00 a month (incl. International shipping)

Yet, I would still prefer taking this product over other cheaper probiotics. If you're looking for a product that combines the best probiotic strains available along with a unique prebiotic formulation Seed Synbiotic Probiotics are definitely the product for you.
Your Feedback
---
If you have any questions about Seed Synbiotic Probiotics or would like to share any feedback related to this article…
Please do so in the comments section below.
Also, if you know anyone else who would benefit from reading this review then please feel free to share it using the share buttons.
Take great care of yourself because you are worth it. And #StayDynamic
Article Originally Published By Lisa Harvey for HealthyMindHealthyPeople.com
Updated by Alex B. Chivers for DynamicIdeas4life.com March 2002)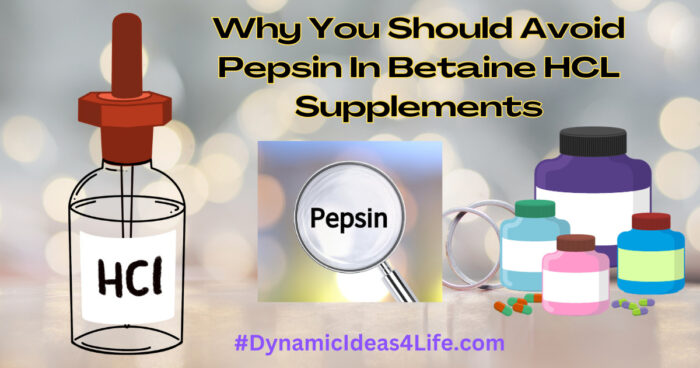 Why Pepsin in Betaine HCL Supplements Could Be Harming Your Digestive System?  Many may not think ab…
Read More
Anxiety and Depression best ways to lower blood sugar BiOptimizers blood pressure supplements blood sugar support supplements Digestive Enzymes Supplement digital products Dr Sam Robbins Exercise Gut Health Healthy Living heart health HFL how to lower blood sugar levels How To Lower Cholesterol insulin resistance joint health supplement Keto keto dieting Keto Diet Weight Loss leaky gut supplements leptin resistance list Magnesium deficiency Matt Gallant mental health multivitamins Nootropics nutrient supplements Probiotics Probiotic Supplements proteolytic enzymes reverse type 2 diabetes stress and anxiety stress relief Tinnitus vitabalance vitapost Wade Lightheart weight loss articles weight loss diet plans weight loss product reviews weight loss supplements weight loss supplements that work weight loss tea
About Author