Hello All, today we are going to have a look at another product by HFL and Dr Sam Robbins.  This will be my CholesLo Review for 2021. This Supplement claims to lower your unhealthy cholesterol, and lipid levels naturally.  We are going to find out whether if it's safe to use and why it might not be.
For anybody that is interested here is what I think.  Millions of people suffer from cholesterol problems.  Many don't even have any idea they have it (1).  Have you been tested?  I know it might sound worrying but high levels of unhealthy LDL (Low-Density Lipoprotein) cholesterol can represent a very serious health risk.
The problem is that once arteries begin to clog up from the fatty material left behind by LDL it can be very dangerous.  Heart disease, heart attacks, strokes and angina are all unfortunate possible consequences.
Switching to a healthy well-balanced diet to counteract this is essential.  CholesLo is basically another option that helps supplement the body with the right nutrients that can help.
This video I think explains things well even though at first it might seem negative;
By the Way;  This content contains affiliate links which means I could make a small commission if you purchase anything. This helps to keep me in Coffee when writing and researching. The price you pay will not be affected.

---
CholesLo Review 2021
What Does CholesLo Do for you?
Improves triglyceride levels.
Supports liver health.
Helps to Balance both LDL and HDL Levels
Can help liver detoxification.
Improves homocysteine levels.
Encourages healthy cholesterol levels.
When we look at the ingredients we will see the benefits of each one, let's do this now.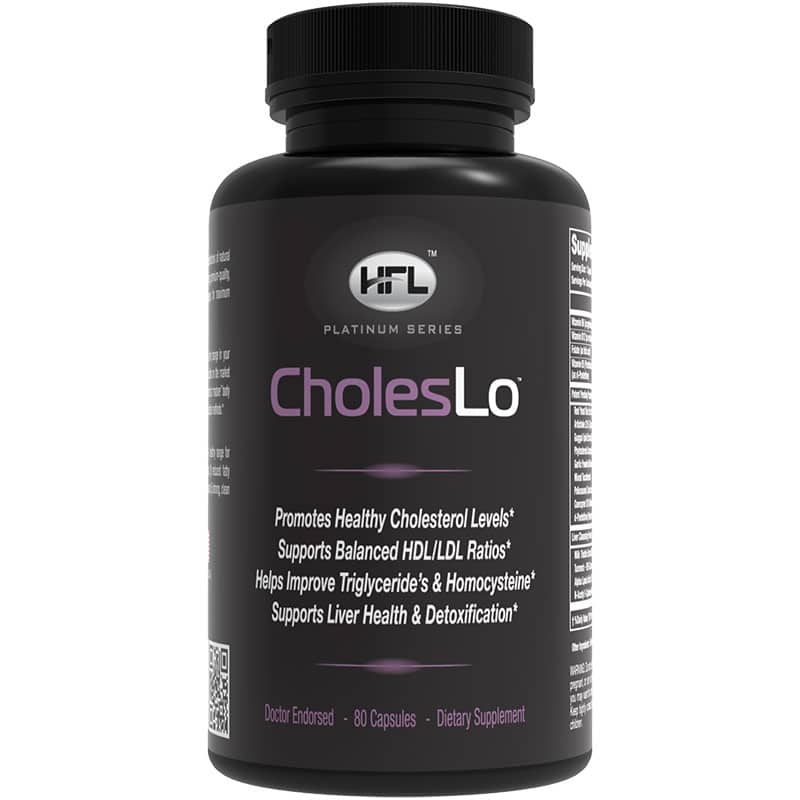 Choleslo Review 2021
The Ingredients
Guggul Lipid Extract
Guggul is made from sap or gum resin, which is taken from the Commiphora Mukul tree. It is used in some health supplements.
Used for lowering high cholesterol. (1)
D-Pantethine
A form of vitamin B5 that is made up of two molecules. It is created when pantothenic acid is combined with cysteamine.
is used for lowering cholesterol. (2)
Vitamins B5, B6, and B12
These B vitamins help the body produce energy from the foods you eat. They also help boost metabolism.
Phytosterols Complex
may help lower your LDL and total cholesterol levels. (3)
Plant-based compounds, which include sterol and stanol esters.
Coenzyme Q10
A very powerful antioxidant that the human body produces naturally. It is important for growth and maintenance but you produce less of it as you age. You can get it from dietary choices such as fish, broccoli, beef, sesame seeds, and chicken.
Milk Thistle
A plant often used in eastern medicine, which contains an active component or flavonoid called silymarin.
Also, reduces the levels of cholesterol (4)
N-Acetyl l-Cysteine
An amino acid that is derived from L-cysteine. It is a building block of protein and a powerful antioxidant.
Turmeric
A spice commonly used for cooking in India and other parts of Asia. It contains a chemical called curcumin.
Can help to lower the levels of cholesterol. (5)
Alpha Lipoic Acid
An antioxidant found in some foods such as yams, Brussels sprouts, spinach, beets, and potatoes.
Red Yeast Rice Extract
This natural ingredient has been used in the Chinese diet and medicine for centuries.
Studies have shown that certain red yeast rice products that contain statin can significantly lower levels of total cholesterol and specifically LDL, cholesterol. One showed that taking 2.4 grams per day reduced LDL levels by 22% and total cholesterol by 16% in just 12 weeks of use. (6)
Mixed Tocotrienols
Can help with the impact of high cholesterol on heart health. (7)
May include delta, alpha, gamma, and beta tocotrienols, which are naturally occurring compounds and part of the vitamin E family. These nutrients have antioxidant properties.
Artichoke
Can Lower 'Bad' LDL Cholesterol and Increase 'Good' HDL Cholesterol. (8)
A plant (considered a vegetable) that is often used in food dishes, but also contains chemicals that may help with indigestion, nausea, vomiting, and wind.
Policosanol
Has been shown to lower cholesterol production in the liver and to increase the breakdown of LDL (low-density lipoprotein or "bad") cholesterol. (9)
Garlic Powder
Apart from being used in cuisine to add a delicious flavour, it's also beneficial for your health.  It has been proven to lower cholesterol levels and also to thin your blood, which helps to prevent high blood pressure, strokes and heart disease. (10)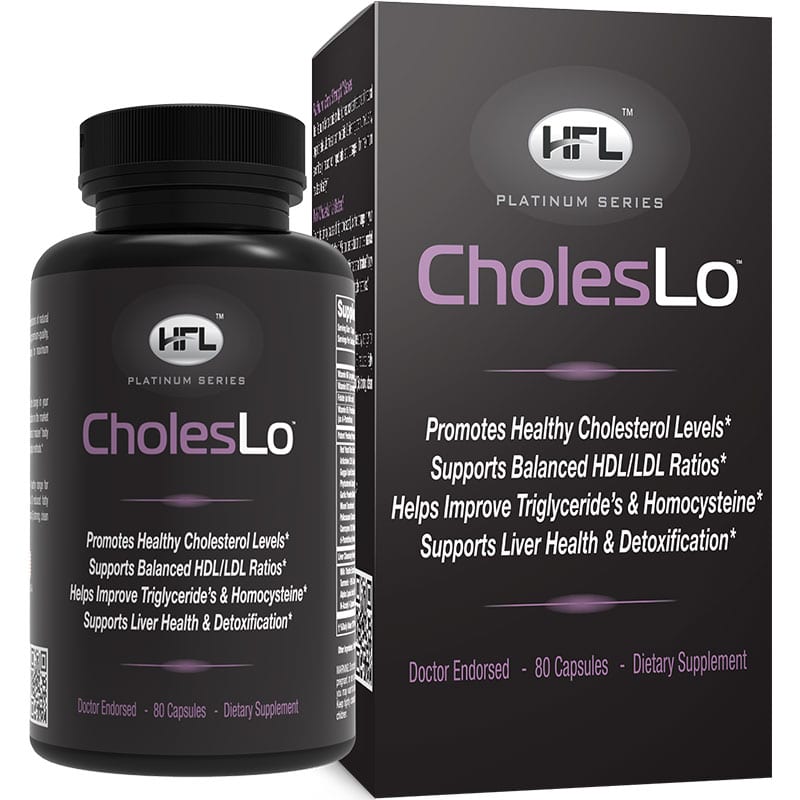 Who Is It For
As with the majority of supplements, results will vary from person to person because we are all different and this can be seen when reading this CholesLo review.  Some customers have said they saw no results at all. The good news is there are some clinical study results, charts, and graphs on the website that display results from taking CholesLo capsules.
If you visit Dr Sam Robbins Facebook page as well there are some good reviews.  Although if you are looking to buy be sure to come back here and use my link.  You don't have to but I will appreciate it if you can.
The other thing to note is CholesLo does not suppress your appetite or boost your metabolism to help you get rid of excess weight.  It is not for weight loss.  It is for helping balance healthy cholesterol and it can also help cleanse the liver.
Reviews
Customer One says : 

In August, I went for a check-up and yes, that's right, my cholesterol was high at 298. I started researching and came across Dr Sam's story about his father who had such high cholesterol that he had a stroke and how he started looking for something to help him and developed CholesLo.

I ordered in two bottles, one for myself, and one for my husband. We followed the bottle directions each week. Three weeks later I had to take more blood work and my cholesterol was again checked. The number was 226. My bad cholesterol had come down to 126. Unbelievable!

That is a drop of 72 points in the LDL (bad) cholesterol. We would recommend this product to everyone for high cholesterol. Thanks, Dr Sam from all of us who have suffered from high cholesterol.
Customer Two Says : 

We have a large anti-ageing clinic. Unfortunately, due to the natural ageing process and hormonal imbalances, people's cholesterol levels rise. Many of our patient's GP doctors simply prescribe them a drug for this situation.

We don't believe in statin medications and that's simply because of the numerous complaints we hear about from our own patients and clients. It would be nice if they didn't have so many side effects, but unfortunately, that's not the case. We first design a customized diet and exercise program to help the initial reduction of cholesterol and balance out the body. After this initial 30-60 day "diet/exercise" change, we do another blood test.

At this point, we usually put our patients on your CholesLo product. The only things we alter is the dosage. Depending on how the second blood test was, we give either low, general or higher dosages of CholesLo. Surprisingly, even at "above recommended" dosages, CholesLo has very few side effects, if any at all. Usually just mild "dry mouth" the first week or so. We are happy and so are our patients. We use it exclusively in our clinics now.
Pros And Cons
Pros
Made in an FDA approved facility
Laboratory tested
Doctor Approved and Endorsed
20-year-old proven formula
Easy to swallow capsule size
Scientifically proven ingredients
Natural and Organic
Non-GMO
Money-back Guarantee
Cons
Available only online from the HFL website
Dosage
The bottle contains 80 tablets, the recommended amount is 4 capsules a day. When you begin taking  

CholesLo

start with a lower amount and build it up over 7 days to help your body cope with the changes.

---
HFL + Dr Sam Robbins CholesLo Review 2021
My Final Thoughts
There are a great many supplements available in the market place, this company has been around for over 20 years. The founder is a certified Doctor who is passionate about people being healthy without using certain drugs.
The Ingredients are all-natural and organic. The majority of the reviews were from very happy customers, a couple said it worked but not as well as they hoped it would. One said it didn't work for them at all.
The Product is made in America by HFL. They make a few different supplements for various health conditions. I have used a couple of them but not tried this particular one.
The company offers a great money-back guarantee.  More information can be found on their website here.
I wish to thank you for reading my Choleslo Review, if you have a question or a comment then feel free to leave it below. It's always great to hear from you and I will always respond. If, you know anyone else who would benefit from reading this then please feel free to share it.
Take great care of yourself because you are worth it.

Stay Dynamic x
Alex B. Chivers
PS: This information is not intended to treat or diagnose any medical conditions, it's for informational purposes only.

Informational Sources 
(1) https://www.heartuk.org.uk/cholesterol/what-is-high-cholesterol
(2) https://www.rxlist.com/pantethine/supplements.htm
(3) https://www.verywellhealth.com/phytosterol-supplement-side-effects-697586
(4) https://www.medicalnewstoday.com/articles/320362
(5) https://www.healthline.com/health/turmeric-tea-benefits
(6) https://www.healthline.com/nutrition/red-yeast-rice
(7) https://www.healthline.com/health/tocotrienols
(8) https://www.healthline.com/nutrition/artichoke-benefits
(9) https://www.webmd.com/vitamins/ai/ingredientmono-137/policosanol
(10) https://www.tarladalal.com/glossary-garlic-powder-351i
About Author