Are you looking to try something for better oral health?  Something for fresher breath, stronger teeth, and whiter gums.  Well, if you are, then today we will be looking at the G Force Supplement for Oral Health – Is This Legit?
*Please note this is not to be confused with Ignited Labs G Force which is a male enhancement supplement.
Probably not the only 2 G-Force Supplements either but just to clarify this product I'm writing about is for Teeth, Gums, and Oral Health.  Also, apparently, it's a low-key liver cleanse supplement which is very interesting.  
In my Steel Bite Pro review, I said I thought this product was a scam because it had the same ingredients as Leptitox (a liver detox supplement).  However, now, after reviewing the website for the G Force Supplement I am not so sure.  
What this says, for starters is it claims to help Oral Health by cleansing the liver.  This is funny, as this is what seems to be the case with Steel Bit Pro as well as this too seems to be a liver cleanse supplement in all but the marketing.
It is a strange one.  I see there are a few results in google for 'liver disease being caused by poor dental hygiene but does this also work both ways is the question.  
And if so does this mean that both G Force and Steel Bite Pro may actually be legitimate?
That is the question I will be looking into throughout this post.
G Force Supplement for Oral Health –
Is This Legit?
FTC Disclosure:
Please note that this article contains affiliate links.  If you happen to click on one of these links and make a purchase I may receive a commission.  The price you pay will not be affected.  Please do not this put you off either just think of this as a simple way that I can be compensated for the time I spend to write and research for articles like this one.
About the G Force Dental Supplement
---
So according to the label, G Force Teeth has its headquarters based @ 123 SE 3rd Avenue Suite 440 Miami Fl-33131
One company that comes up from doing a search is Vitas Healthcare Corporation.  This I kind of find suspicious, as it also lists Vitas Hospice and Palliative Care.  Possibly the same company but this not exactly disclosed.
Not just this either but if you go to the G Force website it says BuyGoods Inc. is the retailer of this product.  
They are based at;   1201 N Orange Street Suite #7223, Wilmington, DE, 19801, USA
This is odd to me.  Looking at what I think is the BuyGoods Inc. website I see a good few other Clickbank products.  Also, Wilmington, Delaware is I am pretty sure where Clickbank is based, and here is the other thing.  
This supplement if you look at the ingredient label looks very familiar.  I will let you have a think about this;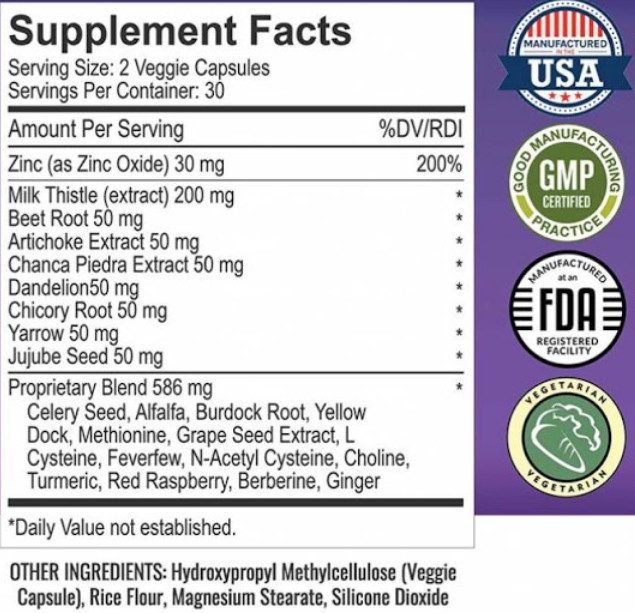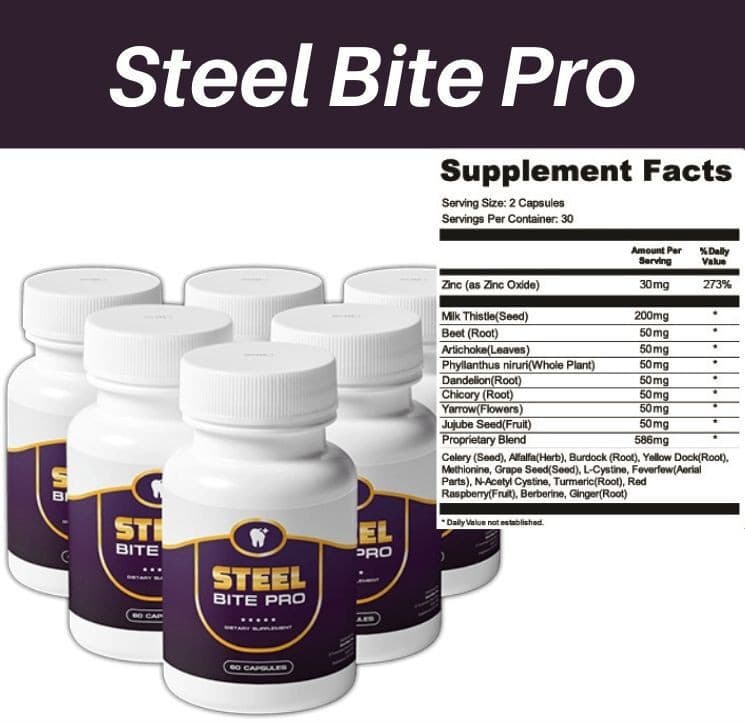 Spot the difference.  3 different supplements all sold by Clickbank with the same ingredients.  Looks very suspect but maybe I'm being a bit harsh here.  After all, I am not saying this does not work only that it is very weird that all the ingredients are the same.  I mean for one what it says on their website is quite interesting.
"The powerful antioxidants in G-force help to detoxify your liver and all bodily fluids, resulting in alkaline, bacteria-fighting saliva, strong gums, and teeth."
Which is fair enough.  I will actually say out of these ingredients listed on the labels (of all 3 products) there is some very well-known liver-detoxing plants.  Dandelion, Milk Thistle, Burdock Root, Alfalfa, etc.
I actually don't doubt that these ingredients could help detox the liver but can they really help with Oral Health?
>> Read more about these Ingredients in my main review for Leptitox <<<


Are The Claims Made By G Force Teeth True?
---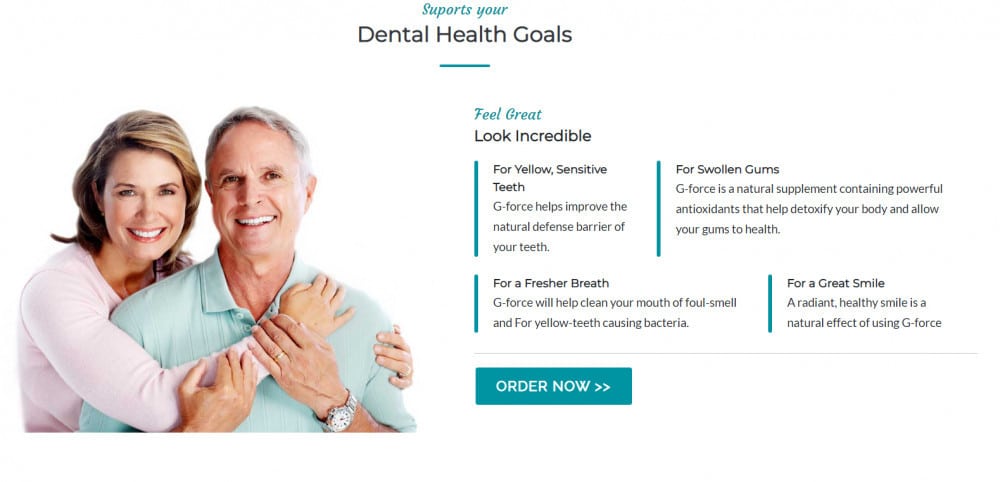 Now I would probably guess that I have put you right off of the G Force Supplement for Oral Health.  I mean quite frankly – I totally get where you are coming from.  If you would rather cut the crap maybe check out this post instead;
>>> What Is The Best Oral Health Supplement? <<<
Except before calling G Force Teeth out as a 100% scam let's take a look at what they say.
So, what they say is that the key to better oral health, (whiter teeth, healthier gums, and fresher breath) is to get rid of nasty unhealthy bacteria.  Which is found not only in and around your mouth but spread throughout your whole body.  As bodily fluids and especially within your saliva.
I actually, agree.  It's all good brushing your teeth, your tongue, and all-around your mouth; even using dental floss and periodontal brushes.  But what good is this if you have say acid reflux or whatever else and you are bringing up a whole coach load of new bacteria that will just attack your teeth and gums instead?
What the G Force Teeth sales page says is that this supplement is for saliva detoxification. 
Basically, that taking this will kill all the unhealthy bacteria in your saliva.
Not too hard to grasp but "can a good liver cleanse really help achieve this?" 

The Link Between Saliva and Good Health
---
Now, here is the thing whilst I couldn't really find any direct information regarding the benefits of detoxing the liver for better oral health – I did find this!  Probably the only link on the G Force Teeth reference page that made any sense to me.
So, this article is from the USA National Institute of Health (N.I.H) website;
The Science Behind Human Saliva (nih.gov).  In short, what it says is that saliva is a mirror for human health.  Going back as far as 2000 years ago in Ancient China saliva was used in TCM (Traditional Chinese Medicine) to determine the wellness of patients.  Incredibly, ancient Chinese doctors even said that saliva and blood are like brothers.
That saliva plays a significant role in oral health is quite obvious.  I would be very surprised to hear otherwise but here is where what G Force Teeth has to say begins to make sense.  Basically, our liver is what filters all the rubbish out of our bodies.  If we have a lot of nasty, unhealthy bacteria then this as a result affects how clean our saliva is.
So, by detoxing the liver and making it work more effectively there is less harmful bacteria = cleaner saliva.  Which equals better oral health.  The science I think is bang on the money.  After doing this research G Force Teeth has potential I think. 
Being that Zinc is the main ingredient as well this is the main mineral for boosting the immune system.  This definitely is something that will help flush out toxins.  All in the name of cleaner bodily fluids.
So I do think G Force Teeth and Steel Bite Pro now are worth a try… 
Except here is my problem, and not just with these two but Leptitox as well.

My Problem With G Force Teeth
---
I actually have 2 big problems here.  If you buy G Force Teeth (or Steel Bite Pro, or Leptitox) you only get a 60 Day Money Back Guarantee.  This may seem fair on the face of it but this is from your order date –  NOT the date of delivery.  
What's more the recommendation (by all 3 products) is that you have to take for 90 days for best results.  
This I do not like one bit whatsoever.  Fair enough if you are the one selling the product.  You will in most cases not have to worry about refunds.  There simply is not enough time to both try this product and to see decent results before the money-back guarantee expires.  Except I think they are kind of shooting themselves in the foot here.
They should at least increase the guarantee if you make a bigger order.
Also the other thing I have a problem with about both G Force and Steel Bite Pro is their prices;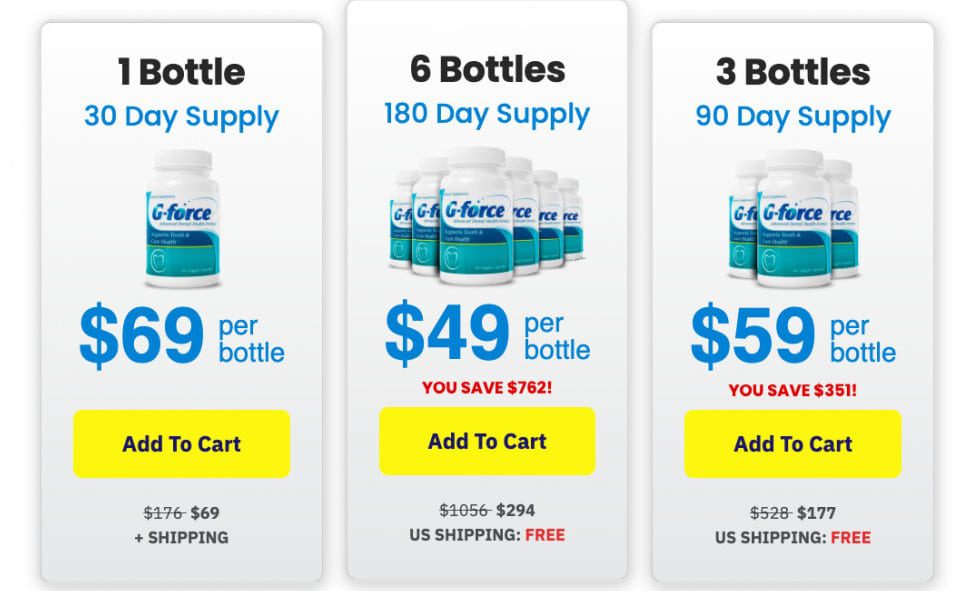 ---
---
Same product same price basically but here is the bit that makes really laugh.  
 Remember I said that I think Leptitox is the same product with a different label?  
Check out the price difference…
---
---
Almost $20 cheaper!!  For me, I definitely think this blend of 22 ingredients is worth a go but why pay more with either G Force or Steel Bite Pro when Leptitox is a cheaper version of the exact same formula?
My Verdict
---
Honestly, I think all 3 products are made by the same people.  I've always kind of been a supporter of Leptitox.  Mostly, because it was one of the first products I ever reviewed and actually made a few commissions from it.  I personally, did not receive any complaints either but this was by marketing it as a weight loss solution.
Not for whiter teeth, stronger gums, fresher breath, and a greater smile.  I mean do people really want to take a product that is labeled for something else as a solution for their problems?
I'd personally recommend it but I don't know about using it for oral health.  Only if you are willing to try G Force Teeth you may as well save your money and buy this instead.  Or you can try another Liver Detox Supplement?
Something that has a better return policy and is a better-known brand.
*Note this is my current pick for Liver Cleanse / Detox.
Although, of course, instead you can actually get a product that is actually made for Oral Health specifically;

>>> Read About My Number One Oral Health Product Suggestion Here <<<

G Force Teeth Pros And Cons
---
What Are The Pros
Designed for a Fresher Breath and Whiter Teeth
Can Apparently Help Strengthen Gums.
22 Powerful Detox Ingredients
Includes Ingredients That Help Cleanse Your Liver 
Could Assist with Weight Loss
Vegan Friendly + GMO-Free
Made In FDA + GMP Approved Facility
Free Shipping within USA (More Than One Bottle)
What Are The Cons
G Force Teeth is Not a Very Well Known Brand
Unverifiable Address
Basically a More Expensive Version of Leptitox
Only 60 Days To Claim a Refund
1 Bottle Does Not Come with Free Shipping
For Best Results Take For 90 Days
Customer Reviews
---
Now, unfortunately, at this time I have not been able to find any legitimate customer reviews for G Force Teeth.  
I see one that said;  "Natasha Romanoff, recommends G Force Teeth for Stronger Gums, Fresher Breath, and a Brand New Smile".  Seriously, another review just like this one and how fake is that – the alias of Marvels Black Widow.  May as well have wrote Mickey Mouse.  Although I don't blame them as I can't find any legit customer reviews either.
Which is the trouble with unbranded goods many do not have enough of a reputation to back up their claims.  The only thing close I can definitely say is I have read legit reviews for Leptitox. 
Not all positive and some were for fake products but there was enough there to convince me that some people at least have taken this formula with good results.  But whether you want to base your trust on a product because of another product's reviews is something else.  It doesn't exactly instill very much confidence at all.
I will have to update this review in the future I think.  To see if any new information comes to light.
But util then you can visit the G Force Teeth website below
My Final Thoughts
---
Well, truth be told I don't think you will be walking away from this review very optimistically.  I would love to write one of those fake reviews just for the money but I would rather be honest with you.  I DO NOT recommend either of these products. 
Not Steel Bite Pro, and certainly not G Force Teeth.  
At least Steel Bite Pro offers free shipping on one bottle.  Even though I don't think one bottle is really worth buying.  You may as well get 3 or 6 and if you don't notice any change within 40 days contact the company.  Say that you are not noticing any changes after the first bottle and you would like your money back whilst the guarantee is still available.
If they say it is recommended to take a 3-month supply ask them if they will extend your money-back guarantee to give you enough time to finish the next 2 bottles.
Simple but honestly, I would just instead try out OraMD Tooth Oil or a liver cleanse detox diet.

YOUR FEEDBACK  
Finally, before I go if you have found this information helpful please share it on social media.  More so if you know anybody that could benefit from reading this please pass this on.  Also, if you have any questions or would like to share any experiences with the products discussed in this article please drop us a comment via the comments.
Many Thanks and Take Care x
Stay Dynamic xx
Alex C
DynamicIdeas4Life.com 
About Author